November in fonts, as chosen by TypeCache
Akira Yoshino, Taro Yumiba, and Shohei Ito follow type releases all over the world on a daily basis. Here are the most interesting typefaces of November, according to them.
Blueberry Pancakes, published by CAST Studies. Pick by Shohei Itoh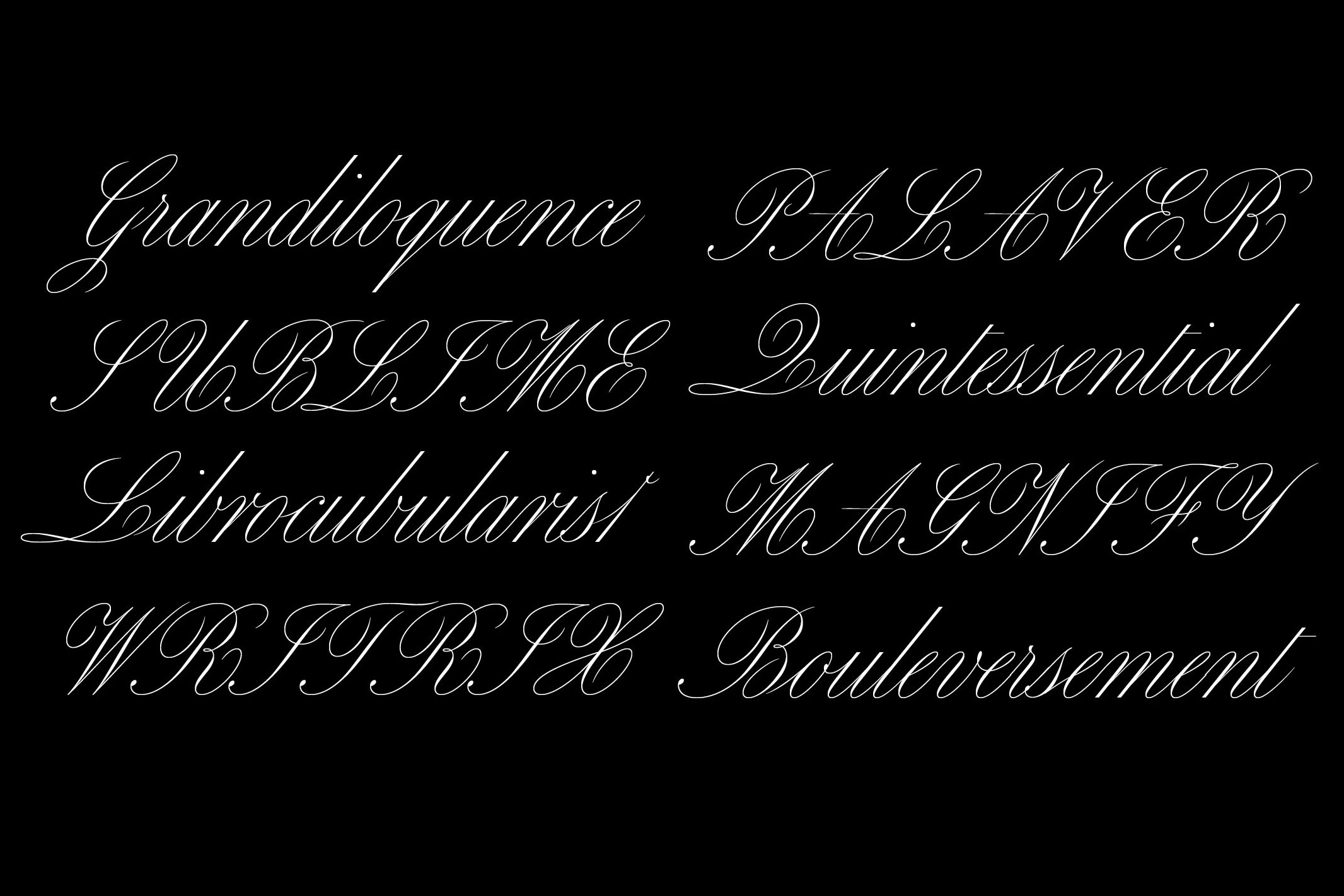 Carta, published by Sharp Type. Pick by Akira Yoshino
FK Raster Roman, published by Florian Karsten Typefaces. Pick by Taro Yumiba
Gramatika, published by The Temporary State. Pick by Taro Yumiba
Halunke Cyrillic, published by tomorrow.type.today. Pick by Taro Yumiba
Huai, Huai Thai, published by Positype. Pick by Akira Yoshino
Kaius Pro, published by TypeMates. Pick by Akira Yoshino
Patrona, published by Superior Type. Pick by Shohei Itoh
Review, published by Commercial Type. Pick by Taro Yumiba
Zénith, Zénith Cyrillic, published by 205TF. Pick by Akira Yoshino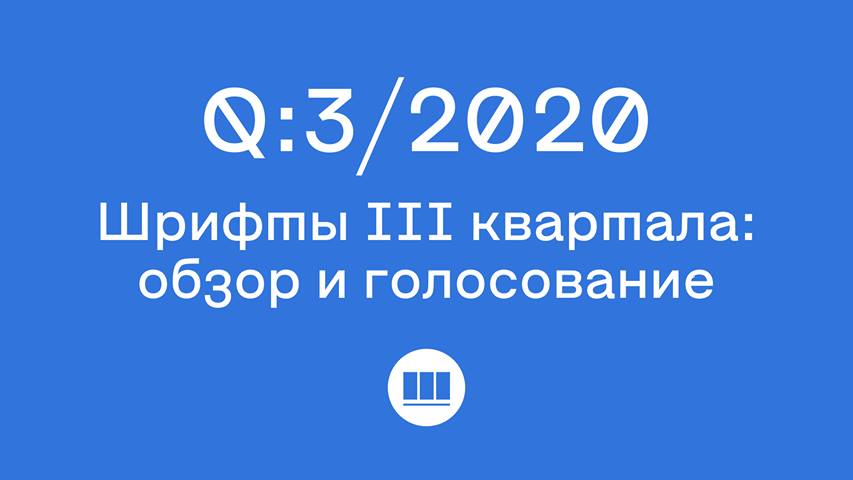 Cyrillic type releases, late 2020
Type Journal (aka Schrift) is asking for help: if you are aware of a new typeface with Cyrillic character set, which was released in the third (or even fourth) quarter of this year, please let them know in the comments here. And even if you aren't, the list is definitely something to look at: more than 100 typefaces, among them a number of both quality and interesting ones.
docs.google.com/spreadsheets/d/1mmB1f92MUVuPyObaLwdMvcHlAjwSCPMMVJFrrG3h4eY/edit/
Helvetica as a display typeface
Roman Gornitsky (The Temporary State) was asked by V-A-C Foundation to design a custom Helvetica-like typeface, and was able to turn this (seemingly) boring assignment into a resourceful reflexion on Modernism in type design. The core principles of Gramatika project: a) Helvetica is a display typeface, it works best with tight letter-spacing and, preferably, at large sizes; b) Helvetica is a Modernist, anti-decorative, ultra rational tool, and its elements need to be unified and, ideally, controlled by strict rules. Thus, Gramatika has large x-height (half the font-size) and low-profile, short ascenders, descenders, and accents — all for the sake of tight line-spacing. Punctuation marks and math symbols have unified width and are often ready to constitute an element of decoration, while the typeface is also fitted with all sorts of icons, borders, lines, arrows, checkerboard patterns, and completely abstract glyphs — each of them is strictly Helvetica-style. The full story on Gramatika is better told by Roman Gornitsky himself: the typeface is accompanied by a specimen/manual, which is in fact a genuine essay: each detail becomes a cause for an interesting discourse on Modernism, type, and the construction of contemporary typefaces.
letters.temporarystate.net/entry/5/
typefaces.temporarystate.net/assets/pdf/Gramatika.pdf/
Stencils and building blocks for display type
Patrona by Matyáš Machat is an example of how one can obtain diversity using limited means. Each glyph of this typeface consists of building blocks: piling them horizontally, you get wide styles, while if you add them vertically, you get several variations of cap height. The result is a very Modernist, slightly childish, and highly flexible display tool: other than the mentioned above, Patrona has six alternative stylistic sets (Monumental, Weird, Bauhaus, Art Deco, DIN, Brutal), and a couple hundred of decorative components and ornaments.
superiortype.com/fonts/patrona/
A huge building set, as if especially created to cater the needs of a brand designer. The modularity of Patrona manifests itself best in the construction of weights (Patrona A-G): you can tell right away how elegant a variable version would look. Though, if this made you feel that the typeface could also have been a variable one, other styles and features are here to convince you otherwise: you can't keep 4 heights, 8 style sets in one file. It was nice to see decorative components for patterns — such a brick wall. ❤️
Blackletter typeface with right angles (and a slightly obscene name)
Normally, Blackletter letterforms are based on a nib angle of 45 degrees. Matthijs Herzberg decided to walk away from this rule, and designed his Cloisterfuch with a varying angle of 0-90 degrees — which is why the new typeface looks concise, modern, and rectangular, even though it does not have a single right angle. Version 1.1., released in November, has added kerning and updated forms.
herzbergdesign.com/fonts/cloisterfuch/
A semi-pixel sans serif
Visual is a semi-pixel geometric sans serif: the inside is smooth, the outside is jagged. At large sizes, this contrast is eye-catching and makes you examine each glyph form, while at small sizes it ensures this friendly, very legible texture that makes you think of displays from 25 years ago.
Looks pretty natural at small sizes — a certain benign, entirely round grotesque with swelling stroke joints. For branding, it would work perfectly great, both for body text and larger elements, such as titles, quotes, logos.
Arabic type, by Arabic type specialist
Born in Beirut, Lebanon, Nadine Chahine obtained a bachelor degree in graphic design in her home city, then graduated with an MA in Typeface Design from the University of Reading, UK, and did her PHD on legibility in Arabic scripts at Leiden University, The Netherlands. In 2005, Nadine joined Linotype as a full-time designer (later the firm became a part of Monotype), where she was in charge of Arabic versions of Frutiger, Neue Helvetica, Univers, DIN, Palatino, Zapfino, and other typefaces.
Last month Nadine, currently studying international relations at the University of Cambridge, has launched her own type foundry, Arabic Type. The debut library has six typefaces: three rather display and other three rather text ones. The most unexpected thing there, that's their licensing policy: the typefaces will cost less for the clients operating in less advanced economies. One more thing: in August, Nadine designed Li Beirut, a decorative typeface with hundreds of glyphs donated by the most prominent type designers from all over the world — it helped raise more than 23,000 euro to support the victims of the 2020 explosion at the port of the city of Beirut. In case you missed the initiative, it's not too late to join and get a digital souvenir, click here for more details.
АМ, as in Archaeological Museum
Kyiv-based studio Looch designed a fancy and terse visual style for the Archaeological Museum of the National Academy of Science of Ukraine (Archaeological Museum IA NASU). The text uses a single style of Bitum typeface (designed by Brownfox); the logo utilises very narrow letters AM with deep inktraps (if this excites you, you might want to check our Flicker typeface).
telegraf.design/yak-stvoryuvaly-pershu-ajdentyku-arheologichnogo-muzeyu/
Woohoo! Finally, there is hope that regular institutions like a museum of archaeology, a translation agency, or a bus company will finally start using a human language to talk to us. Seriously, though, I think it's highly important that we are now looking not at a new visual identity for yet another design museum, but at the identity for an archaeological museum, — and in the former Soviet Union, no less. One more nail in Soviets' coffin, then.
Wicked and blind
The typeface by Daria Petrova is called Zloy (Russian for 'wicked'), and it is actually a wicked serif typeface — although, not thin and curving, but fat, with straight forms and blind, sealed counters. At small sizes, Zloy creates hardly legible, anxious texture, while at large sizes it almost breaks down into components, where counter is almost as important as the main form. And it's only the 0.1 version that we're talking — during its lifetime on Future Fonts the typeface can significantly evolve visually (as it was the case with Zangezi, another Petrova's type release), and get expanded with new styles.
futurefonts.xyz/daria-petrova/zloy/
Vast collection of Soviet book design
Connoisseur and collector, Dmitry Klokov has been running VK page on Soviet book design for almost a year now — and in November he has also launched a Facebook group on the theme. Most of the content dates back to 1920—1930s and 1960—1970s; nearly everything is hi-res. A magnificent source of inspiration for anyone who works with Cyrillic.
facebook.com/groups/1035750583505464/
Modern-day enthusiastical revivals of the Sovok, they make me puke, uncontrollably. There's still not enough nails in that coffin. Whereas this thorough, mindful, quality archive work is the only right way to treat this legacy today.
Our new releases: Base&Bloom, Signal Mono, Halunke
In November, we released three new typefaces. Type.today's main collection was enriched by Signal Mono, a mono-width take on Signal sans serif from French traffic signs. And our Tomorrow tab now boasts Base&Bloom, both geometric and twisted, — and Halunke, harsh, sharp, and flickering.
type.today/en/journal/basebloom/
type.today/en/journal/signal_mono/
type.today/en/journal/halunke/
The final version of OHno Swear (with a story of its creation told)
James Edmondson released the final version of OHno Swear and posted a little story on the process of creating this sharp, contrast serif typeface, from his experiments with brush at a Mexican workshop class to two italic styles and interpolations of four optical sizes. BTW, James used examples from Swear for looking into the construction of many letters in his posts of #ohnotypeschool series — now also available on the OHno Type website. The Russian translation that we were posting, almost simultaneously, this summer, is available on our VK page.
ohnotype.co/blog/the-process-of-swear/
It is very nice seeing how personal charisma and charm, honest communication and sense of humour are making James a true star. Both projects and their scale are getting bigger: OHno Swear, it's four sub-families, 74 styles, that's a huge project. The same is true for many things that James does: he is such a great example, and his footprint in the industry is significant — it is for a reason that Edmontson is also a co-founder of a wonderful project, Future Fonts, bringing together a great number of young type designers.
Russian design awards
November saw the announcement of the winners of Sreda design festival — and we're happy to see that six winning projects utilise our typefaces (with one of them entirely focused on type.today). The results of another Russian competition, ADCR Awards, were announced a bit earlier — we published an interview with its jury chairman, Alexander Zagorsky, where he speaks about those results and Russian graphic design in general.
type.today/en/journal/sreda20/ type.today/en/journal/adcr20/
New typeface by Matthieu Cortat (supporting Cyrillic)
Just like Zeno typeface (which served as a prototype), Zénith by Matthieu Cortat is based on the examples of Italian Renaissance and preserves this presumed delicacy, even though it's considerably darker and denser than a Renaissance serif. It will work great at large optical sizes for magazine titling, while you can safely apply it at small sizes for setting the longest books one can imagine. Zénith Cyrillic was consulted by Krista Radoeva.
Jan van Toorn (1932–2020)
Generally, rebels are not good at creating things — they destroy things, whereas Jan van Toorn is building things. And he always finds his audience, his commissioners, even the whole institute to head it. That said, his works are absolutely supra-conventional. If you take a good look at them, you will find dozens of evidence of violating a typographic norm (standard?). And at the same time he never shows any provocative external decorative effects, his works are marked by prevailing content and dominated by this special, Jan van Toorn-ish reserve and prudence. He is provocative, rebellious, but he is a discreet rebel, a moderate, reserved one. One needs a fantastic level of courage and moral strength to charge it all with a boringness. Vladimir Krichevsky, Soviet–Russian graphic designer and design writer in conversation with Yugene Yukechev, editor-in-chief of Type Journal
typeroom.eu/in-memoriam-jan-van-toorn-1932-2020/
Crowdfunding
We inform on crowdfunding campaigns for type-related causes in almost every our digest — in November, there were three such events.
Firstly, one of the most important collections of printed texts and artifacts in the world, London-based St Bride Library turns 125. To celebrate its anniversary, St Bride Library launched a crowdfunding campaign — it intends to raise £50,000 till 14 December, for organizing festive events and reintroducing itself to potential benefactors. Currently, the campaign lacks 16,000 pounds to meet the target.
typeroom.eu/st-bride-library-turns-125-crowdfund-campaign/
Secondly, Unit Editions publishing venture is raising money to publish a book on Ed Fella — the pioneer of alternative design who invented typographic grunge long before the 1990s. Childish, psychedelic, wild but well-ordered, Fella's style reminds of a lot of things, but it doesn't look like anything. The publishing house needs a little more than $67,000 to print the book, $20 thousand still left to raise till 23 December.
kickstarter.com/projects/uniteditions/ed-fella-a-life-in-images/
Finally, Prague-based Briefcase Type Foundry raised funds to publish an English-language edition of the book about Jaroslav Benda, the first Postmodernist in Czech (or possibly even the world's) type design. As of the date of this digest, $36,000 they needed have already been raised.
Anna Alexanina, our Instagram host this November, has dedicated the month to the many languages using Cyrillic. Cheers, Anna, we definitely learned a thing or two!
Check out all of Anna's work via #typetoday112020.
This December's hosts of our Instagram are doing an unprecedented thing: each day Mila, Yana and Yulya of Holystick studio are giving away presents from themselves and their friends. Planned: coffee beans and bread, a vegan dinner, books, theatre tickets, posters, color charts, vintage teapot, video dance, and a whole bunch of other wild stuff. Join us!