Daria Yarzhambek: Sasha, for the second year in a row you are judging ADCR Awards, which is carried out by Arts Directors Club Russia. Why is it different from other events of the kind?
Alexander Zagorsky: Art Directors Clubs exist in many countries, it is a certain industry standard. I got to know this organisation many years ago in Barcelona, walking into an exhibition of the Spanish Art Directors Club (club de creativos) organised at Museu d'Art Contemporani de Barcelona. It left an enormous impression on me, a young practicing designer: a huge amount of good-quality and fancy design. Now we have our own Art Directors Club in Russia as well, but here all the design is represented online. Nobody yet does exhibitions, however we have very well appropriated this festival thing: key professionals gather together in the jury annually, judging new works and awarding the best. And it is very different from international contests. When the locals are judging the locals, it is a highly partial process. Everyone knows everyone very well, as the market of clients and agencies is quite narrow. Everyone understands specifics of the market, and that's is the key feature of this event. It is some kind of industry's introspection, self-analysis that helps identify problems, insecurities, dreams, and sublimations.
Ilya Ruderman: Is it a subtle way of telling us that the jury has this insider's component, influencing the objectiveness of its members?
Alexander: No, you got me wrong. Perhaps, it's about this reputation festivals have that makes us think this way. But I can honestly say to you that each member of the jury takes his job and responsibility very seriously and deals with the process with full awareness. And when all of them gather together, everyone wants to do good. Even more, there is a certain higher goal — to send a message to the market. What did I mean speaking of partiality, a certain biased approach? Our market is small. We have to deal with certain companies, one way or another. Many businesses work with several contractors. That is why we all have certain insider knowledge. And so when we judge, we don't look at the projects through some wet eyes of a cow — as if we saw it for the first time and have no idea what it is. The thing is that at the Art Directors Club everyone knows even too much about the market.
Ilya: But about ten years ago, when the Art Directors Club had just come to Russia, it really seemed like its jury members were giving away prizes to each other…
Alexander: Yes, probably, a while ago we might have been seeing certain loyalty, professional solidarity now and then, but today this sort of thing is considered as very lame, disgraceful almost. And now you really can't hide or cover up those things, sweep them under the carpet. Today the trend is entirely different, and that's everywhere, actually, — the trend for ethics. And in our profession, when it comes to our judging, it prevails, too. And — as it often happens in our country — we're pushing this thing three times harder than anyone else. Just look at the winners of the competition. Nearly all the grand prix nominees are social projects. Earlier, the ratio was 80 to 20: 80 percent commercial projects and 20 percent social ones — non-profit, charity, public service campaigns and products. It was actually regarded as a foul blow, prohibited thing, everyone complained, 'how so, social projects are competing with commercials'! But they still awarded such projects, because such works are sincerely trying to affect the society and they do affect the society. Today, proportion is inverse: social projects account for 80 percent, while the share of commercial ones is now 20 percent. And a social project doesn't mean it's bad anymore, it doesn't imply that agencies are deliberately taking on an easy topic, avoiding the commercial component of a project. It's just today everything's social, one way or another: all big projects have to deal with social aspects, otherwise they are simply becoming incomplete and irrelevant. And you have to understand that, working in a social sphere, you will always have to deal with interests, sore points of different groups of people in some way. You can't ignore that.
"Thirty-three children with cerebral palsy wrote one letter each, and professional type designers used these images to create the unique Font of Kindness. Our goal is to raise funds on behalf of 'Gift to an Angel' Foundation. The mission of the project is to educate the public about the challenges faced by children with cerebral palsy."

Dobroshrift (Font of Kindness) charity campaign, by Smetana, Paratype, Art. Lebedev Studio. Grand-prix of ADCR Awards 2020. Gold, Social Media Campaigns. Gold, Integrated and Innovation for non-profit/public service/NGO. Silver, Interactive & Mobile for non-profit/public service/NGO
The Police Cartoons is an animated short film, visualising readings of Russian policemen, allegedly involved in torturing. Zebra Hero for Committee for the Prevention of Torture. Gold, Branded Content
Ilya: ADCR Awards has a Graphic Design category. When determining your winners, what's the ratio between the conceptual part of a project and its graphic element which you rely on in your decisions?
Alexander: There's always a target commitment that we discuss before starting the process of judging. All jury members are trying to agree on how we would assess the entries. When you have ten people, they all clearly have different ideas on what is good and what is bad. Which is why normally at first the chairman of the jury takes the floor and suggests the criteria for ranking the entries. Then each member speaks and comes forth with his suggestion on criteria. After that we sum it all up and we have a certain common scale, where there is a conceptual element, a craft, quality one, and then there is an assessment of a social value of a project. The primary selection is very easy. You always can tell a good work from a bad one. It is much more difficult to range good works. Here we start debating: why this work is better than that one, why does it deserve a higher place. And here you can't judge in a pure mathematical manner — each member may speak out and say that even though this one is better crafted, the idea of that one is more powerful than this craft, outweighing it. Take that same Dobroshrift (Font of Kindness) project, which was heavily criticised for its design part by some members of the jury — they invoked the fact that it could have been done better. Indeed, it lacks accuracy, perfection, thoroughness. However, the conceptual power of its idea and the implementation of this project through a very smart PR campaign are huge.
Zoom meeting of the ADCR Awards design jury
Daria: I got the impression that nothing new and fresh made it to the prize-winning selection — precisely from the typographic craft point of view.
Alexander: I know that there are great works in our market. But not all of them make it to the festival. We have to judge what we have.
Ilya: Yes, it should be made clear that jury members are always held hostage by what entries have been submitted to the contest. And it is an entirely separate procedure. First of all, participation is chargeable, and secondly, there are always certain conditions: you have to sit down, do some prep work, send your stuff to someone…
Alexander: That's exactly right. The contest is called the Art Directors Club Awards. Logically, all the greatest works should be presented here, so that those who look at the results of the contest get a comprehensive picture of what's going on in our country in this regard. This year I tried to bring together the widest designers' jury as possible, for fighting this impression that the fest locked into the specific range of agencies; I invited many agencies which had never taken part in the contest before, and were somehow biased regarding it. I wanted to send a message to the market, to signal that this is a high-quality, decent event, that it's worth your time to send your work here, that the competition is judged by eminent representatives of the market who themselves had made an enormous contribution to its evolution. This is a bit idealistic view: the club which brings together everyone working in the design industry and who cares about their metier. And the design category turned out to be one of the largest and the most complete. And now we have several typographic sub-categories in which there were plenty of great works. However, ESH Group with their Richter project decided not to go for it — and I, for one, feel a little sorry about it, that's a great project, and it might have been fairly represented there, too.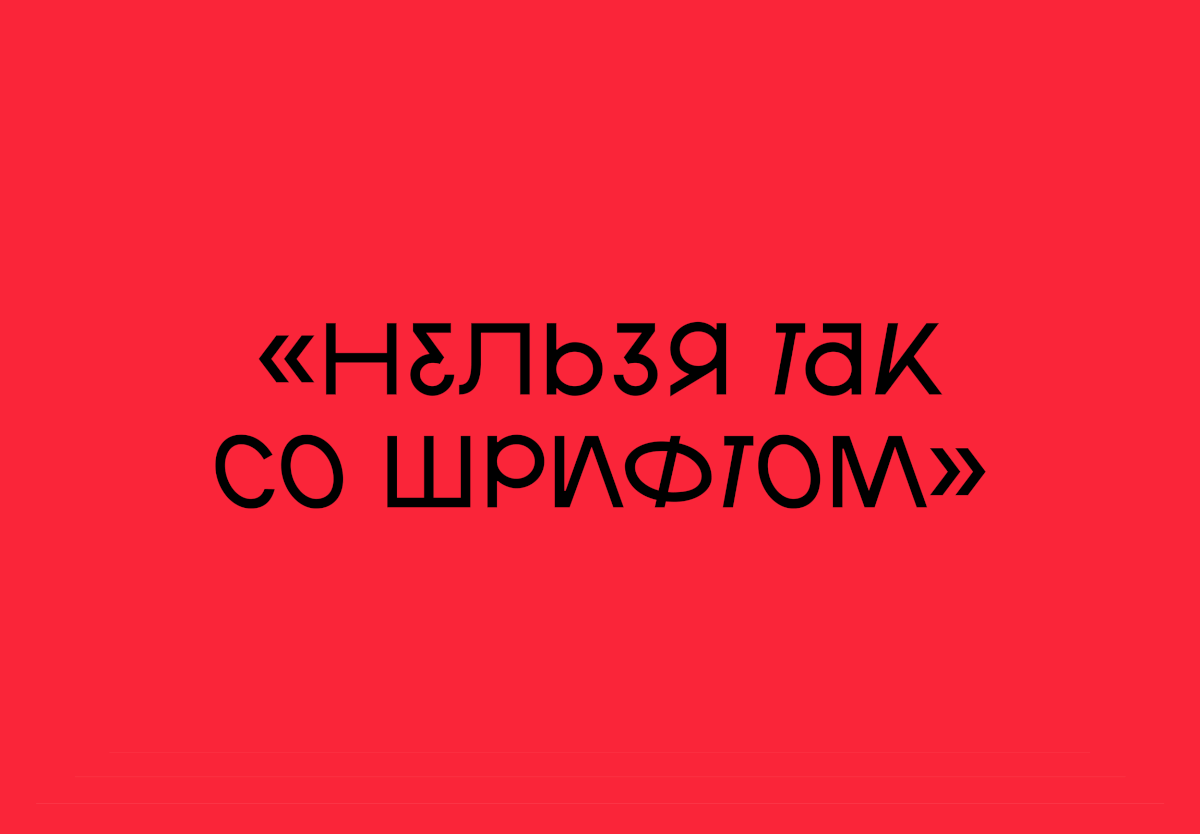 Last year, ESH Gruppa made a graphic identity and a bespoke typeface for Richter, a Moscow hotel and event venue
Ilya: Perhaps, the concept of paid entry applications has become outdated, and it is the expert community (which is aware of what's happening in the market) that has to decide on who is the best by themselves? That's part of what we're doing on type.today with our annual Cyrillic reviews.
Alexander: I've been thinking about it, too. I think of it as a concept for another event which could be financed by an industry organisation such as AKAR (Russian Creative Agencies Association). That's not the Art Directors Club. It is something absolutely different essentially. And here we have an ethical issue. The festival functions on a voluntary basis: you are signing up by yourself for being judged when you submit your work to the contest. Now imagine that we sat down, the two of us, and selected ten identities. We are placing a work by some good agency, which loves, appreciates, and respects itself, to the tenth place. Or, let's say, we're giving it the bronze, while awarding the first prize to someone else. The agency which got the bronze might very well say, 'why are you giving me bad publicity? My work is the best. Screw you.' You yourself know lots of designers and studios in our country who thump their chests and yell that currently they are the best, that it's them who are number one now. But a decrease in the level of bias is definitely the good trend. And that's exactly what I've been fighting for, being a chairman for a second year in a row.
Ilya: So now would be the time to discuss the results.
Alexander: In the end, when we summarized the results of the competition, some of the jury members expressed their doubts — regarding the fact that perhaps we were a bit harsh in our judgment, that we have only one gold for a large amount of sub-categories, that there's 14 silver awards and about the same amount of bronze ones. Aren't we a bit harsh, are we? And as it was twelve hours of work already, everyone was exhausted, we were getting a bad conscience. I've seen this before and can say that it's always like that at the end of this process when you're really fighting and discussing, and then you're looking back and see all those bodies, chopped down like the trees. And you start to think, 'Why being so hard on them? We should better return all them and give away the prizes'. But then you realize that all the decisions were made fairly. And if we had to judge again, we would have awarded the prizes the same way. I guess you can say the average level of design quality in Russia has significantly increased. And you don't even have to look at the results — the decent quality, sometimes even great design has become a certain standard. While producing bad design has become non-standard. I mean, on average it's quite solid. Solid B. That said, it so happens that there's no super breakthrough works, the ones which could have destroyed the standard and set the new targets for the community. The only gold award was Dobroshrift. Which got me thinking. But the fact that we've got plenty of silver and bronze awards, — that's perhaps even better like that. This means that people have actually learned to make good things for everyday life, that the environment we live in is being saturated with quality design.
Graphic identity for Flacon, a Moscow office and leisure complex, by Shuka Design. Bronze, Corporate Brand Identity. The text typeface is Parmigiano Piccolo from the type.today collection
![6_all_1920x1080_15976814795f3aaf4796a8a]
Brite paints packaging, by Depot Branding Agency. Bronze, Packaging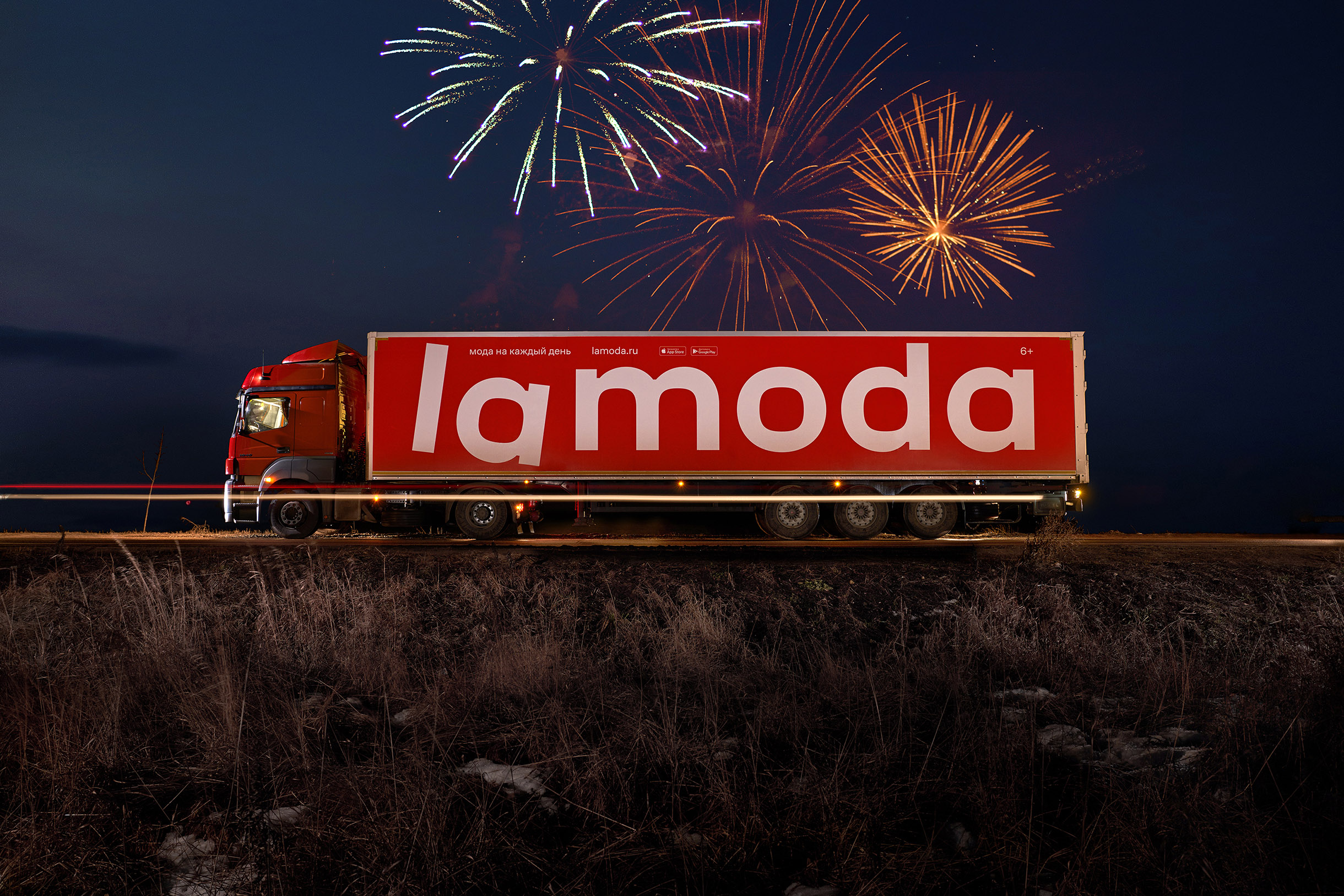 Graphic identity for Lamoda, Russia's largest online clothes retailer, by Shuka Design. Silver, Corporate Brand Identity
Ilya: And if we compare our agencies to the Western ones? How does it correlate in terms of the level?
Alexander: I wish we had a lot more of everything. My previous speech was positive: now we have more solid B-level design. And yet there's still not enough of this 'B.' I remember this exhibition in Barcelona, or my visit to the Advertising Museum in Tokyo: the quantity of very cool designs they produce there is astonishing. In Japan, they have this Tamabi magazine writing about what's happening in the profession, — and every three months they have enough material for a very fat issue. In general, Japanese are into these things, all sorts of associations and societies, like the Art Directors Club, or Designers Club, and all of them issue these huge volumes at the end of the year. Whereas here all the superfancy design is made by five studios, ten studios account for all the great designs, and twenty are responsible for good design. This is tragically little.
Ilya: Which is, our level is relatively high, but we significantly come short in terms of the scale of the industry, is that it?
Alexander: Yes. You get the feeling that there are very few of us. And I'm not talking about Moscow only. Nowadays you can be based anywhere. We have great design studios in St. Petersburg, in Yekaterinburg. We have an emerging class of freelancers who are raising the bar very high. Earlier, a freelancer was this kind of a bored slacker who sat behind his computer in his slippers and delivered the work of average quality — whereas today those people are turning into a separate actor. However, we produce not enough gross product. And the amount of design impacts its quality. The less there are experiments implying the mastering and exercising of innovation, the less there's room for surprises. More requirements to the works that we produce in these limited quantities. I mean, we treat each project heroically. And that's exactly this heroism that makes each such project possible. While other countries are doing it through larger volumes, progressively increasing the quality, we are always doing it through those heroic spurts. Which is why each of our projects winning silver or bronze is a true achievement.
Graphic identity for World Chess Armageddon, a televised fast chess tournament, by Shuka Design. Silver, Graphic Communication
Ilya: Leaving aside Dobroshrift, what impression have you got this year from the type component of these submitted projects?
Alexander: On past events, I don't even remember us judging typefaces in the Typography category — we judged the use of typefaces in design. But this year both Paratype and ONY submitted their typefaces developed for clients. And it is quite symptomatic: agencies are already offering type to the market as a separate product. Typographic craft has become the key trend in design, and now we have separate typefaces on our festival. I am a little cautious about this, as I believe that if we judge type separately on the contests, we must have a separate jury specifically for this category. And finally, after all, it is wrong to split design into pieces: photography, illustration, type. Yes, typography plays a certain role in communication. In the latest trends we are now seeing on Instagram it may even account for 99% of the layout. But this doesn't mean that it is excluded from the overall message. I don't like when type is excluded from design and becomes an independent discipline, even a fetish, to some extent.
Daria: Type category's winners have been selected based on the quality of typeface, or from the perspective how accurate it was used as a tool?
Alexander: It was both. We discussed this issue with our jury members. Not everyone is competent enough to judge the quality. It's a good thing that in jury we had Maria Doreuli and Dima Barbanel to speak out about something. But two opinions are not enough. The rest of us were assessing entries from the perspective of use: how did type affect the image, or the communication.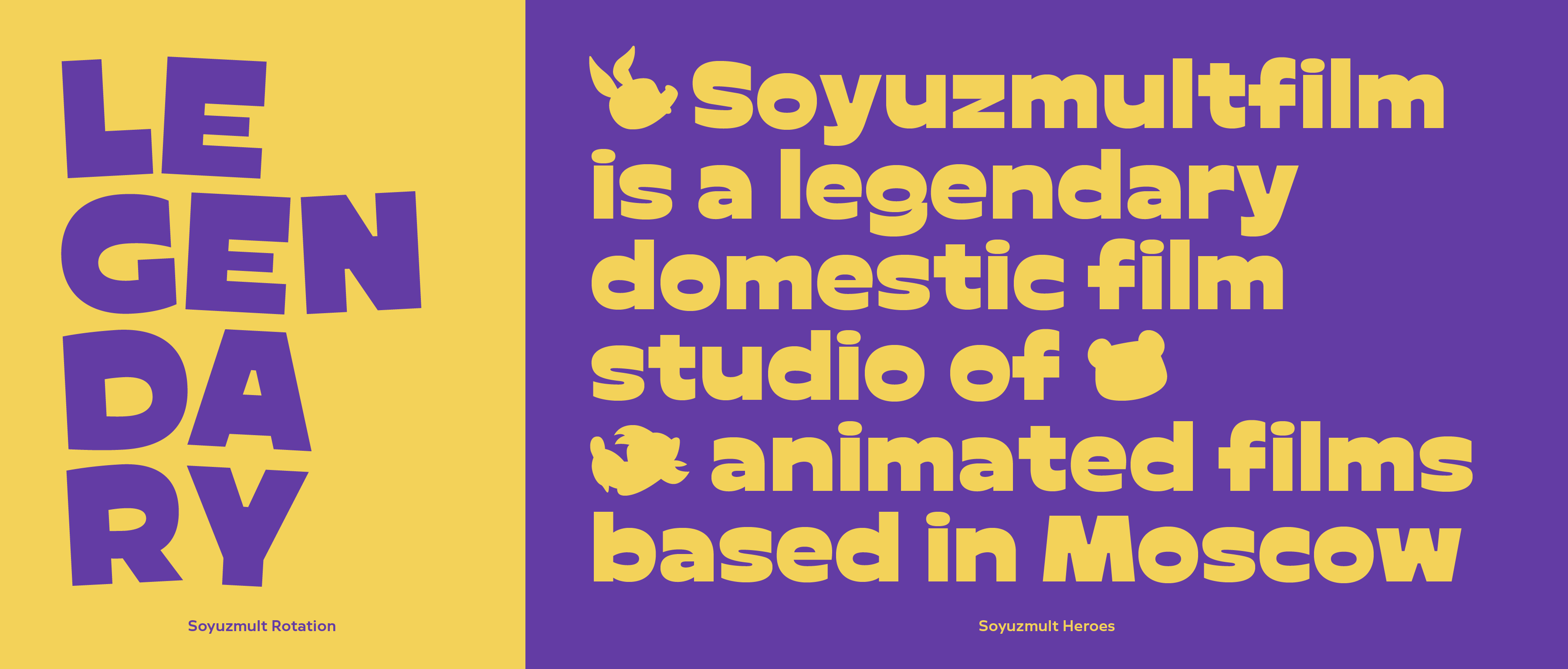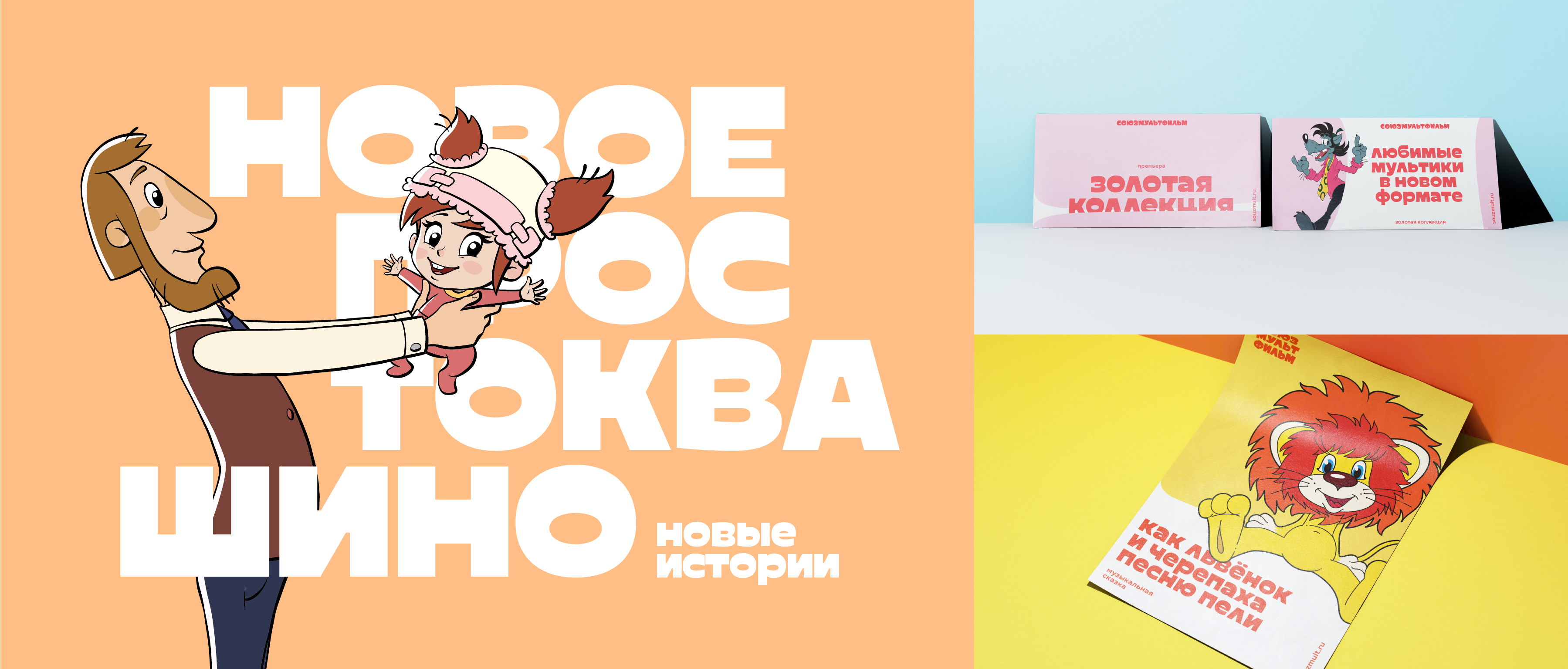 Bespoke typeface for Soyuzmultfilm, Russia's state animated films studio, by ONY Agency. Silver, Typography
Bespoke typeface for Norebo fishing holding, by Ermolaev Bureau, Philipp Neumeyer. Silver, Typography
Ilya: Let's call it a day with ADCR Awards and move on to your work and your own experience. How is the role of type in branding changing today, what do you think?
Alexander: Well, that MTS project that we worked on together with you was my latest experience of designing a typeface especially for the branding's needs (in 2019, CSTM Fonts produced a bespoke typeface for MTS network operator, commissioned by BBDO: the extended version of the font family was released on type.today under the name Normalidad. — editor's note). Actually, there was an interesting case then: when you and me with the guys from MTS' team were in the process of approving styles, we spent a long time choosing between UltraCondensed and UltraWide. I literally had to fight our colleagues from the digital department so that they drop UltraCondensed and let us work with UltraWide. And it turned out a great success eventually — later it was snapped up by all the teams, the very same digital dept included. This UltraWide even became the main style at some point: many woke up to its expressive power and started to actively use it.
I'd like to take this opportunity to express the following consideration: if agencies and studios had more flexible tools of communicating with type designers, the market of branding and design would thrive. For example, agencies should be able to use trial versions for free, for having an opportunity to work with typefaces and only then sell them to clients. Сurrently, this mechanism where at first you have to purchase a whole typeface for yourself and then buy it again, for your client, is a little complicated. I must say that in the last decade it became easier: you have sources that allow for testing and choosing typefaces. But there's still no clear and explicit agreement within the community, and neither there's a smooth mechanism of interaction with each other. We have different sorts of contracts and licences; designers and art directors have no clear understanding what they can and cannot do; business people are losing their nerve each time they have to deal with the issue of type licensing for big projects.
Ilya: Being designers ourselves, we understand the problem perfectly well and are working on it. We are well aware that it's weird, inconvenient, and unpredictable, but even coming up with a single common license is not that easy on type.today, as we represent the interests of a large number of independent authors.
Alexander: The type's development in branding largely depends on this organisational issue. The failure to address this issue hampers the civilised use of type in communication. Because, as I see it, nowadays type is poorly represented in the large design formats, at the level of big companies. Clearly, Instagram lacks non-utilitary design, which, to a great extent, is built upon type. However, I would love to see it all have more practical application, and for this it should be easier for the typeface to enter life. Today it is sometimes simpler to design a typeface from scratch, even if it is a plain one, without any complicated aesthetic parameters, just to avoid buying it — so no one has any questions for you. It is no secret that before approaching you with this MTS project, we tried to purchase a typeface for them, and it didn't work out — we just wasted our time, failed to reach an agreement.
Daria: Yes, I have an impression that we're now witnessing the boom in custom typefaces. Is it really because they are easier to buy?
Alexander: Yes, it withdraws any legal and formal issues: you're just commissioning from a type designer a typeface for yourself, — and that's it, that is all yours. It is certainly a good option, a way out for the business — way to ensure a smooth, clear, efficient, agreed process. A turn-key type solution makes a process much easier.
Daria: Perhaps now would be the time to brag about our package tomorrow license — which is a clear testament to the fact that we are trying to come up with something…
Alexander: Sadly, for me, your Tomorrow typefaces — the corky experimental display type — are a bit irrelevant. I need more functional typefaces, quieter ones: I have been working with big companies on their corporate identities, logotypes, communication tools for many years now. Obviously, an expressive display typeface might also be useful, for example such as CSTM Xprmntl 01 which we deployed in MTS' youth products — we were the first of the large brands to do that. And it fitted perfectly well there, but, unfortunately, this doesn't happen a lot. Experimental typefaces are good for the niche projects with a small audience. Whereas we don't have much big brands with a separate niche audience that needs this level of expression.
MTS Sans, as presented to the client
Ilya: How often does it happen that in a meeting with the branding client you discuss a possibility to design their own typeface?
Alexander: On average, such an issue arises twice a month, that is each time we work on a full identity package.
Ilya: So how come you don't come to us twice a month?
Alexander: For starters, if it is a large, national-level company, clearly it will cost a lot of money. And then you immediately have this Morton fork to decide — whether it will be an open license typeface, or you have to assess how much it will cost to produce a new typeface. In my case, at BBDO Branding all companies are nationwide, so we're talking substantial amounts of money. Plus, there are several channels of use, plus you need unlimited use, plus there's a large network of parties/counterparties and departments/sub-departments: when you start calculating all this, you get gigantic sums of money. We need to reconsider the method of calculation. Currently, this option of purchasing a typeface is absolutely irrelevant for a nationwide company. This same MTS has so many subcontractors that it is impossible to calculate and put in the contract an appropriate figure, reflecting how many people will use the typeface. You just have to understand that when you give a typeface to MTS, it becomes virtually popular, people's typeface. The second thing is that the process of designing a typeface is not aprioristic to the process of creating visual identity, — meaning you also have to allow time for it, and that's not a week, or even a month. And it is often the case that the process of introducing the style is quite rapid: a client comes in October and wants the result in November already. And it is partly our fault, as we don't prepare the client for the fact that you have to allow time for the development of a typeface as well.
Daria: We also would like to talk with you, the one who delivered the talk about 'gold and mould', about 'Russianness'…
Alexander: That lecture was interim. Two years ago I decided to do a research on whether Russian aesthetics exists or not after all, how it is verbalized and visualised, why it is what it is. And now another question arises: is it possible to grow the part of aesthetics that is 'mould', which is non-possessing? In a sense, it will be a next stage, an attempt to do something based on that part. Let me explain by giving you an example. Take this Japanese design that we know through the Muji brand. Muji's art director is Kenya Hara — not only practising designer, but also a theoretician and a great teacher. Japanese minimalist style was formed as we know it in large part due to him and a few other designers in the second half of the 20th century. Of course, all this was largely based on the traditional aesthetics which emerged some 500 years ago, wabi-sabi. But those guys redefined it, and realised it in a modern language. Or take the story of Polish posters where a handful of designers and artists created a national school in graphic design. We can do that, too. My talk was about the current state of affairs. I explain where all this trash comes from and what ethical basis it lives on, and talk about the second branch of Russian aesthetics, the one that is well-developed in the arthouse cinema and some auteur design, very well mastered and inhabited by Anna Naumova and Kirill Blagodatskikh, for example. And we can shape a new visual culture, become Kenya Hara and Henryk Tomaszewski, create our own language. Yes, Russsian sophisticated community has this craving for minimalism. We have all the ingredients, preconditions, but you can't just borrow the image — there should be an ethical basis behind this image, which you need to dig into and figure out at first.
Works by Anna Naumova and Kirill Blagodatskikh
Daria: What is this Russianness when it comes to type design?
Alexander: I believe there is none until we conceptualise it, think it through, and call it Russian. But it will emerge if such a community will emerge and this will happen. But speaking of trends in Russian design, I can tell you for sure that people finally got rid of their issues and insecurities about working on Cyrillic — and I'm really glad they did. As if someone opened the window, and it became easier to breathe in the room. Perhaps, the generation changed, and the fear of Cyrillic finally disappeared, — this stale air and clutching hands. I've been thinking of where this close air comes from for a long time and remembered how I read this wonderful book by Yury Gordon, 'Book of Letters from Аа to Яя.' It certainly had an important educational effect on the entire community — but I was getting through this folio as if I was putting on some sort of shackles. I was getting an impression that you can't approach the letters at all, because it would be a sacrilege, a desecration. As Masha Doreuli puts it, there are gurus who are allowed to touch letters by their tweezers and censers, while a designer has no right to intrude the sanctuary. God forbid this line is wrongly placed, they will anathematize you, curse you, and tell that you're worthless. Probably, I lacked this light attitude towards our writing at the time, which prevented me from working freely, experimenting with forms and styles. Thank god, the fear is gone now, we started to feel OK around Cyrillic, at ease, even if not always making it great and cool. But we have to live through this mayhem, later all this will be civilised and become more meaningful. Now all this lacks an ideological component, and I believe that idealism and conceptuality are a really good Russian thing. After all, we are not a very formal country, yet we are really conceptualised: we are about idealism, about meaning, about truth, about sociality. As a matter of fact, we need Dobroshrift, even if it's ugly. It needs to exist. And it is very Russian in terms of its message. It flaunts this shape. It is very social. It seeks the truth.
That is why everything is definitely getting better. We just need to be less judgemental, to avoid all those fears and insecurities. We need to encourage and compliment a bit more. Praise and thin air should result in even more freedom and easy attitude towards the material. That's how we'll get our designer's happiness.
Images for Alexander's keynote speech "Russian beauty, Russian design, the Russian way"
Daria: In your lecture, you're calling Isaac Levitan the Father of Russian arthouse. Can you name such a Levitan when it comes to type, if there's one?
Alexander: My answer will be subjective and unpatriotic: to me, Levitan in type are the titles in TV drama Chernobyl. I found out that the typeface was created by the film director himself, he designed it together with his brother after flipping through some magazines, — called it A Poor's Man Futura. The funny thing is, there wasn't a single Russian comment on this when I googled it. No one asked himself what this typeface is, who designed it, where it comes from. Zero. None. But it made quite an impression on me, no less than the series itself: this hypnotising feeling of our unsettled, ugly life. My father is in the military, I grew up in Soviet military towns, and I can say that this look and feel they achieved through this typeface speaks perfectly about the Post-soviet country. About levitanshchina.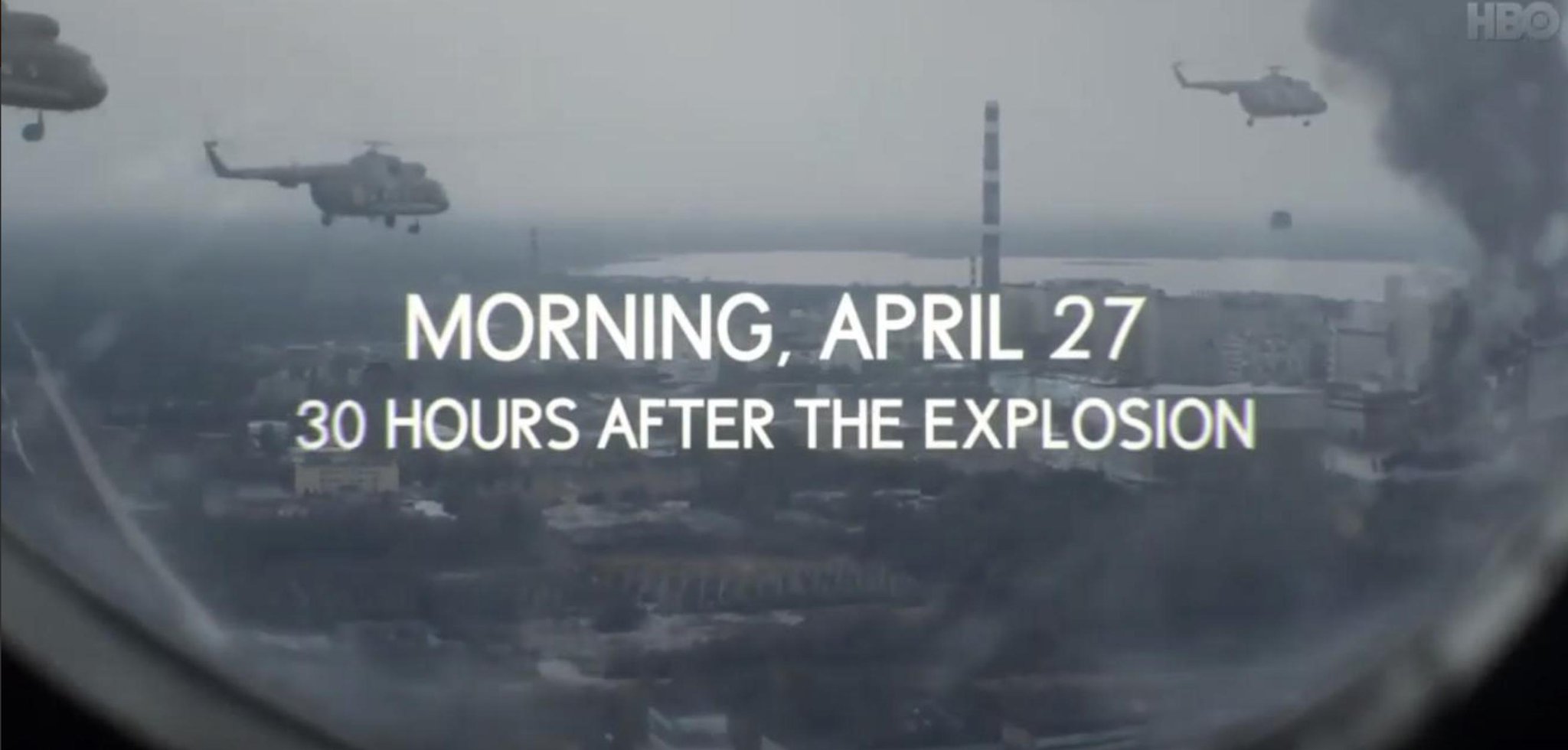 Chernobyl, the HBO series. Director Johan Renck described the design proccess behind the custom-made typeface in the Scripnotes podcast