As usual, the list is divided into sections, according to our very own preference, sense of beauty, and type design experience:
fonts with perfect Cyrillic;

fonts with good Cyrillic;

super-display, experimental fonts with Cyrillic beyond our judgment criteria;

fonts with acceptable Cyrillic;

fonts with questionable Cyrillic;

fonts with evident mistakes in Cyrillic.
We strongly recommend to think twice before using fonts from the latter two sections. However, we are deeply convinced there are no fonts which are unconditionally bad, and even a worst typeface can work good (and even outdo a perfect one) in a certain situation.
The first three sections are the releases of type.today, tomorrow.type.today, and other fonts with Cyrillic set designed by CSTM Fonts.
Compiled by Ilya Ruderman, Yury Ostromentsky (CSTM Fonts)
Coding by David Frenkel
Produced by Mikhail Berezin
Fonts released through type.today
Factor A by Ilya Naumoff
Gauge Type Family by Alexander Tarbeev
Gauge Letterpress by Alexander Tarbeev
Halvar by Jakob Runge, Nils Thomsen, Lisa Fischbach, Paul Eslage
Halvar Stencil by Jakob Runge, Nils Thomsen, Lisa Fischbach, Paul Eslage
Proto Grotesk by Jean-Baptiste Levée, Cyrillic by Ilya Ruderman, Yury Ostromentsky
Fonts released through tomorrow.type.today
Transgender Grotesk by Alexander Cherepanov
Archaism by Nikita Kanarev
Bramb by Valery Golyzhenkov
Dusseldot by Ilya Bazhanov, Maks Barbulovic
Epos by Denis Serebryakov
Grafier by Alex Slobzheninov
HealthGoth by Anna Seslavinskaya
Nostra by Lucas Descroix ![Transgender Grotesk] Transgender by Alexander Cherepanov
Uglaya by Valery Golyzhenkov
Other font releases featuring CSTM Fonts
LL Akkurat by Laurenz Brunner (Lineto), Cyrillic by Ilya Ruderman, Yury Ostromentsky
LL Brown by Aurèle Sack (Lineto), Cyrillic by Ilya Ruderman, Yury Ostromentsky
LL Unica77 by Christian Mengelt (Team'77), Maurice Göldner (Lineto), Cyrillic by Ilya Ruderman, Yury Ostromentsky
CSTM Xprmntl 03 by Yury Ostromentsky (CSTM Fonts)
Fonts with perfect Cyrillic
Adelphi by Nick Job (Rosetta Type Foundry)
Allium Rounded by Marie Otsuka, Cyrus Highsmith (Occupant Fonts)
Brachetto by Roland Hüse
CoFo Peshka by Contrast Foundry
Displace Serif by Denis Serebryakov ![FS-Brabo] FS Brabo by Fernando Mello (Fontsmith)
Grtsk by Ilya Naumoff, Benjamin Blaess
Le Murmure by Jérémy Landes, Cyrillic by Alex Slobzheninov
Literata by Vera Evstafieva, Veronika Burian, Irene Vlachou, José Scaglione (TypeTogether)
Nickel Gothic by David Jonathan Ross
Refrigerator Deluxe by Mark Simonson
Theodor by Philipp Neumeyer (Rüdiger)
Zangezi Sans by Daria Petrova
Aeronautic by Letterhead Studio
Aerostat by Letterhead Studio
Atmosferico by Letterhead Studio
Attraverso by Letterhead Studio
Bloccato by Letterhead Studio
Brutalino by Letterhead Studio
Dicesimo by Letterhead Studio
Documentarium by Letterhead Studio
Generoso by Letterhead Studio
Gibra by Letterhead Studio
Grosseto by Letterhead Studio
Grossomagro by Letterhead Studio
GuardiOla by Yuri Gordon( Letterhead Studio)
Imperfect by Letterhead Studio
Interchargeable by Letterhead Studio
Lenivka by Yuri Gordon( Letterhead Studio)
Panetteria by Letterhead Studio
Passione Orribile by Letterhead Studio
Pecorino by Letterhead Studio
Quando by Letterhead Studio
Raffinata by Letterhead Studio
Remarque Egyptian by Letterhead Studio
Remarque Gothic by Letterhead Studio
Remarque Latin by Letterhead Studio
Samizdat by Letterhead Studio
Stoleshnikov by Yuri Gordon (Letterhead Studio)
Tesa by Letterhead Studio
Uglygothic by Letterhead Studio
Vestimentarno by Letterhead Studio
Zeppelino by Letterhead Studio
BC Baseliner by Simon Matejka (Briefcase Type Foundry), Cyrillic by Alexander Lubovenko (Paratype)
Golos by Alexandra Korolkova, Vitaly Kuzmin (Paratype)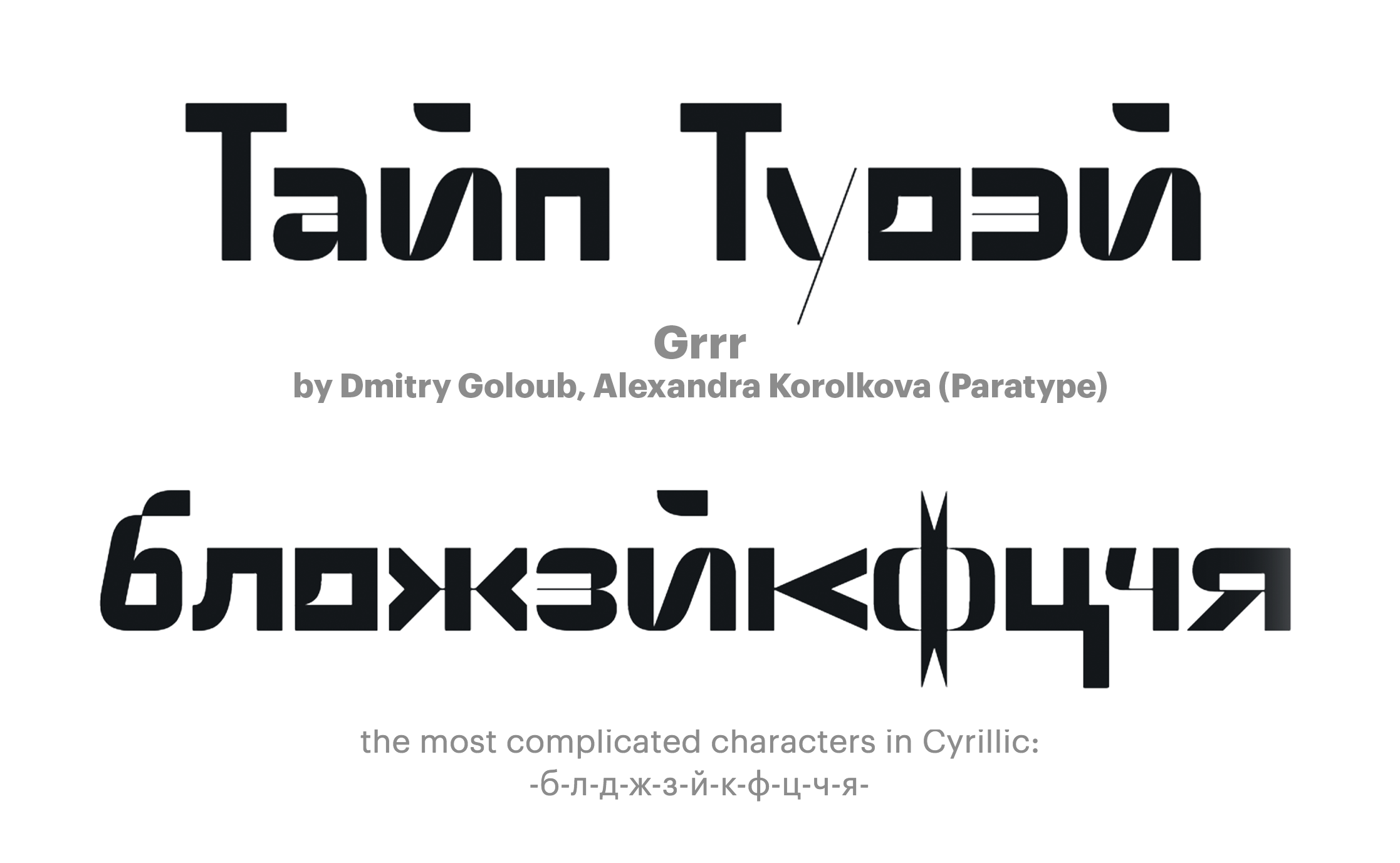 Grrr by Dmitry Goloub, Alexandra Korolkova (Paratype)
Illusion by Natalia Vasilyeva (Paratype)
Journal Sans Old School by Natalia Vasilyeva (Paratype)
PT Root UI by Vitaly Kuzmin (Paratype)
Fonts with good Cyrillic
Adapter by William Montrose, Sláva Jevčinová (Rosetta Type Foundry)
Adobe Handwriting Ernie by Ernest March
Adobe Handwriting Frank by Frank Grießhammer
Adobe Handwriting Tiffany by Tiffany Wardle de Sousa
Amrys by Ben Jones (Monotype)
Antonym by Gayaneh Bagdasaryan, Vyacheslav Kirilenko (Brownfox)
Apercu Condensed by The Entente (Colophon)
Bitcrusher by Ray Larabie (Typodermic)
Bree Cyrillic by José Scaglione, Veronika Burian (TypeTogether)
Choowee by Vladimir Egoshin
Closer Text by Andriy Konstantynov (Mint Type)
Ding Extra by Andrey Kudryavtsev (RodrigoTypo)
Dodo by Alexander Bobrov (Indian Summer Studio)
Handjet by David Březina (Rosetta Type Foundry)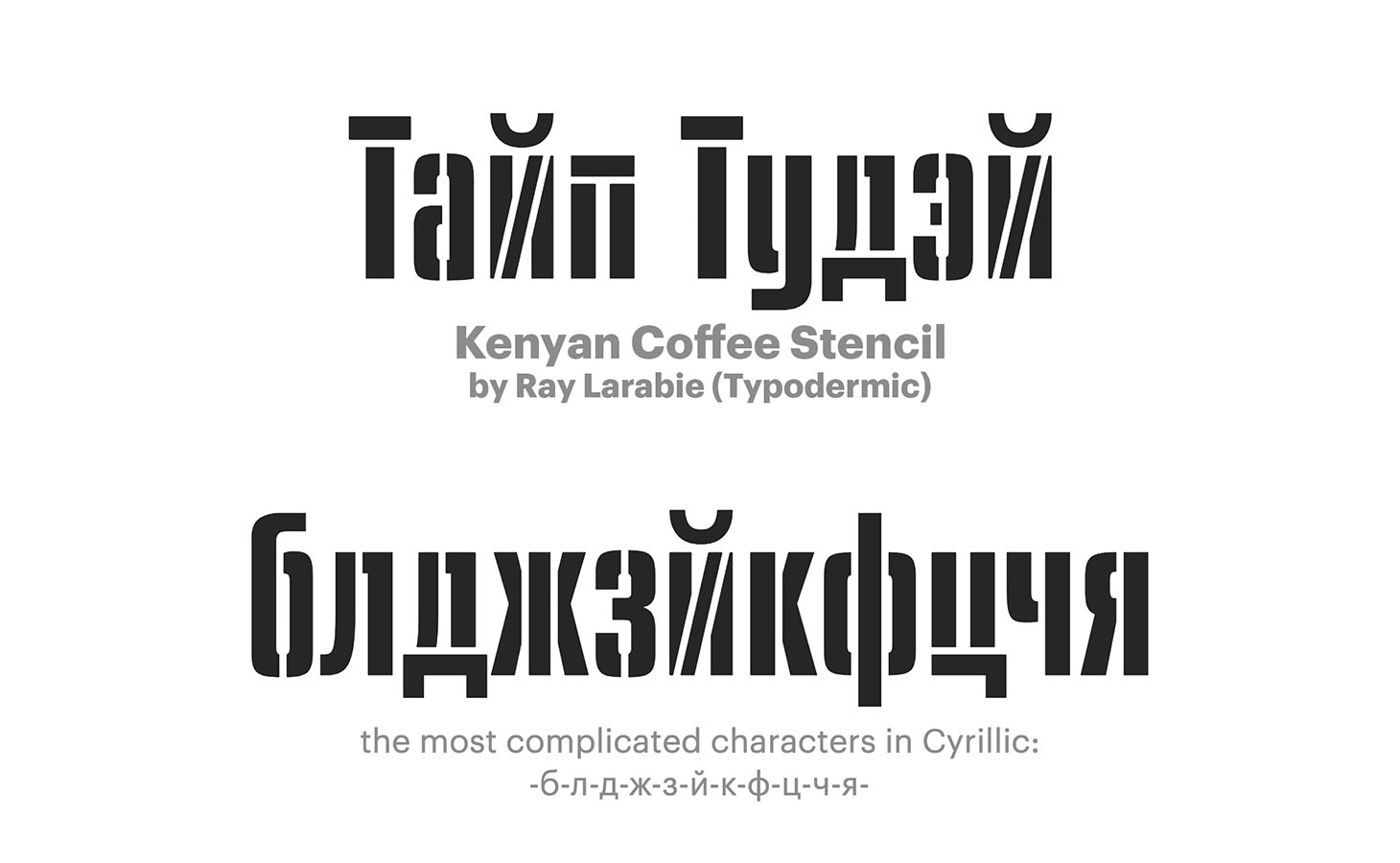 Kenyan Coffee Stencil by Ray Larabie (Typodermic)
Lumios Marker by Elena Genova (My Creative Land)
Ping by Peter Biľak, Nikola Djurek (Typotheque)
RF Boris by Misha Panfilov (Russian Fonts)
RF Takt by Misha Panfilov (Russian Fonts)
Spaceland by Oleh Lishchuk (Pepper Type)
ALS Beast by Alexey Malkov (Art. Lebedev Studio)
ALS Brevier by Konstantin Lukyanov (Art. Lebedev Studio)
ALS Copycat by Ksenia Erulevich (Art. Lebedev Studio)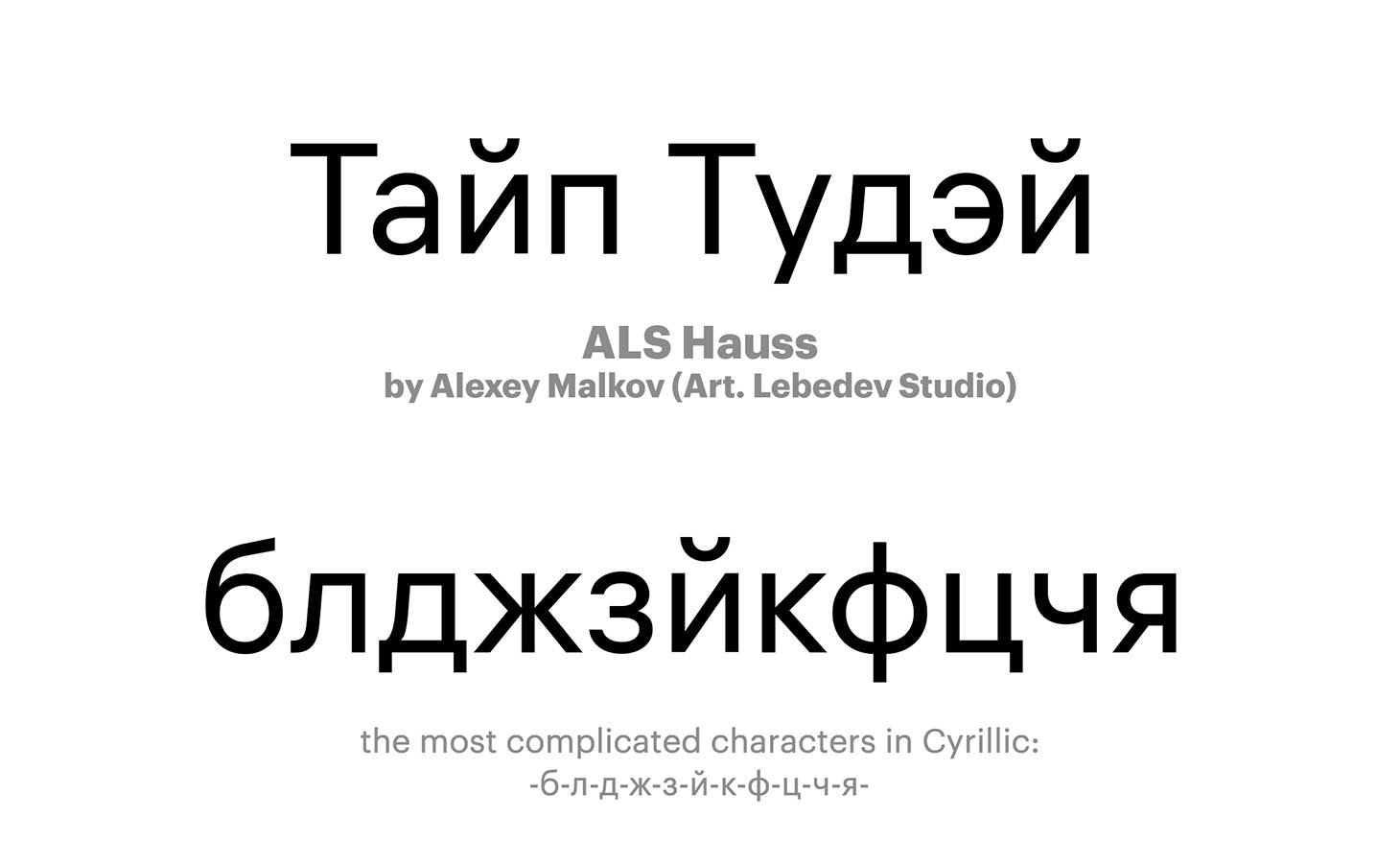 ALS Hauss by Alexey Malkov (Art. Lebedev Studio)
ALS Horizon by Taisiya Lushenko (Art. Lebedev Studio)
ALS January by Konstantin Lukyanov (Art. Lebedev Studio)
ALS Junior by Konstantin Lukyanov (Art. Lebedev Studio)
ALS Kalamos by Michael Gorenshtein (Art. Lebedev Studio)
ALS Wagon by Alexey Malkov (Art. Lebedev Studio)
Closer by Andriy Konstantynov (Mint Type)
Cyntho Next Slab by Andriy Konstantynov (Mint Type)
Cyntho Next by Andriy Konstantynov (Mint Type)
Greenwich by Andriy Konstantynov (Mint Type)
Ponzu by Andriy Konstantynov (Mint Type)
Super-display, experimental fonts with Cyrillic beyond our judgment criteria
Afform by Artemiy Kremer
Forma Bold by Vladimir Kolomeytsev
Fuller by Anton Popov
Germanica by Sergey Maximov
Handwrt by Alena Shulga
Hrustal by Alexandr Bogomolov
Rever by Sasha Smirnov (Paratype)
Matisse by Sergey Lytkin, Anton Popov
Mc cutter by Mark Chernyshev ![Mc-worms-outline] Mc-worms outline by Mark Chernyshev ![Meteorito-Bold] Meteorito Bold by Katya Aleksandrova
Moskek by Mark Chernyshev
Naturalist by Sergey Maximov
Ocbita by Artemiy Kremer
Pitcrew by Anton Popov ![Potexa-Bold] Potexa Bold by Vladimir Kolomeytsev
Siberia by Oleg Zhuravlev ![Tempo-Regular] Tempo Regular by Roma Lavrinenko
Uncial by Roman Gruzdkov
314 bits by Lyudmil Dachev (Iam314)
ALS Echelon by Daniil Vidmich (Art. Lebedev Studio)
Base by Peter Bushuev (NaumType)
Brozas by Viktor Pesotsky
Concrete by Andrey Karter
Double by Vladimir Anosov
Drab by Viktor Pesotsky
Drongo by Yury Veselov
Eskos by Viktor Pesotsky
Etewut Sans by Alex Etewut (Etewut)
Juxta Sans Mono by Peter Bushuev (NaumType)
Juxta by Peter Bushuev (NaumType)
KD Pempo by Zhalgas Kassymkulov (Kassymkulov Design)
Marvin Visions by Mathieu Triay
Neue Machina by Pangram Pangram, Baugasm
Pomidorko by Tony Sidachova
Postertoaster by Vsevolod Abramov
Roosk by Veneta Rangelova (DearType)
SK Primo by Tikhon Reztcov
Swampy by TimXez
UNOVIS100 by Denis Masharov
Fonts with acceptable Cyrillic
Alethia Next by Oleh Lishchuk (Pepper Type)
Arkaim by Dima Pole
Favorit Pro by Johannes Breyer, Fabian Harb, Erkin Karamemet,Immo Schneider, Robert Janes, Daniel Chessari, Cyrillic by Maria Doreuli, Liza Rasskazova
Goldenbook by Mark Simonson
Good Timing by Ray Larabie (Typodermic)
Grafema LC by Jacklina Jekova (Letter Collective)
Hegval Display by Mariya Pigoulevskaya (The Northern Block Ltd)
Hubba by Dmitry Greshnev (Green Type)
Maecenas by Michał Jarociński (Dada Studio)
Morpha by Elena Kowalski (Glen Jan)
Naftera by Pablo Balcells (Graviton)
Nudla by Elena Kowalski (Glen Jan)
Omnes by John Hudson (Darden Studio)
Palace-Of-Sports by Stanislav Chiganov
Refinery by Kimmy Kirkwood (Kimmy Design)
Steelfish Rounded by Ray Larabie (Typodermic)
Intro Script by Ventsislav Dzhokov (Fontfabric)
Mozer by Ani Petrova (Fontfabric)
Noah by Svet Simov (Fontfabric)
Panton Rust by Plamen Motev (Fontfabric)
Fonts with questionable Cyrillic
Academy Sans by Jonas Hecksher (Playtype)
Achates by Vassil Kateliev (Karandash)
ALS Arc by Konstantin Lukyanov (Art. Lebedev Studio)
ALS Mio by Mio Horii (Art. Lebedev Studio)
Atenta by Elena Kowalski (Glen Jan)
Bebas Neue Pro by Ryoichi Tsunekawa (Dharma Type)
Binaria by Pablo Balcells (Graviton)
Dealerplate by Ray Larabie (Typodermic)
Electronica by Pablo Balcells (Graviton)
Fira Code by Nikita Prokopov
Fits by Veneta Rangelova (DearType)
Galderglynn 1884 by Ray Larabie (Typodermic)
Genia by Akufadhl
Grand Gothik by Panos Vassieou
![Hailgen] Hailgen by Akufadhl
House Sans by Dan Jones (TypeUnion)
Intensiva by Pablo Balcells (Graviton)
Inter by Rasmus Andersson
Jheronimus by Aleksey Popovtsev (Aronetiv)
Kardinal by Ani Dmitrova
Linear Sans / Radial by Milos Mitrovic
Lumios Typewriter by Elena Genova (My Creative Land)
Makro XM by Gumpita Rahayu (Tokotype)
Masiva by Pablo Balcells (Graviton)
Point Soft by Natanael Gama (Ndiscover)
Predictor by Stanislav Hatznik (Smartfont)
Pricedown by Ray Larabie (Typodermic)
TOMO Acuario by TOMO Fonts
TOMO Bossa by TOMO Fonts
TS Maka by Vitaliy Tsygankov
Utily Sans by Alfonso García, Rodrigo Fuenzalida (Latinotype)
Vocal by Ani Dmitrova
Cocogoose Classic by Francesco Canovaro (Zetafonts)
Codec Pro by Francesco Canovaro (Zetafonts)
Duepuntozero Pro by Francesco Canovaro (Zetafonts)
Hagrid by Cosimo Pancini (Zetafonts)
Iconic by Francesco Canovaro (Zetafonts)
Kitsch by Francesco Canovaro (Zetafonts)
Klein by Francesco Canovaro (Zetafonts)
Lovelace by Cosimo Pancini (Zetafonts)
Monterchi by Francesco Canovaro (Zetafonts)
Tarif by Cosimo Pancini (Zetafonts)
Fonts with evident mistakes in Cyrillic
Blacker Pro by Cosimo Pancini, Andrea Tartarelli (Zetafonts)
CA Saygon by Stefan Claudius (Cape-Arcona)
Etewut Serif by Alex Etewut (Etewut)
FE Hero by Egor Stremousov
Generisch Sans by Fadhl Waliy ul Haqq (Akufadhl)
Ponder by Dan Jones (TypeUnion)
Science Gothic by by Thomas Phinney, Vassil Kateliev, Brandon Buerkle
Selectric Century by Linn Benton (Indian Summer Studio)
Sigma by Gert Wiescher (Wiescher Design)
Victor Mono by Rune Bjørnerås
Fontuna by Andriy Dykun (NREY)
Gunhill by Andriy Dykun (NREY)
Heartland by Andriy Dykun (NREY) ![Oblique Rain] Oblique Rain by Andriy Dykun (NREY)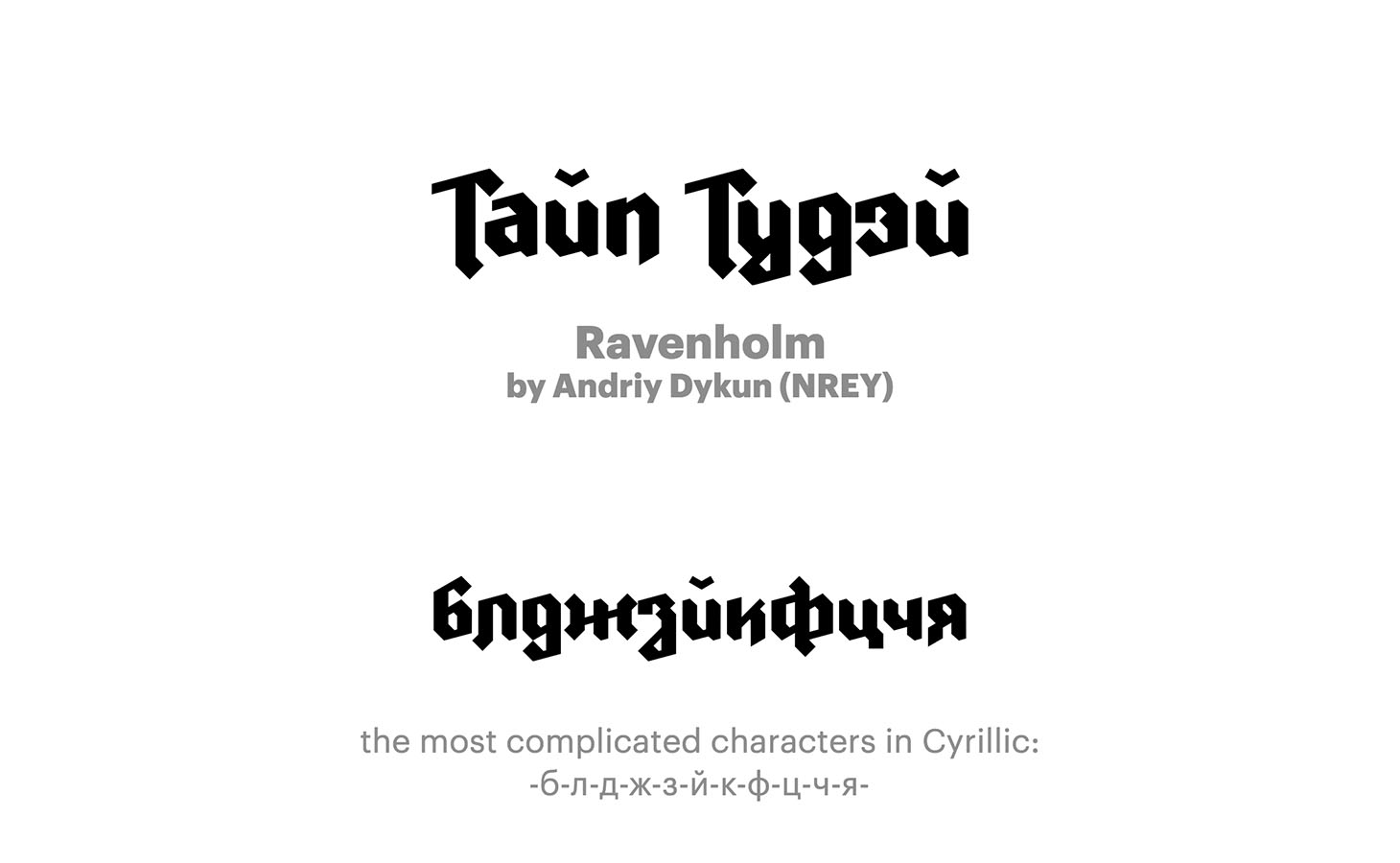 Ravenholm by Andriy Dykun (NREY) ![Sansterdam] Sansterdam by Andriy Dykun (NREY)
Skiff by Andriy Dykun (NREY)
Thephir by Andriy Dykun (NREY)
Voguer Sans by Andriy Dykun (NREY)
Waymar by Andriy Dykun (NREY)