As usual, the list is divided into sections, according to our very own preference, sense of beauty, and type design experience:
our favourites of 2018;

typefaces with perfect cyrillics;

typefaces with good or acceptable cyrillics;

typefaces with questionable cyrillics;

typefaces with evident mistakes in cyrillics.
We strongly recommend to think twice before using typefaces from the latter two sections. However, we are deeply convinced there are no typefaces which are unconditionally "bad", and even a "worst" typeface can work good (and even outdo a "perfect" one) in a certain situation.
The very first section are the typefaces with cyrillics made by us. Although the following list is not full, we find it representative for the current state of Cyrillic type.
Compiled by Ilya Ruderman, Yury Ostromentsky (CSTM Fonts)
Coding by David Frenkel
Produced by Mikhail Berezin
Cyrillics by CSTM Fonts
Styrene A by Berton Hasebe (Commercial Type), Cyrillic by Ilya Ruderman (CSTM Fonts)
Styrene B by Berton Hasebe (Commercial Type), Cyrillic by Ilya Ruderman (CSTM Fonts)
CSTM Xprmntl 02 by Yury Ostromentsky (CSTM Fonts)
CSTM Xprmntl 02 by Yury Ostromentsky (CSTM Fonts)
CSTM Xprmntl 02 by Yury Ostromentsky (CSTM Fonts)
Our favourite typefaces of 2018
Alterego by Pieter van Rosmalen (bold-monday)
Arnold by Philipp Rebekka Neumeyer
Rainer by Philipp Rebekka Neumeyer
CoFo Chimera by Contrast Foundry
IBM Plex Sans by IBM, Bold Monday
IBM Plex Mono by IBM, Bold Monday
IBM Plex Serif by IBM, Bold Monday ![Steinbeck-by-Roman-Gornitsky] Steinbeck by Roman Gornitsky
Zangezi by Daria Petrova
Шрифты с идеальной, по нашему мнению, кириллицей
31Dec by Valery Golyzhenkov (Letterhead Studio)
Baker Street 221B Mr Holmes by Yuri Gordon (Letterhead Studio)
Darco X by Valery Golyzhenkov (Letterhead Studio)
Libellula by Valery Golyzhenkov (Letterhead Studio)
Mandelshtam Life by Yuri Gordon (Letterhead Studio)
Mandelshtam Poetry by Yuri Gordon (Letterhead Studio)
Pepperscreen by Valery Golyzhenkov (Letterhead Studio)
Vogue Highline Sans by Yuri Gordon (Letterhead Studio)
Vogue Highline Serif by Yuri Gordon (Letterhead Studio)
WF Regular by Yuri Gordon (Letterhead Studio)
WF Sans by Yuri Gordon (Letterhead Studio)
CoFo Sans by Contrast Foundry
CoFo Robert by Contrast Foundry
November Slab by Peter Biľak
November Stencil by Peter Biľak
William Text by Maria Doreuli
Arbat PT by ParaType
Circe Slab by ParaType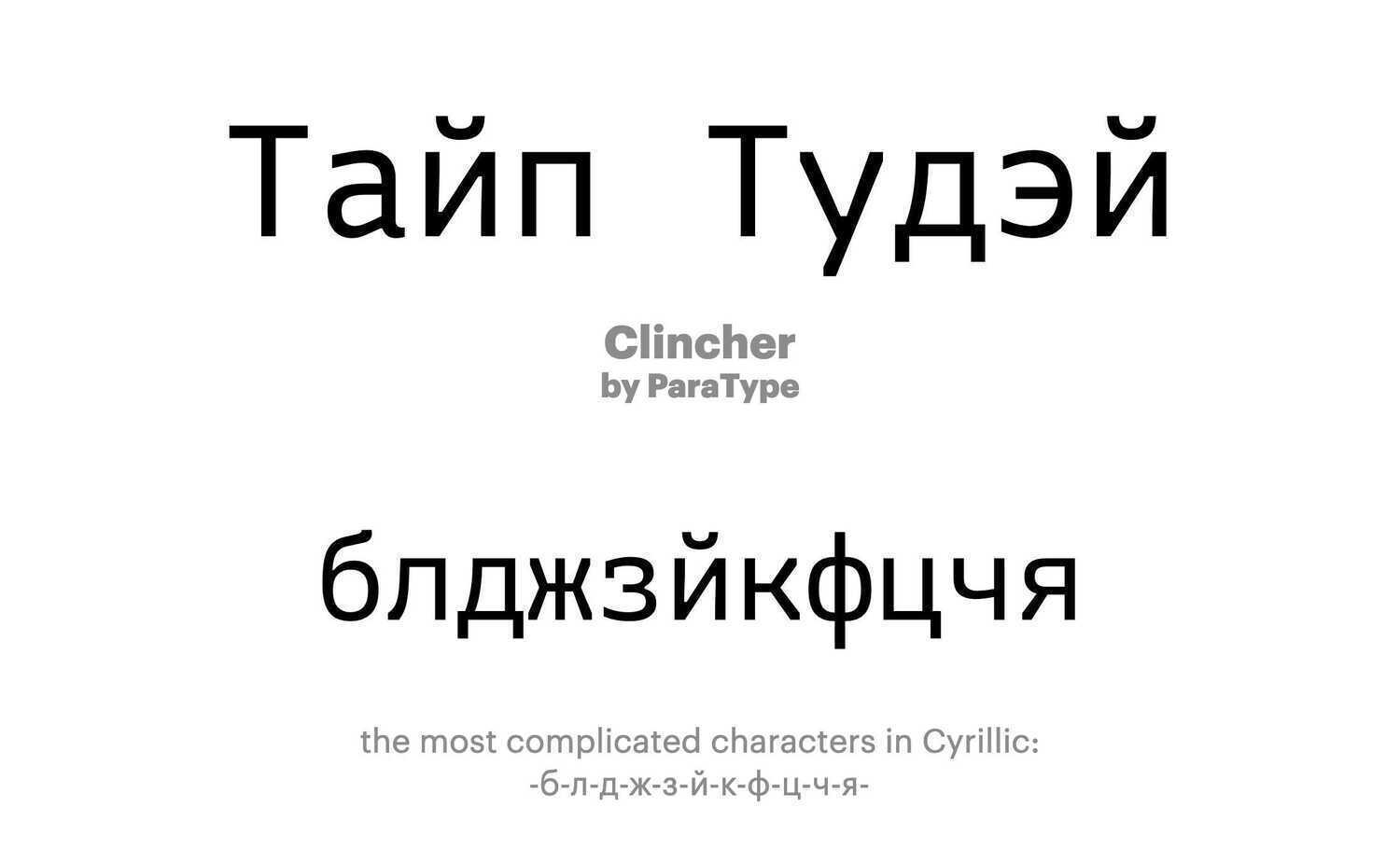 Clincher by ParaType
Crassula by ParaType
Fact by ParaType
Lehmann Egyptian by ParaType
PT Root UI by ParaType
Six Hands by ParaType
Wak by Alexander Lubovenko (ParaType)
Azo Sans 2 by Rui Abreu
Baton Turbo by Anton Koovit & Yassin Baggar
Bitum by Gayaneh Bagdasaryan & Vyacheslav Kirilenko
Heron by Cyrus Highsmith (Occupant Fonts)
Lab Grotesque Mono by Göran Söderström (Stockholm Design Lab) Zangezi by Daria Petrova
Typefaces with good or acceptable cyrillics
DIN Next Decorative by Akira Kobayashi (Monotype)
DIN Next Shapes by Akira Kobayashi (Monotype)
Seol Sans by Adrian Frutiger (Monotype)
Terry Junior by Terrance Weinzierl (Monotype)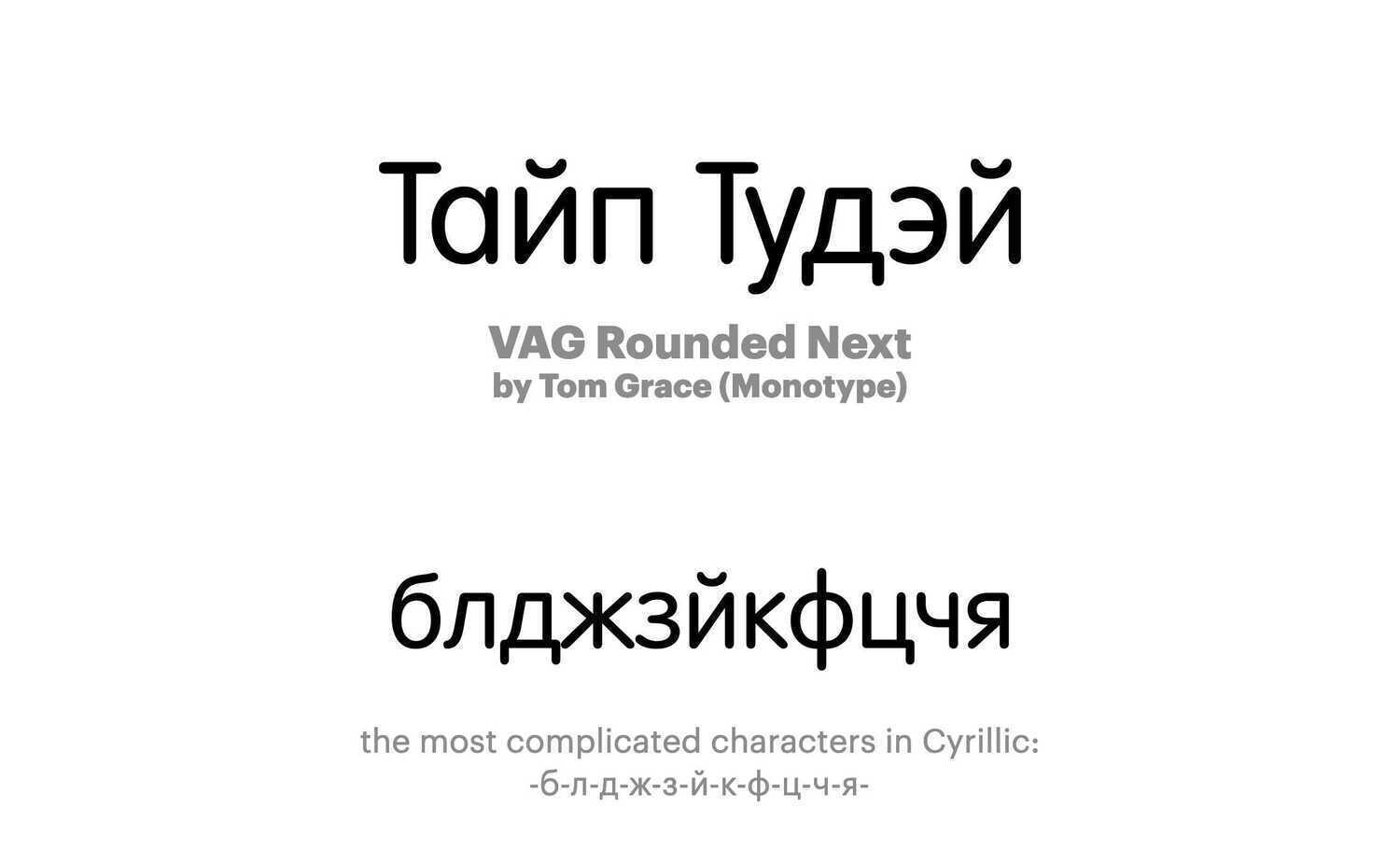 VAG Rounded Next by Tom Grace (Monotype)
Clother by Julie Soudanne, Ilya Naumoff, Jérémie Hornus
Elowen by Katsia Jazwinska
Felora by Dmitrii Chirkov
Lorna by Zakhar Yaschin (FontaZY)
Monogamma by Tolya Doodko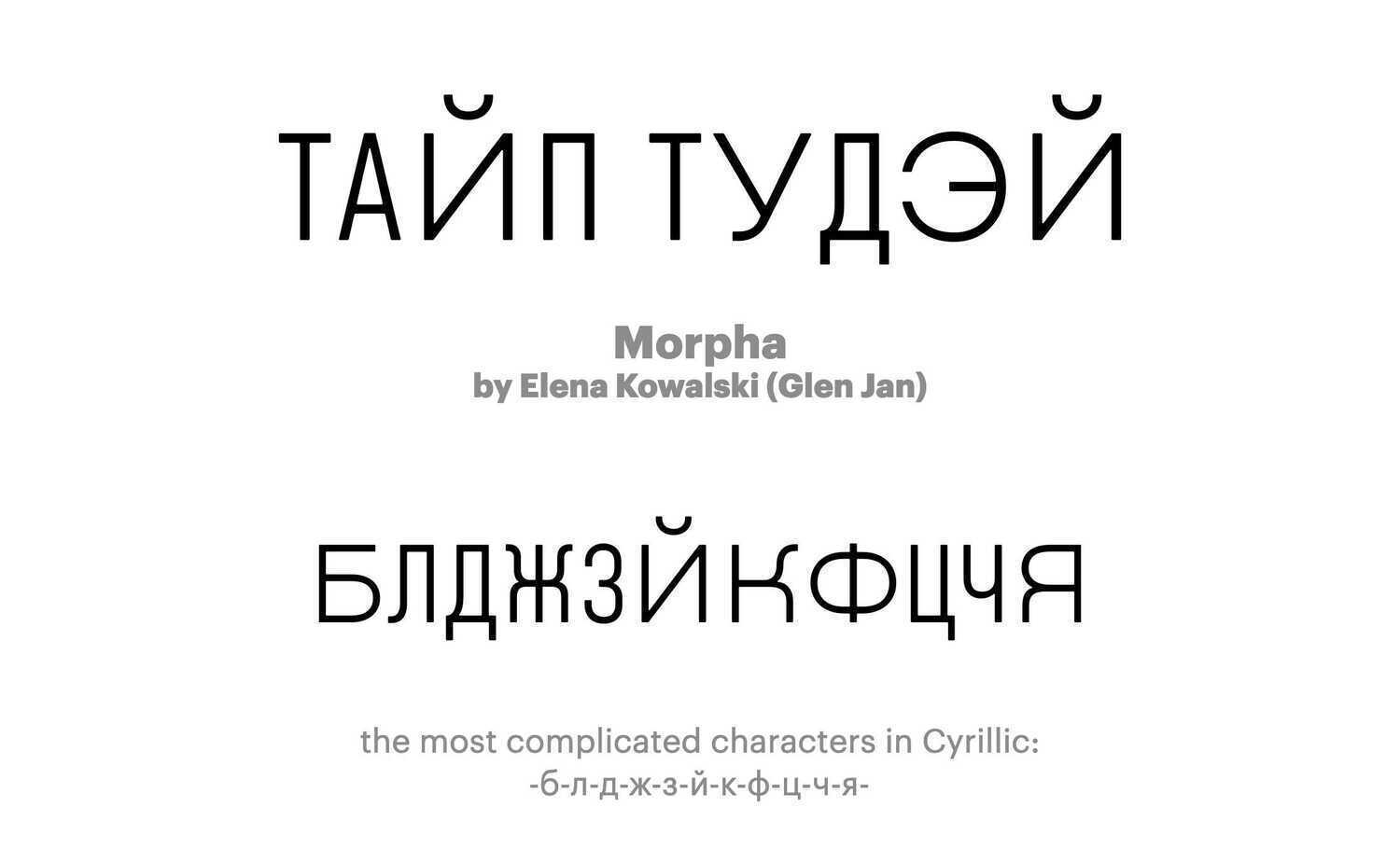 Morpha by Elena Kowalski (Glen Jan)
NCT Torin by Nathan Zimet (NCT)
Sinews Sans Pro by Jakob Runge (TypeMates)
Abrakadabra by Tolya Doodko
Epos by Denis Serebryakov (Dzianis Serabrakou)
Kelpie by Olga Umpeleva
NCT Larkspur by Nathan Zimet (NCT)
Object Sans by Alex Slobzheninov, Sofia Yasenkova (Pangram)
Rolleston by Oleh Lishchuk (Pepper Type)
Streetline by Dmitry Greshnev (Green Type)
Stylish Marker by Pedro Teixeira
Vin Slab Pro by Oleh Lishchuk (Mint Type)
Waba by Lewis McGuffie Type
Corsair by Samarskaya & Partners
Disruptor's Script by Antonina Zhulkova (Piñata)
Gentlemens Script by Antonina Zhulkova (Piñata)
Insolenta by Andrey Kudryavtsev (AKTF)
Luftayah by Anna Seslavinskaya (Popkern)
Nightelf by Andrey Kudryavtsev (AKTF)
Scout by Cyrus Highsmith (Occupant Fonts)
Sloop Script Pro by Richard Lipton (Lipton Letter Design)
Vocal by Ani Petrova (lettersoup)
RF Dewi by Misha Panfilov (Russian Fonts)
RF Tone by Misha Panfilov (Russian Fonts)
Contract by Ksenia Erulevich (Art. Lebedev Studio)
Departure by Ksenia Erulevich (Art. Lebedev Studio)
Ivolga by Taisiya Lushenko (Art. Lebedev Studio)
Lavanda by Ksenia Erulevich (Art. Lebedev Studio)
NF64 by Konstantin Lukyanov (Art. Lebedev Studio)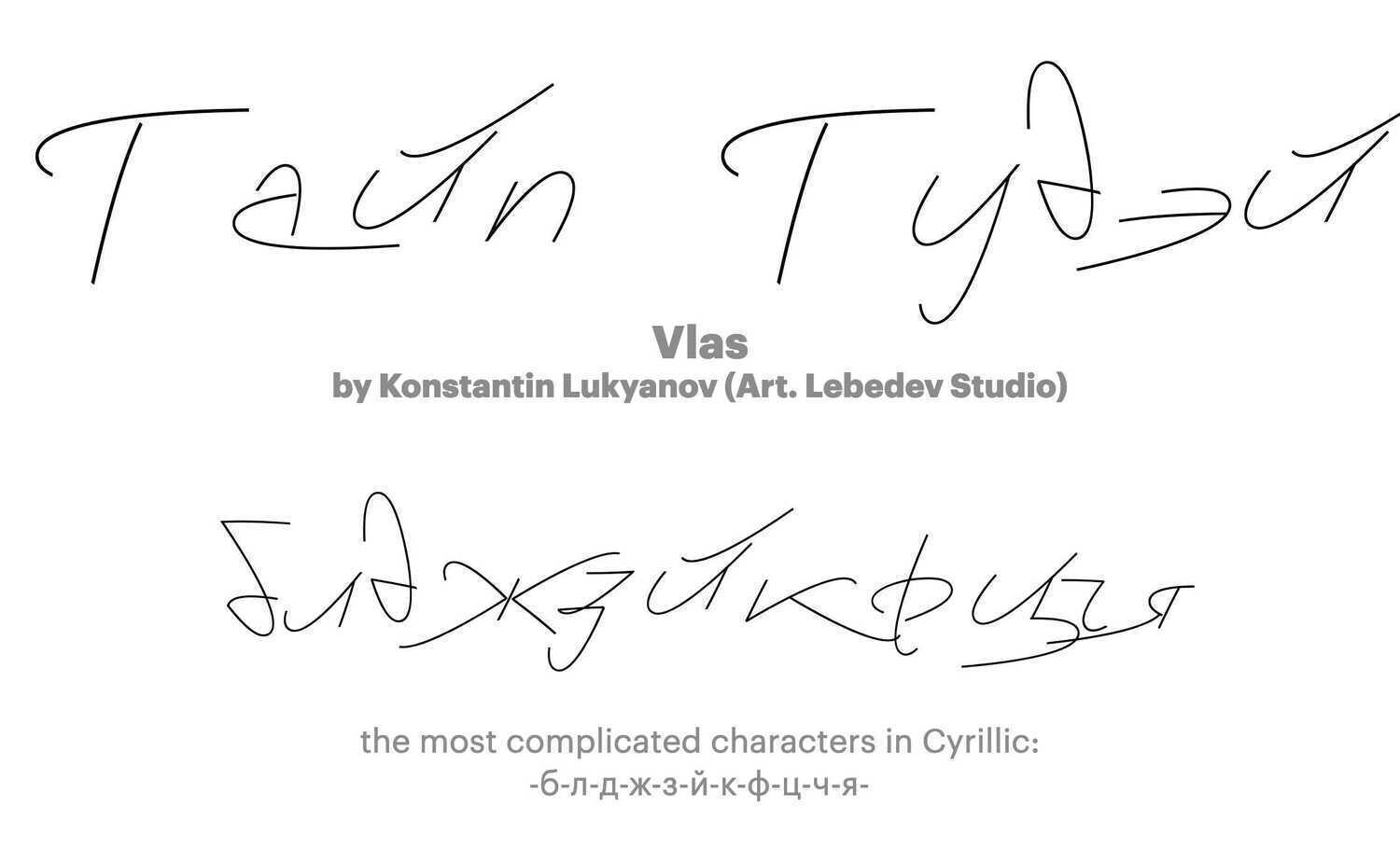 Vlas by Konstantin Lukyanov (Art. Lebedev Studio)
Colus by Stan Partalev (fontfabric)
Gilam by Ivan Petrov & Plamen Motev (Fontfabric Type Foundry)
Mont by Svet Simov (Fontfabric)
Singel by Jacklina Jekova and Nikolay Petroussenko (Fontfabric Type Foundry)
Squad by Svet Simov & Svetlin Balezdrov (Fontfabric Type Foundry)
Alquitran Pro by RodrigoTypo
Ding by Andrey Kudryavtsev (RodrigoTypo)
Tobi Greek Cyrillic by Andrey Kudryavtsev (RodrigoTypo)
Jiho by Hyun-Seung Lee (cretype)
Jiho Soft by Hyun-Seung Lee (cretype)
Nefelibata by My Creative Land
Veryberry by My Creative Land
Typefaces with questionable cyrillics
P22 Eaglefeather by David Siegel (P22)
Lexis by Alexander Nedelev (Typedepot)
Point™ by Natanael Gama (Ndiscover)
Stereonic by Oleh Lishchuk (Mint Type)
Theinhardt by François Rappo (Optimo)
Osovec by Dima Pole
Tartaria by Dima Pole
Vinneta by Dima Pole
Boilermaker by Jim Lyles (Stiggy & Sands)
Brutto by Alex Etewut (Etewut)
Fraqua Pro by Fernando Haro (deFharo)
FTY Strategycide by Michael Adkins (The Fontry)
Gimbal Grotesque by Nicholas Garner (AVP)
Goudy Titling by Frederic Goudy (Matteson Typographics)
Latinka by Jaroslav Zavodny
Mabry by Benjamin Critton (Colophon Foundry)
Red Amaretto by Paweł Burgiel
Schuss Sans CG Poster Black by Jochen Schuss (typic schuss)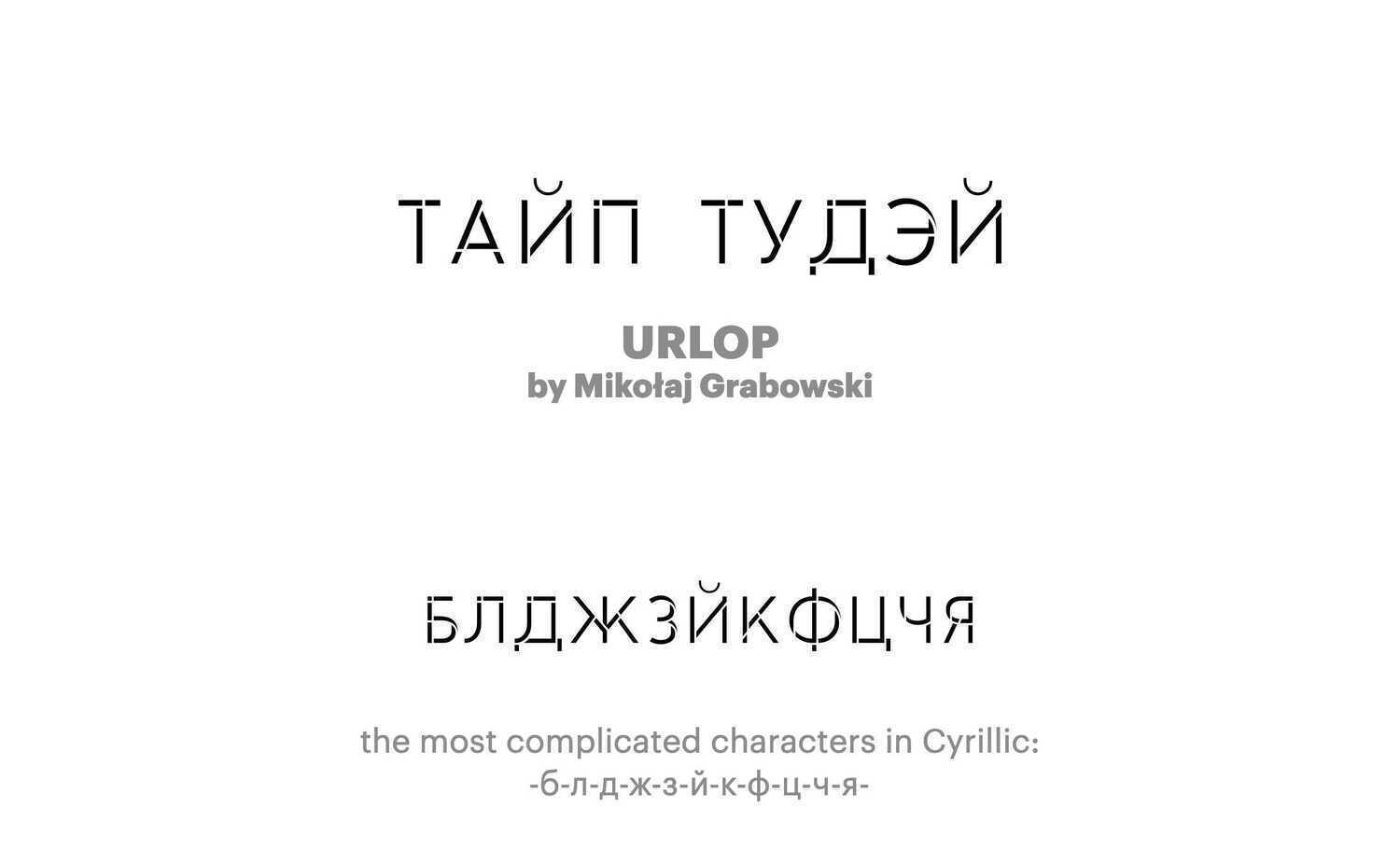 URLOP by Mikołaj Grabowski
Bow Tie by Pedro Teixeira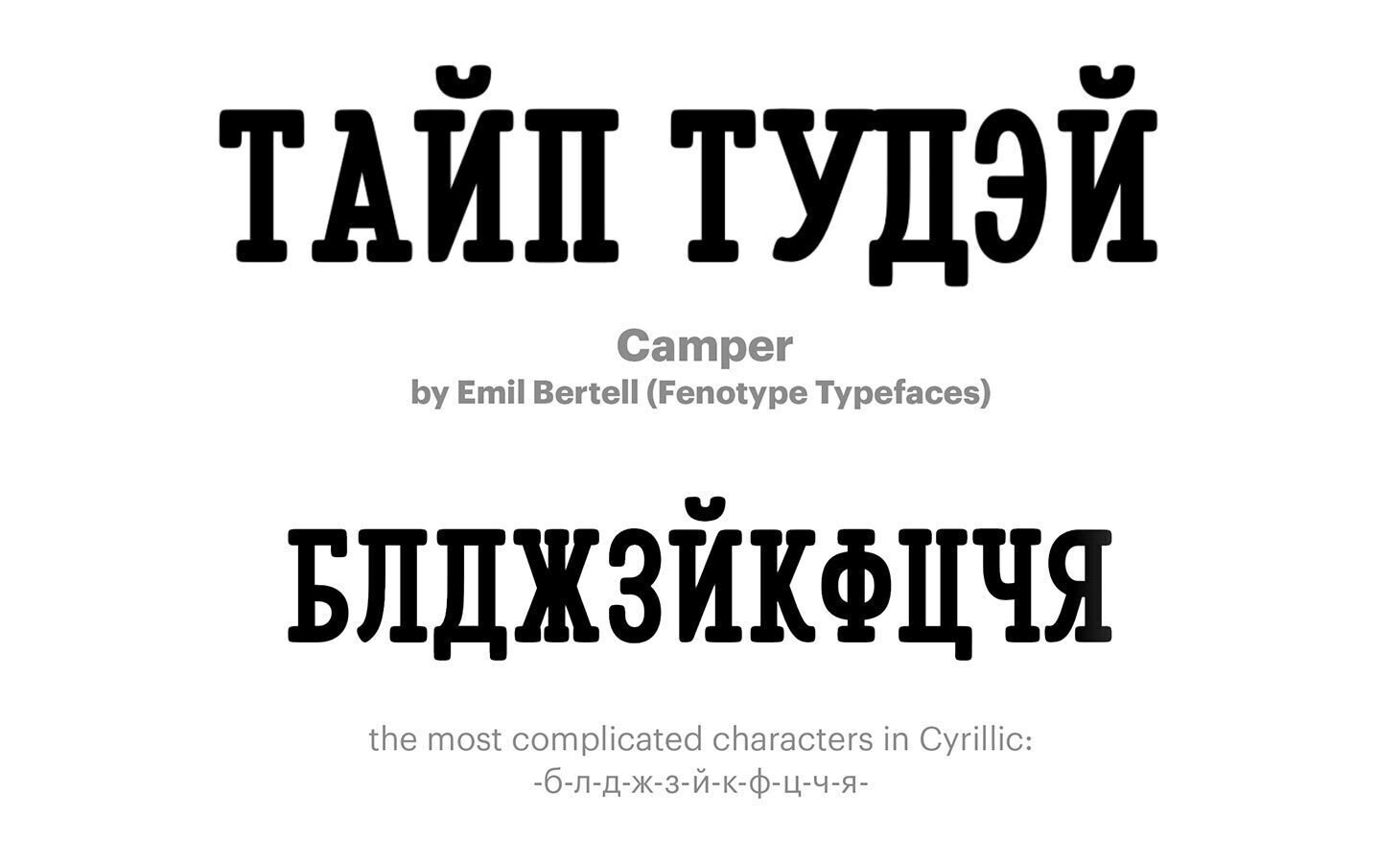 Camper by Emil Bertell
Framer Sans by June 23
Lunar by Alex Etewut (Etewut)
Mucho Gusto by Olga Zakharova
Panfleta Stencil by deFharo
Samaritan Tall Lower by Richard Starkings (Comicraft)
Stack by James Todd
Beaumaris by Roland Hüse (Roland Hüse Design)
Canis Minor by Olga Ryzhychenko (Ryzhychenko Olga)
Certa Serif by Elena Kowalski (Glen Jan)
FF Nort by Jörg Hemker (FontFont)
Glint by Dragan Pešić (Pesic)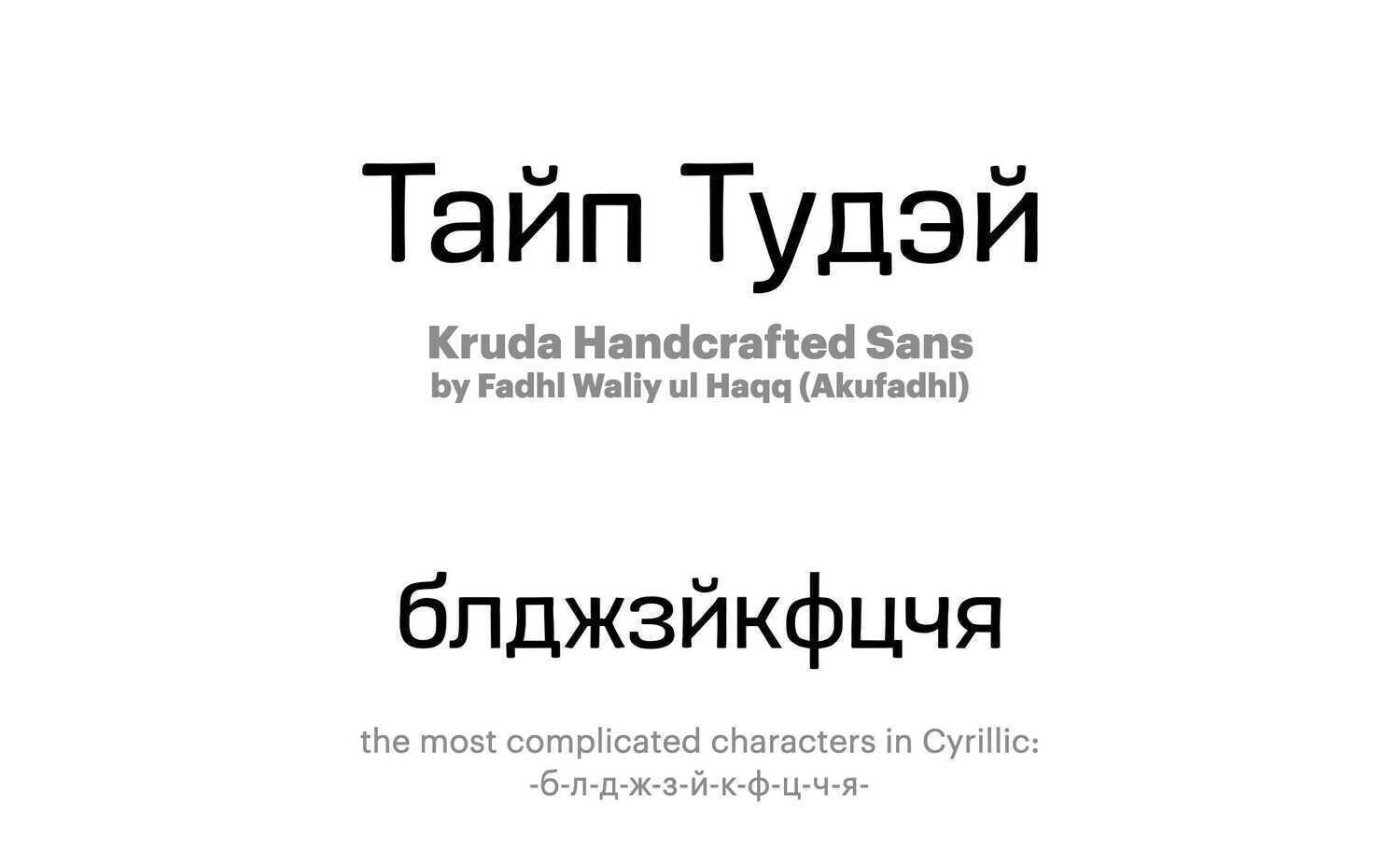 Kruda Handcrafted Sans by Fadhl Waliy ul Haqq (Akufadhl)
NATRON by Lazar Dimitrijević (Posterizer KG)
Neubau Pro by Ramiz Guseynov (TipografiaRamis)
Quador by Fontador
Zierde Grotesk by Lewis McGuffie (Lewis McGuffie Type)
Calamity Wayne by Steve Gardner (explogos)
Dopis by Slobodan Jelesijevic (Tour De Force)
Gimbal Egyptian by Nicholas Garner (AVP)
Grava by Neil Summerour (Positype)
Kapra Neue Pro by Typoforge Studio
Kometa by Vassil Kateliev, Kiril Zlatkov (Kiril Zlatkov Type Foundry)
Milas by Oğuzhan Cengiz (Hurufatfont Type Foundry)
Project Soft by Dan Jones (TypeUnion)
Sextan Cyrillic by Fernando Haro (deFharo)
KD Arguru Stencil by Zhalgas Kassymkulov (Kassymkulov Design)
KD Bombarda by Zhalgas Kassymkulov (Kassymkulov Design)
KD Brushure by Zhalgas Kassymkulov (Kassymkulov Design)
KD Diagona by Zhalgas Kassymkulov (Kassymkulov Design)
Anaphora by Francesco Canovaro (Zetafonts)
Aristotelica by Cosimo Pancini (Zetafonts)
Bimbo by Francesco Canovaro (Zetafonts)
Blacker by Cosimo Pancini (Zetafonts)
Body by Cosimo Pancini (Zetafonts)
Cocogoose Narrows by Cosimo Pancini (Zetafonts)
Domotika by Cosimo Pancini (Zetafonts)
DoUbLeBaSs by Cosimo Pancini (Zetafonts)
Heading Pro Text by Francesco Canovaro (Zetafonts)
Kabrio by Cosimo Pancini (Zetafonts)
Radcliffe by Francesco Canovaro (Zetafonts)
ZT Arturo by Francesco Canovaro (Zetafonts)
Typefaces with evident mistakes in cyrillics
Brandbe by Roman Polishchuk
Celaraz by Gumpita Rahayu (Tokotype)
DN Pro by Agi Pramudiman (LochTypo)
Drone Ranger Pro by Sean Coady (Vintage Type Company)
Jorick by Andriy Dykun (NREY)
Monly by Gatis Vilaks (WildOnes)
Neometric by Dan Jones (TypeUnion)
Sfera by Stanislav Hatznik (Smartfont)
Tzimmes by Michał Jarociński (Dada Studio)
Beau's Varsity by Beau Williamson
Caldina by Ceyhun Birinci (Artegra)
Crowd Funded by David Kerkhoff (Hanoded)
DNP Shueitai by DNP
Eris Pro by Vangelis Dim. Gardikiotis (DBSV)
Liberal by Alex Etewut (Etewut)
Nominee by Dan Jones (TypeUnion)
TOMO Zomba Pro by TOMO Fonts
Yellow Peas by Roland Hüse (Roland Hüse Design)