Evgeny Nikolaev
Art director of KinoPoisk media
When our team decided to build the show's logo and style around typography, I immediately thought of Zloy — I'd been staring at it on Instagram and Future Fonts for a long time.
I like its sharp edges and forms which are a bit hefty. Designed to be wicked, it became playful, somewhat unserious in our design. The show has this element of competitiveness — the person who remembers most details from a movie wins, — but first of all it educates and brings people together. Despite the fact that at the beginning the typeface seemed unreadable to some of our team members, we decided to go with it — since it has the most important thing, personality and recognisability. Though, we had to pass when it came to the numbers in our timer — dynamically, it really does have issues in terms of readability; but we'll probably try it again for our second season.
We wanted to introduce the typeface in the design of the studio and created a lightbox with the name of the show, but haven't turned it on yet — we found out it produces a strong reflex on the people's skin, — so, for now it only works as a sign. Then we designed circles for our guests, TV host show's cards. Also, the logo and the typeface appear on the posters that I made especially for the show. This warm and cozy retro style interior probably affects overall perception of the typeface as well — as part of it, Zloy looks friendlier and even nostalgic.
Within videos, Zloy works great paired with Graphik. The versatile character of Graphik is actually amazing — Kinopoisk is a third place where I use the pair Graphik/Kazimir in the design of a media, and after the rebranding those were complemented with SangBleu Sunrise by Swiss Typefaces. (SangBleu Cyrillic was created by CSTM Fonts — editor's note)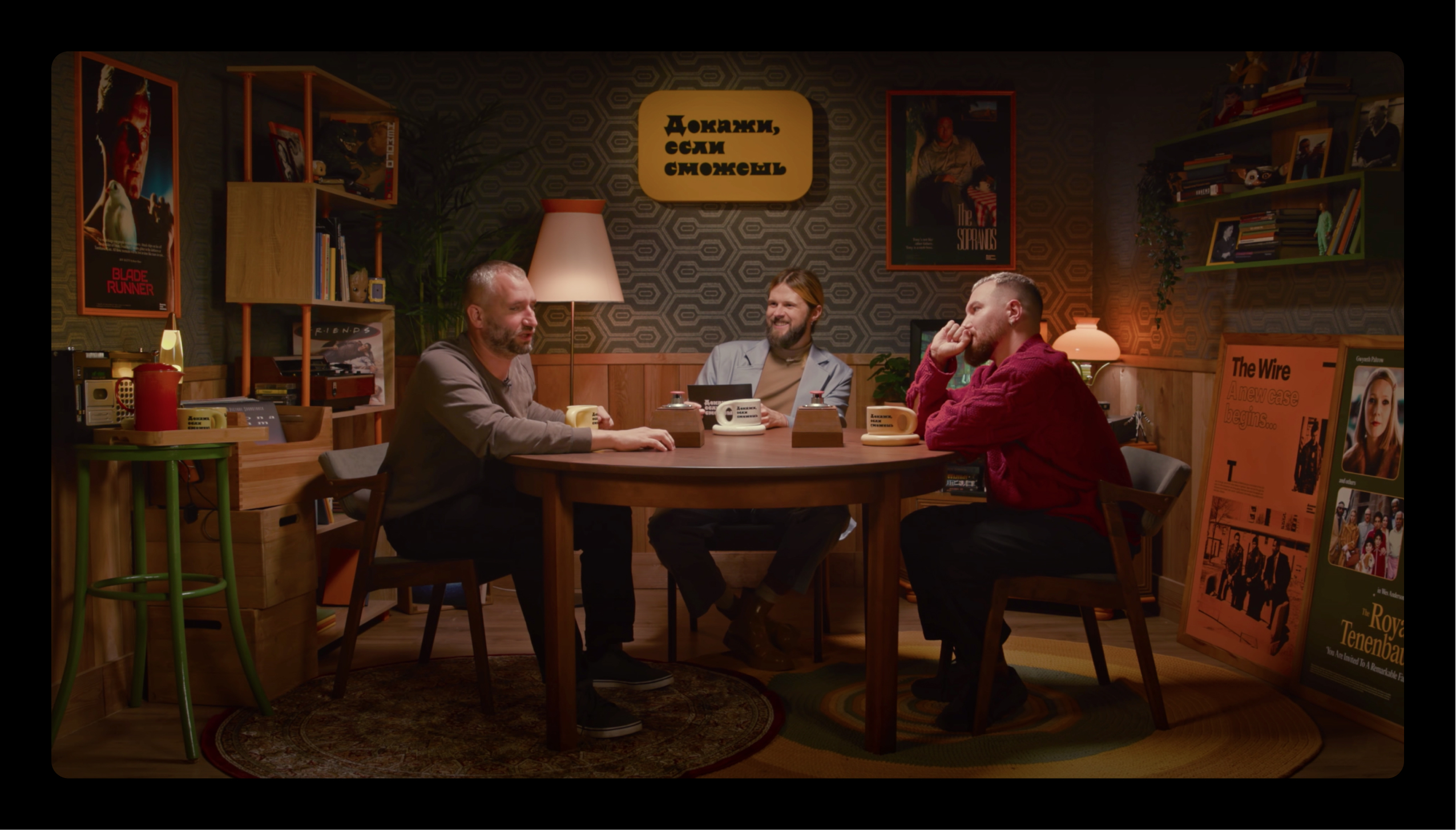 I am looking forward to the second season of the show to try the Zloy outline style, Zloy Vey. It was released while we were already designing the show, and at the same time the typeface was made available in your catalogue. In fact, it's a funny pattern: I used Nostra in design and the logo for the Big Museum project, and some time later after its launch the typeface also appeared in your library.
Project team
Art director of Kinopoisk media: Evgeny Nikolaev
Project manager: Igor Bannikov
Creative producer: Alexander Kirillov
Interior designer: Daria Ukhvatova
Illustrator: Alexander Cherepanov

---

Zloy  is a serif designed by Daria Petrova with no counters in the lowercase. The typeface comes in two styles — Roman, creating a complicated texture when set tightly, and Vey, equipped with sophisticated inner borders.