In September last year, Tanya Ermolaeva was the designer in charge of our Instagram. We talked with Tanya about the text in terms of design, Californian design culture, and the interdictory context of the Cyrillic.
Tanya, in your recent interview to Readymag you told quite a lot about yourself, but let's still introduce you to our audience a little bit.
I have a weird mixed background. I'd been studying philosophy at Moscow State University, but then I decided to change the area and went to Moscow's British Higher School of Art and Design, for a so-called British Degree — and then transferred to Central Saint Martins, where I obtained a bachelor's degree in graphic design.
Can you tell us the major difference between education here and there?
Well, even here I chose to study design under the British programme, but when compared to our philosophy faculty the key difference is that MSU had no focus on unsupervised project activities of the student — whereas at BHSAD and Central Saint Martins it is at the core of everything they do.
And now you are teaching at BHSAD?
Yes, I am teaching my course at the interface of philosophy and design called Critical and Contextual Studies. Its goal is to teach designers to verbalize, articulate their solutions, to work with texts in general. It is a super important skill in graphic design, since graphics is inextricably tied to text, and typography is all about knowing how to read and how to write, after all.
And what do you do apart from teaching?
I work remotely for Perfect Number, a feminist fashion startup company based in Los Angeles. The founders are Russian, with their team spread all around the globe, but the majority is based in the state of California, and so I travel there every now and then. The job is interesting because it is different from what we are used to, from time zones to their whole different cultural meanings. It is a true challenge for me.
What does a 'feminist fashion startup' stand for?
The objective of Perfect Number is to create a non-trivial fashion which would cost reasonable money. They offer decent quality and sustainable production in LA, together with re-thinking of traditional designs from a non-artistic perspective. It is the clothes that you can actually buy and wear, but which would still be unconventional. We also have a webzine where you can read about this kind of politically charged fashion.
And your role is?
On paper, my position is called Junior Art Director while in fact I am a multi-disciplinary designer. I don't want to limit myself to some specific areas, like graphics or digital. I prefer both. I generally like building up the visual identity in different formats, which is why I chose this job in the first place. For the most part, everything there happens online, but at the moment I actually have some offline tasks, like our lookbook, some publicity materials, pop-up stores.
Tanya's sketches for Perfect Number
And what is the difference in terms of approach?
I can't tell that it is completely different. Speaking of cultural specifics, I was thinking more LA as a city, than the job in itself. The thing is that I first visited America as part of this project, and for me Los Angeles is an explosion of what they call diversity. Because the team is truly multicultural, and they also have a very weird attitude towards design and typography in particular. All this is very unusual and interesting.
California is generally regarded as a center of post-modern design, historically, for various reasons: co-mingling of many different cultures inside the state, influence of progressive schools, such as CalArts, a high concentration of cutting-edge technologies. Many experimentalists in typography and graphic design had been working, — and are working — in this city. We, at Perfect Number, want to be closer to the local culture and local community. It is a challenge for me, since it is not an easy task, grasping this locality from a distance.
And this step towards locality, it is manifested in…?
First of all, it is not the design for an average white Anglo-Saxon male: here you have plenty of different ethnicities and backgrounds. You have to picture a completely different audience — though, picturing an audience, as it is, is a pretty weird thing to do. It is a permanent inner struggle with a modernist within yourself, yet you still have to keep the level of elegance that is inherent to modernism. Which is difficult.
You have to look for a new format to express various cultural backgrounds and re-think the identity of those who would wear these clothes. It has a lot to do with type and with how we use it, because this identity is heavily reliant on typography. With this brand, you can't just take some sans serif like Helvetica, type something, and just leave it at that. After all, Helvetica (though we definitely could always use its expressive capabilities) is the brainchild of 20th century, the age of levelling and standardization. You have to move towards peculiar typefaces with a strong personality.
If we speak of such a colorful community, of this crazy re-thinking of gender, its importance and meaning, I would opt for typefaces which are hard to describe, such as Digestive from Future Fonts. Unique and unusual in themselves, with their innate controversial readability. Although, those should be applied in small quantities.
Since you deal with Latin alphabet, you have half the world at your disposal. What are you looking at to find this new language?
Basically, I just read some design-themed media such as AIGA Eye on Design, It's Nice That, The Gradient. I keep an eye on new releases at several foundries; Jung-Lee, Napoleon Services, Charlotte Rohde, Bold Decisions are my favourite ones. Every once in a while I visit such web platforms as Future Fonts, Typelab, ECAL Typefaces. Those are mainly display type selections, where you sometimes find fonts in their development stage. Those can be far from perfect, but it works for me. I gather that your new initiative, tomorrow, is a project like this?
Typelab is 'territory of experiment', aiming to promote young type designers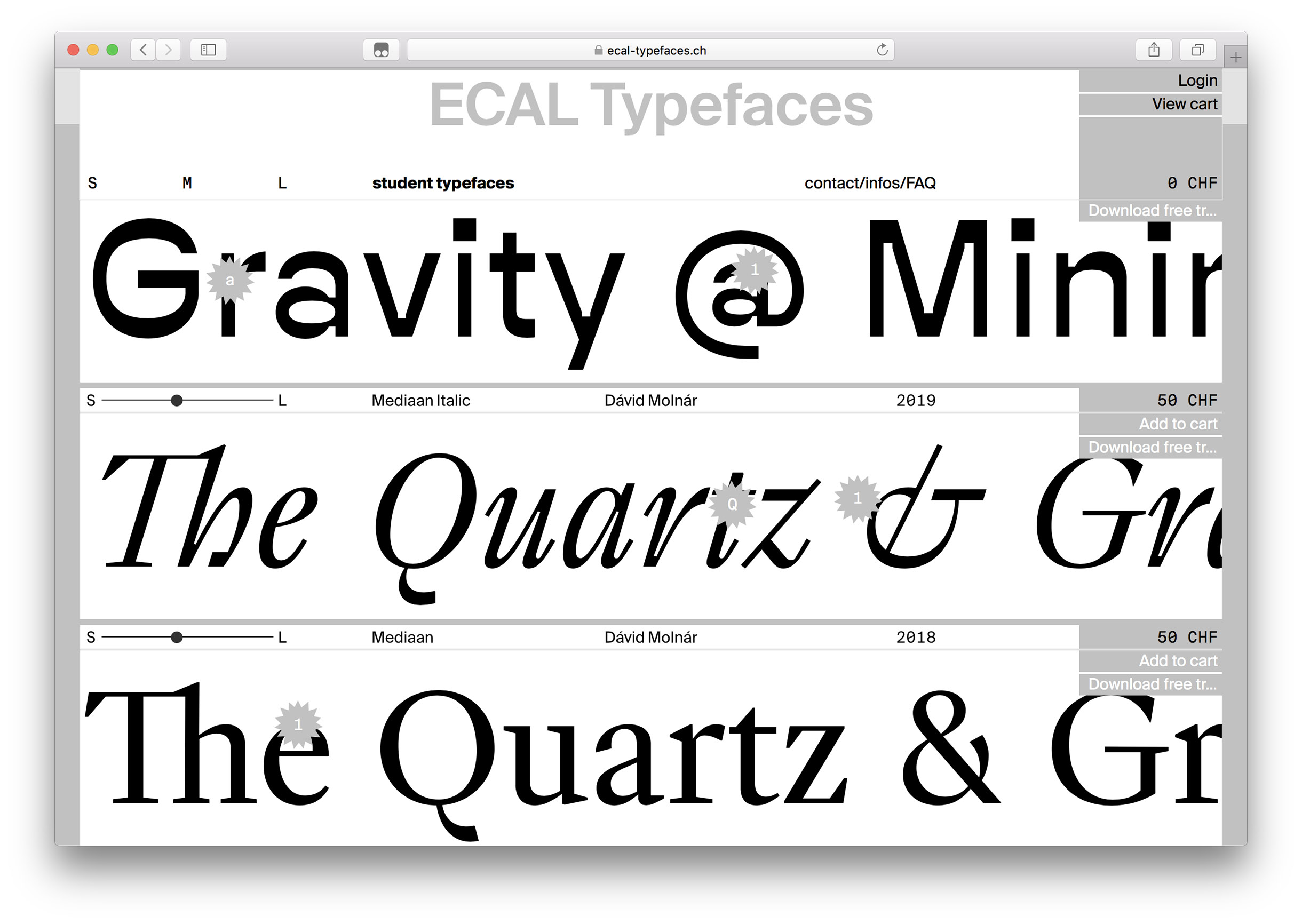 ECAL Typefaces is a joint venture of University of Art and Design Lausanne and Swiss Typefaces
You could say that, yes. So, it appears that your daily job is linked to looking for a relevant language?
Exactly, we're always in pursuit of the most latest, recent things. Yet, it often seems to be cut off, somehow detached from the rest of the world. But then again, perhaps this feeling can be explained by the fact that I am working with US remotely — based on the other side of the world. The ultimate goal and ambition is creating the identity of an adult brand. — As for now, it is very young and all our default solutions are rather fast.
In the best case scenario, we would manage to create a unique language — and perhaps it will be even equipped with sans serif. In fact, now we are considering Monument Grotesk by Dinamo studio, as a working version. And even though it suggests a lot of experimental madness, I'm definitely all for it!
Have you perhaps defined some markers of relevance while working for Perfect Number?
It is complicated, because this sort of judgement is always a situational thing. It depends on a given case: that works — while this doesn't. Everything is defined by its context. I believe that now we have a lot of fancy typefaces which can be called ugly, but in a good way. And you can work with this ugliness — for example, deploy the contrast.
It is particularly interesting when it comes to fashion industry: juxtaposition of a spotless, perfect image against a brutal and default, or even explicitly super unbeautiful, typeface. It seems to me that now we are witnessing the return of Emigre and the 1990s typography — which is a bit unbalanced one. But then again, I believe it depends on the context. I wouldn't say that these typefaces are relevant everywhere.
And do you have any idea where it all goes to? What does the future hold for us?
I perceive it in terms of visual identity in the first place since I don't do type design. I like the process of democratisation in typography: today's type is less about some confines, rules, or standards — but rather about the meaning, expression, and inflection. And there are so many fonts that you can pick just the one you need. Plus, they are quite cheap, it is particularly true with the display ones. One can apply them in large amounts — especially since the brand identity is becoming more and more flexible. It is often the case that just one typeface is no longer enough; we'll have less and less of this sort of universal, generic solutions. Yet, some fashion brands — like Remo, or Balenciaga, — on the contrary, are replacing their very well-known and distinctive logos by something super default. That said, in their identity they still use different things for different purposes.
Let's now talk about your work with type.today's Instagram account. The moment you saw all this whole bunch of typefaces in our collection, how did it feel to you?
I liked many of these typefaces. Some of them were already known to me anyway. We all know Druk, it is a massive hit. I was pretty glad to see you release Halvar. And the whole CSTM Xprmntl set, I liked it very much — as well as the overall idea of different faces as different intonations. I have discovered for myself this combination of Druk and Xprmntl and it appeared quite interesting to me. What else? I liked Parmigiano; I've tried really hard to work with serifs, but this was a tough call for me. As a result, I managed to come up with more decorative images, with a focus on the details and the beauty of letterforms, but I just couldn't phrase a statement that would have worked. I don't know why it is so hard. In fact, I'm pretty positive about serifs.
And how is it in LA in terms of serifs, in general?
In LA, they use whatever and however they like — everything goes. They have a rather chaotic approach to those things there, in Los Angeles. Clearly, fashion brands and culture institutions opening downtown are more conventional. But if you walk just five feet away from the city center and look at shop-signs, you will see the true type madness.
I really wanted to somehow employ Pilar, but it was hard to come up with the content. I don't really know why. I liked Gauge Letterpress — it is peculiar, with this effect that imitates print. I loved Navigo very much. Plenty of great sans serifs: Graphik is a superstar, but also Proto Grotesk, Stratos, Styrene.
Was there anything that didn't work at all?
I really wanted to design something with the use of First Prize, since it is sporty and high-tech. I hoped to find a content for it, but I didn't manage to.
How was it — being given all the keys, 30 days, and a bunch of letterforms? How to deal with it? Did you perhaps invent your own method, some kind of approach?
At first I had this idea to use web tools, because, as a matter of fact, type.today Instagram coincided with me studying JavaScript and CSS. I've even made a couple of postings by means of coding only. But it was an unrealistic task — I had no time for this. The only limitation I was ready to embrace was a poster format. On the one hand, it offers you a great deal of freedom — on the other hand, it makes you hold on to the readability and the content, the message.
Then I came up with this idea that it would be great to insert a quotation on typography into each publication. At the moment I started to read The Gutenberg Galaxy by Marshall McLuhan. Quite an impassable text, in a way. There, I located the beautiful phrase: "Typography cracked the voices of silence." I made a poster out of this phrase — and called it a day: after all, it is a tricky task, finding such bold quotations on request.
After that I started to focus on language. It was difficult to come up with Cyrillic contents, because all things cultural I consume are in English. All contents for Cyrillic posters that came to my mind were of this interdictory-bureaucratic nature — "Strictly forbidden", "Not allowed." In fact, it is rather funny (and a striking observation in terms of the self-study!). In an attempt to avoid this interdictory speech, I arrived at poetry and poetic references. I was giving much thought to what was in these posters, and how a typeface worked in this context. Sometimes it was a quotation I really wanted to use — and at times, vice versa, it was exactly a typeface which defined the whole thing, a typeface I was driven by.
How is it when you are being driven by a typeface?
Look, you deal with a context, but it's a typeface that defines the direction. For example, I was already plunged in poetry, when I discovered Parmigiano — and I suddenly felt like making a poster about OuLiPo, Ouvroir de littérature potentielle, French-speaking writers and mathematicians of 1960s. The reason is that Parmigiano had this vintage-style feature in it, this naïveté and joviality.
It was only afterwards that I understood that in terms of Cyrillic it was a great idea to resort to the plainly spoken language, which would highlight and emphasize a typeface as well. This is how I ended up with "Radically Different" set against a grey background.
Please tell us also about this image with only punctuation on it.
This was when I totally into the language — or rather plunhed into what was left of it. I was reading a book on the conceptual art of the late 20th century, and discovered this technique: Kenneth Gold took a text by Gertrude Stein on punctuation and removed the text, leaving only the punctuation. This seemed like a great move to me. And I thought it would be even more resourceful to do the same thing, but with verses. It is truly exciting to look at something we rarely look at. Plus, punctuation is really important when it comes to poetry. I took Daniil Kharms, Vladimir Mayakovsky, but decided not to mention them — go only with the year. I guess I could have done better in terms of implementation. But I ran out of time.
Which poster is your favourite?
The punctuation one! But Radically Different is also great, since for me, personally, it was a direct hit on the style which I relate to but which was not exactly a futuristic punk, something on the brink of it — and at the same time something rather placid. I was pretty happy just to find such a combination of typefaces — since it was not always the case. Though there were many efforts to find a combination. Like, I made an attempt to bring together Giorgio Sans and Xprmntl for a Velimir Khlebnikov's poem. Though I think it didn't work particularly well.
You also have this unexpected combination of Styrene and Parmigiano. Finding matching pairs is a special skill. How do you find a match?
Well, it is always about looking through and picking over typefaces. Most of the time it happens to be some sort of comfortable sans serif, coupled with something serif, — or something very display. Also, the contrast plays a significant role: either its size, or its face has to be strongly contrasting. Plus, their x-height doesn't have to be different. You can probably come up with some kind of manual — but, unfortunately, at the end of the day it all boils down to your guts, to your intuition.
You just get this feeling that you have to reduce a certain feature in a typeface for compensating it by another typeface — or some other visual element. A typographic pair and a visual composition are all about the same things, actually. Very similar activities. There is a typeface, and there is a feature that you like about it, — but you see that it makes your poster too flat, too boring. There is no punctum. And you bring the punctum in.
This is a great piece of advice, actually! Bring in the punctum. An impossible task — and a useful assignment, at the same time.
Exactly, all my posters are about this — and all the solutions are.
What feelings are you left with after this month, in general?
It was very cool. It felt like I was communicating with myself — through typography. I've learned a lot of new things, both about type.today's collection and about myself. For me personally as a designer, this was very useful. Such an experience has you re-thinking a conventional perception of a designer as a proxy for their client's tasks. It is great to have been an author for a whole month. Thank you.
Cover photo by Daría Nagornova
Danilo Kuchum: "Sans is safe, it would always look fresh, there would be no dusty library vibe to it"