Boris, hi! Let's start with getting to know you. Before introducing Sholotch on type.today Instagram, I've never heard of it, yet I was truly impressed by your collaborations and your PrintShop initiative. Which is the reason why I volunteered to have this conversation. Could you please tell us a bit about yourself and Sholotch?
Hello, Timur! Nice to meet you. A little while ago I got involved with Six One Six clothing brand. We produced interesting, unusual clothes. Our core item is a jumpsuit — for the sake of not being like everyone else. In 2019, we decided to commercialise our brand, and we needed prints. At this moment, I caught myself thinking that I couldn't figure out what to print — I'm simply not good at contemporary trending graphics and I don't get the cultural code. I decided to launch a blog, just to look at what designers do, discover certain patterns and draw parallels. At the same time, I had this long-time idea of creating a pocket gallery. We used to spend time on Tumblr, collecting images. It was some kind of an outlet — you can come and get good content in images. And when Tumblr lost most of its popularity, I started to feel a lack of a platform where one could find this sort of selection. I figured that a Telegram channel would be a convenient format. I already had many of my friends launching and using these channels, and there was life, outreach, even good advertising revenues. That is how all this started. I published my first post in December 2019.
616 (Six One Six) lookbook
So, Sholotch started as an outlet, a certain way of escaping on Telegram?
Yes, Telegram is a great communicative medium. Everyone is on it 'cause it hosts our work chats. First I named my channel Pandemonium TV, added people and began posting images. But two weeks later I changed the name to Щёлочь. That was when @chrometype was highly popular, as well as all sorts of chrome design. And alkali ('Shyolotch' in Russian) is a chemical tool that can clear a metal until it shines. The idea was liked and embraced: I quickly got my first thousand of subscribers — literally in a month. Then it became more difficult. Today I understand that it is a specific-themed channel — it is not a meme channel, and it gets a really different feedback and response.
Have you been doing design for a long time now?
Since 2019. It developed spontaneously: we created a brand, made clothes, without any prints first, and when it became necessary to introduce a print, I decided to make it myself — as I've been wanting to master Photoshop for a long time. I have been doing music for many years and even studied sound design. I can teach Ableton and Logic Pro. But for some reason it didn't work out with music — this industry, particularly in Russia, is rather rigid, much worse than in design, in terms of prospects and opportunities. I began learning Photoshop and Illustrator and realised that the interfaces of those apps were similar to each other on some level. The image does actually have an oscillogram, just like a sound does. So, I mastered everything in no time — eight years of exploring Ableton happened to be of great help. I am currently planning to master 3D.
Sometimes you use the word 'we'. Do you have a team, or do you work alone?
It's mostly me who is in charge of Six One Six. I am helped by my girlfriend. Today everything can be automated: I just send a technical brief to the factory, the factory delivers a shipment to an outsourced warehouse, everything sells through our website. Telegram, two online systems — and the brand works. That's convenient. Other than me, Sholotch has three admin users. We all post designs, some of us post a lot of them, others do less (by the moment of this publication, the team of their channel admins expanded to seven people — editor's note). I, @shilin666, create more posts than anyone else and act as an art director. Ilya, @iLisho, is responsible for the channel, too: he does 3D, does masks for Instagram, interviews people — for example, he talked to @gsm_garden who shared lots of interesting things. There is also Anya, @digitonica, who does virtual clothing and is in charge of all sorts of irregular content — it's a bit surrealist when textures get mixed. Finally, there is Nikita, @nektar.png, who mostly does flat design, but now we also started to dig into Blender. We function as a certain decentralised team at the moment. Our geography is this: me and Nikita are in St. Petersburg, Ilya is in Kyiv, Anya is based in Samara. Once a week I meet with Nikita, but, considering the level of communication reached thanks to Telegram, we don't even need an office. We have no trouble working like this. By the way, in May Nikita plans to carry out the NERD fest in St. Petersburg — on graphic design, 3D, sound design.
@shilin666, @iLisho, @digitonica, @nektar.png
So, Six One Six has separated itself from your project, hasn't it?
It is actually Sholotch that separated from Six One Six, but it does look the other way around. In fact, I realised that it was hard for me to do streetwear. I designed real clothes and poked around curves, but I enjoy doing graphics way more. If it weren't for collaboration with Evangelion, I would probably have shut down the brand, but still decided to keep it. Clothing in Russia is hell, that is a very suffocating and tough business, for a number of reasons: overbusy market, endless schoolchildren, thousands of one-day brands that only sink money into advertising — they have a lousy attitude towards both production and pricing. Yes, there are certain successful brands that actually made it (Volchok, Kruzhok), but the life for all the others is far from being easy. And it gets worse over time. The market is oversaturated, you can't just come in. If some rapper will wear your clothes, you can get a hype wave, but it is not here forever. Plus the cycle — you produced things, sold them, there's a defect — always a problem, too many issues, constantly. Lately I've been getting even more thoughts about abandoning the physical brand, because Sholotch stuff started to sell on the NFT platform Artisant, and our virtual outfits suddenly got purchased for 0.3 ETH. I found it hard to believe it was possible up until it actually happened. Who will buy a virtual dress for 20,000 rubles (~250 $)? Come on! Even though this price is not a high one. While today it took us only half a day to sell stuff worth 100,000 in crypto currency. I am slightly shocked right now: is there any point in producing real stuff, when you like graphics and people are willing to buy virtual dresses? It is a nice option to make money by doing design. You don't need to purchase fabric and maintain warehouses. We now have tons of commercial orders that we hardly manage to complete. And we didn't have to spend five years at some school to do that. I developed a complex, though, and consider myself illiterate. But there are commissions even for illiterates like me. So, in case you have a formal training and you're handy, even better. Just sit and design — the demand is huge.
NFT looks by Sholotch vary both in price (from 0.1 to 2 ETH) and number of copies (some have six, while others are unique)
It feels like you're a little bit hard on yourself.
I would love to get more education somewhere, but for now I am self-studying, yet I would really like to have an option to talk personally to guys like you. The fact that the Web gave me an opportunity to discover type.today is a miracle. You have the Internet, you have YouTube, you have two hands, you have computers. Why watch TikTok, if you can become a designer, even a bad one, in a short time? After all, it is better to be a bad designer than to be a great TikTok viewer.
You can very well produce design content on TikTok…
I am old and scared of TikTok. I feel like running away when I see it. But social media evolves, and the needs change as well. Photos of virtual clothes have been here for a couple of years already, and video content is really pressuring. We all saw how Instagram replaced its post button with a Reels icon? And considering the scale, there is no point in making virtual stuff for another app while they are not on Instagram. As soon as Instagram introduces full body tracking — whereas it appears this project is already under way, — it will be a real boom, crazy demand.
What is the difference between NFT and virtual clothing?
Thanks to NFT technology, the clothing belongs only to you. Nobody else is allowed to post such a virtual outfit, unless they have bought another copy of it — and their amount is limited. You buy an outfit for crypto currency. Then there's a special app that applies this clothing to your photo. After all, people often buy things to post them on Instagram. I used to be like that myself: my closet is full of different stuff, while I wear only three or four sets of clothes. Yet I was able to get rid of my shop addiction: I went to a store and took a picture in the fitting room — not to post it, just for myself, as if I owned this thing. While here it is about you buying an outfit, then you photograph yourself using an app or upload a photo, and you get dressed in all sorts of surreal clothes — it gleams, spins around, or you have mercury, or fire…
Do designers allow themselves more liberty when they design virtual outfits?
I have done my research of the market and realised that designers had split into two camps. One group advocates for realism: look, you've got a cool jacket, it's quilted, unusual, but it is still a quite regular jacket. While the second half is for completely virtual outfits: fire-made dress, mercury helmet. Each of our outfits comprises two sets of clothes — and it could be unreal. So, one of the outfits is a cloud with wires sticking out of it, but under this cloud you may very well have a tunic with a certain theme-based print.
How did you end up in collaboration with Evangelion? That is my favourite anime which I feel very particular about…
That is my personal achievement that barely anyone appreciated. I am actually a big fan of anime, but it's Evangelion I cherish the most, the biggest fan. In December 2018, I saw a collaboration between Akira and Supreme, and I got this crazy idea — to write a letter to the authors of Evangelion. I opened Wikipedia and learned that rights no longer belong to Gainax studio — they are now shared between Netflix and the Japanese company Groundworks: Netflix owns Neon Genesis Evangelion, while Groundworks owns Evangelion. I found the Groundworks webpage, read it using Google translator, created a text in English and simply sent it to all the addresses I was able to find: 'Good evening, ladies and gentlemen. I own a local brand in Russia. Let's do a collaboration. Look, here I have been bringing my stuff to a show, and here is what the German media writes about me'. Three days later, I got an answer written in hieroglyphs: 'Boris-san, our answer is positive. Let's do it!' I fell off a chair — running around my apartment and yelling.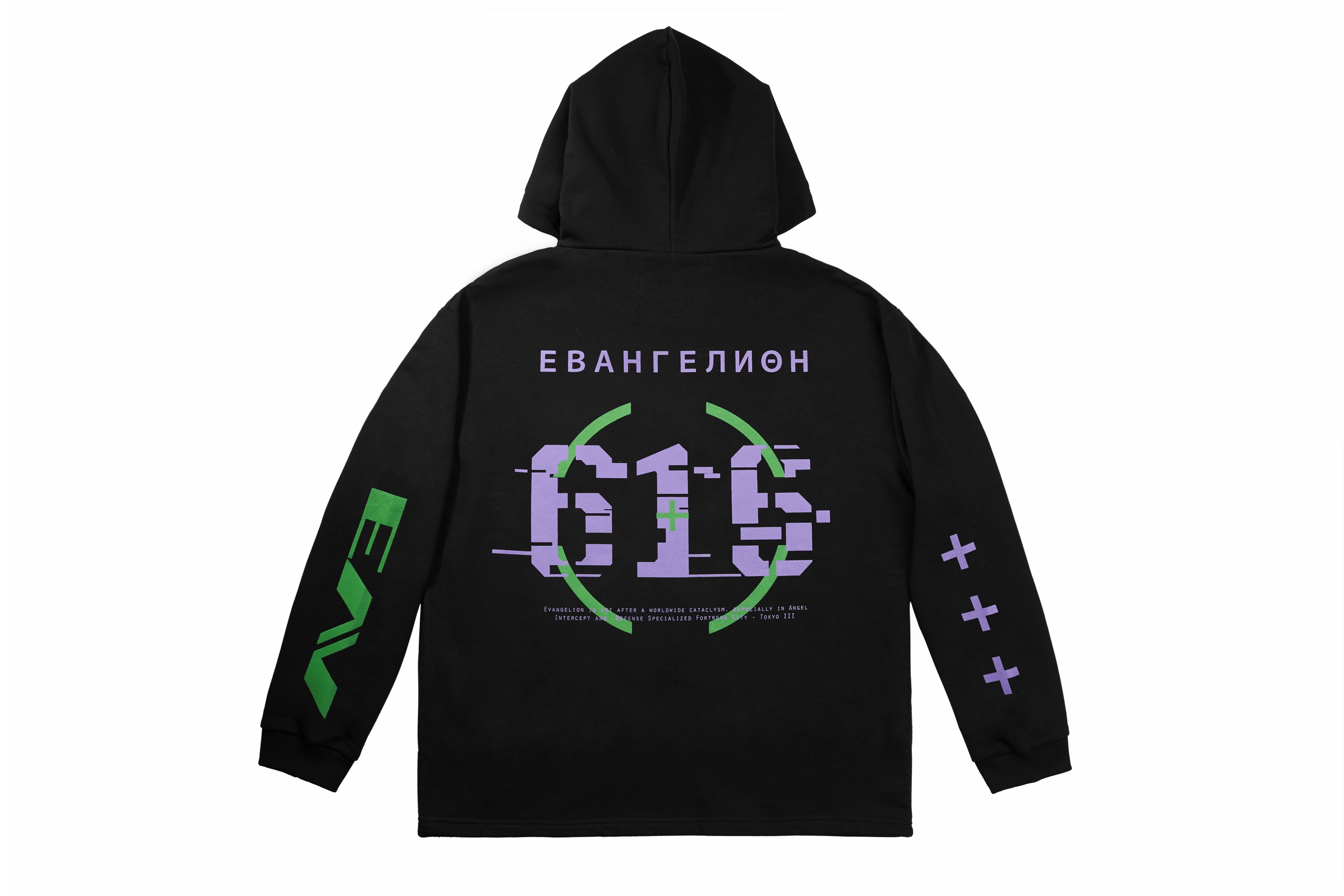 616 × Evangelion
Then there was a start of negotiations that eventually lasted nine months. Japanese are very meticulous. We had to prepare a set of documents: to draft a description, indicate quantities, prices, and do design which was thoroughly negotiated and agreed on by their side. They delivered some files to me but I could barely transform something in those. First we introduced chrome and other effects — not possible, ruins the image. Then we tried to mirror the image — also not possible, ruins the image. Eventually, we created clear forms, made samples, one of each, and shipped it to Tokyo by mail. At the same time we were joined by a distributor from the Bunker Tokyo store — this progressive Japanese called Katsuma who speaks fluent English and often comes to Moscow. It was his initiative to produce a large shipment — intended both for him, and for the official Evangelion store chain (three outlets in Tokyo). It happened to be a big order, for 6,000 €.
The 616 drop in the Evangelion official web store
Evangelion authenticity verification stickers, sent in for the 616 drop
How many copies?
Total of approximately one thousand items: one half was meant for Japan, another half — for Russia. On the scale of Uniqlo it is clearly nothing, but for a small Russian streetwear brand this was a true success. We put together a goods batch, and I ordered delivery. I specifically made a call to EMS and described our situation, 'Do we need any clearances?' They said, 'Nothing. Our mail delivery agent is on it'. The delivery guy comes, and we do paperwork for four large boxes full of goods. I specifically ask, 'You have checked all the papers, haven't you?' His answer is, 'Everything's great. I am a professional'. The goods left. Japanese didn't get the goods. Three weeks go by, then a whole month.
Did you use EMS service?
Yes, it was the only possible way to deliver. DHL asks two or three thousands euro for such a shipment — a sum you definitely can't afford. Five weeks later, I got a call from the customs office: 'Boris Georgievich? Congratulations, you are under investigation charged with goods smuggling. We will wait for you to testify on your case'. Some wild story! It was the first time when I had to send a shipment abroad and contacted a service that makes money doing those things, but it failed to do paperwork properly, and I am now held accountable for that to the rule of law. On top of that, customs officers laughed at me: 'Don't worry, you're neither the first nor the last to be in it — things like that happen here on a weekly basis'. I had to hire a lawyer.
What an unfortunate situation. Where did the shipment go eventually?
It went nowhere. It was arrested, because there were two lines missing in one of the forms — and just like that, you're officially a smuggler. There was a 500,000 rubles fine. I found a good lawyer, and he did a miraculous thing sorting that out in court. Our releases in Tokyo and Russia were planned for 29 November 2019, but the shipment returned from the customs office only in March 2020. Awful. While our goods were under arrest, Katsuma wrote to me, terrified, 'What shall we do? We've got a serious thing going on here. I'm going to get stabbed by yakuza' Eventually I produced the same batch, the second one, and he flew to Moscow. Together we sat in a hotel room, unpacking every T-shirt, cutting off labels and packing the stuff into three huge suitcases that he then managed to bring to Japan flying business class. And that was real smuggling. And when I finally got my goods from the customs office, I sold it here under a Russian license.
What feedback did you get on your official collaboration with Evangelion?
First of all, people just don't believe things like that are possible. This was only a third collaboration of Evangelion: the first one was with a Uniqlo subsidiary, then they did a collab with New Balance, and we were third. Later Uniqlo did a separate thing for Russia, but it was after. On Instagram, we were told things like 'You're thieves!' At first I answered everyone with a link, but later just stopped answering. Secondly, it was expensive: our hoodies cost 6,000 RUB (~75$), T-shirts — 3,000. But we talk high quality stuff here: lots of prints, good fabric. I thought I will be loaded with money and will have endless restocks. None of that! The brand simply existed for a while longer, and only a handful of true fans expressed their respect.
616 × Evangelion 2.0
616 × Evangelion 3.0
As a fan, I really like such a devotion to a franchise. How cool is that you went all the way and carried out this project.
I realised that you didn't have to blame people for not being thrilled about Evangelion. Today we see less and less big and constant love for anything, globally. TikTok changes the format of affection. Previously we used to watch the same TV series for years, now everyone has become flighty, unserious about things — we witness a rapid change in attention focuses. As our grandmas would put it, nothing is sacred to us anymore. And it has become very difficult to build brands, because their cycle of life has decreased.
Yet I am very glad that Evangelion has grown popular in Russia. The last question on the subject: who is your waifu Anime slang word for one's favourite female character (from English 'wife') — Rei, Asuka, or Misato?
Misato, obviously!
Awesome! That's a great answer. Would you tell us how you use typography in your products?
I love typography. It is fundamental to any graphic structure. At least, when it comes to streetwear, it definitely is, because it is about disclaiming, and you use type to introduce a statement. And that is extremely important. Sometimes I do lettering myself — I can design a couple of letters, or a word. Though, I have a dream of designing an entire typeface. But what do I face in practice? In Russia, there is no culture of buying fonts. — Right up to the point where people take a font, apply a print screen, and then trace it in Illustrator or handle it manually. An average price for one style is approximately 40 bucks. OK, for a guy who is in his third year of studies and wants to make a print, that is a huge amount of money, but it is not much for a brand's owner. We are interested in finding good typefaces for our clients. But many of our customers are simply not ready to buy, 'No, let's get us a free option'. Seems like it's not even the amount that they have a problem with, but the very fact that they need to purchase. That is weird.
Yes, there is such an issue. When I am in charge of the entire graphics in a project, I sometimes include this cost in my fee — that is, I take a little bit more client money to purchase a typeface myself.
I'm guessing we need some flexible system of short-term font rental, the same as was introduced for movies in video streaming services: previously movies were sold for 500 rubles (~6 $), while now they are shown practically for free. If it costs reasonable money, people will be willing to engage in that. After all, stealing is bad, for one thing. Besides, when you're tracing a font, the quality you get is not proper, it's a boomer. I got this super idea — the PrintShop, inclusive designs aggregator for basic things. That was not invented by me, I saw it in Europe: a website where young designers will post their prints curated by special people and then receive a percentage of sales, a royalty of some kind. We have a backstage at Sholotch — a support team of about 30 people who regularly send us their works, — we want to engage them. And it would be a great thing to integrate a font rental system into this! For example, there is a whole month when everyone designs prints with typefaces from type.today — that gets a rental payment for this. Though, tomorrow library has far better chances and prospects in this sense, considering their more decorative and brutal typefaces.
The Scholotch PrintShop items are produced on demand
Perhaps you're right. When it comes to streetwear, it is probably more about tomorrow's display sort of type. Do you have a certain default typeface that you often choose to deal with?
Lately I've been doing everything with Inter. It can be used to do just anything you like. Like a play dough. I never apply it per se, as it is. It is so easily stretched and cut: I make it bold, then add high contrast, cut some angles, stretch all this. Or I design lettering myself. Also, I really enjoyed Giorgio Sans from the type.today library.
In general, how did it feel to work with our collection? What other fonts did you fancy?
The cool thing is that the library offers so many quality Cyrillic typefaces. As there are lots of great Latin typefaces — both free and chargeable, — but we have a real problem when it comes to fonts supporting Cyrillic. While here, on type.today, I like almost all of them. I loved Gauge. I enjoyed dealing with Fud Grotesk. Then there is Amalta that we applied to the Mortal Kombat image. Druk is a very age-relevant commercial font. I even liked the Kazimir typeface — a conventional serif.
What team was behind your month on our Insta? Those whom you have already mentioned, or more people? What was your work process like?
We did everything by the four of us. I came up with a concept as an art director, chose typefaces, designed a flat-basis, even wrote music to certain works. As a matter of fact, 30 works — it's substantial, not like you just quickly come up with it and you're done. We had begun discussing all of them in advance, drew up a table, distributed tasks depending on each other's preferences. We figured that since there are lots of us and we can offer extensive coverage in terms of different styles, we needed to choose a theme for our 'almanac' to involve the entire team. We were a little concerned that it would be motley, too mixed, but that is a level of punk that we can afford, as we have no certain name we would otherwise be scared of losing.
How well were you received on Instagram, how did it seem to you?
I was quite nervous on our first day. We've been active in the design field as a team for less than a year actually. I truly enjoyed the month by Roma Belyakov. Plus, Denis Bashev in particular — he was in charge of type.today's Insta right before us. I was really worried about what people would say about our work. But as soon as we posted our first image, by the evening it was already clear that in terms of views our project was comparable to what Facultative Works team achieved. And so I relaxed. Clearly, not all our posts were liked. Many works were simply not understood by your audience, and those were awfully complex. The worst part is — and I hadn't expected it at all! — the posts that we produced real quick, effortlessly, got the most likes. While many other posts which we worked really thoroughly and meticulously on, on the contrary, were not well received. Altogether it worked out great, better than I expected. All my friends commented that this was fun. Great that you let us do it.
Thanks to you!
Alkali666 (Sholotch)
#typetoday062021
t.me/Alkali666/
instagram.com/sholotch/
instagram.com/sixonesixclothing/
alkali.shop