Tonya, we met while you were doing presentations for our typefaces on behance.
This was actually my internship after graduation. On some level, this job was my entry to the professional world, my pass. It was very scary at first, I failed everything. But later, exactly during this internship, I started to get an idea of how to do design and enjoy it. Today I obviously have a whole other feeling, sense of self. When I volunteered to host type.today's Instagram, I wanted to compare my feeling of being challenged with a similar task. And with the same typefaces even. Clearly, the library got bigger, but many of them I remember from back then.
Was your making presentations part of your HSE's internship?
No. I graduated from the economics department at Higher School of Economics, where I had a one-year professional retraining course on graphic design. I had to build a portfolio. So, I just wrote to the art directors from the agencies that I liked, including Ilya Ruderman.
Why did you decide to shift from economics to design?
In fact, I always wanted to become a designer, I went to an art school when I was a kid, and liked drawing and painting. But there was a lot of pressure from my parents. They didn't like the idea, saying I won't have a steady income. There wasn't a design faculty at HSE at the moment, only Stroganovka (Stroganov Academy of Arts and Industry — translator's note), and they were telling me, 'Do you have any idea how hard it is to get ino Stroganovka'? I studied at the academic drawing courses, but at some point I gave up: 'I've had enough of it, I won't study design.' I enrolled at the economics faculty, just because I didn't know where to go, and this seemed to be a certain average option.
Does this mean it is easy to enter the economics department?
I've always been good at maths and English, I passed my USE well (the Unified State Exam — translator's note). Mom was over the moon. It felt O'K studying economics: I simply went to classes and did what I needed to do. It is a nice feeling — being busy, no need to think about your life. But during my fourth year I realised that my classmates were doing interviews at consulting firms, while I don't want to do this. I had an agreement with my mom that I have to graduate from HSE first and then I can do what I want. While working on my final project, I entered the design course, getting back to what I knew from the start: I prefer design. Although, I felt that I was way behind, something like four years behind: I know nothing, I can do nothing, plus I have no relevant education. And at that point I believed that it was highly important to have one. Now I think that it is of no importance whatsoever. It was namely during my internship on type.today that I overcame this block.
Immediately jumping on working with typography, that's a bold move. Who was your teacher and what course was that?
I completed the supplementary professional course called Graphic Design. Basics with Borisovsky at HSE. That is a so-called professional re-training, meaning that people having (college university) degrees in whatsoever can come and learn the basics of the profession. It is an absolutely basic level course.
And what program did they offer there? I wonder what you have learned in this course that you found the courage to take on the task of presenting a typeface?
Yeah, at the moment it probably was rather my courage than my skills. The course went on for one year, three days a week. We did branding. My final project was an identity for some dancing company — this was a real client. We also had to design a book, or a booklet. All this did not provide a very deep knowledge, but I don't see it as a problem with the course itself: you can't teach everything, in just a year, to someone who has no idea what design is. Therefore I was scared. Ilya offered me two options: either making presentations of Moscow Design Studio projects, or creating presentations for typefaces. And I decide to take on what's harder. Apparently, with the typefaces' task I had more chances to prove myself.
Pieces of type.today fonts presentations on behance
You do a lot of motion in your work. Did you master it during your studies, or you learned it by yourself?
It was the time when all this story with motion posters kicked off; Ilya and Yura Ostromentsky told me that they too, they wanted things to be moving, to be in motion. I used YouTube tutorials to master After Effects. Later it became my thing, the fact that I am a graphic designer who knows how to do motion. Today there are more such professionals, but back then it was my thing.
Didn't you also do an internship at DesignDepot?
I did, I worked there for four or five months. It was the same, I started from internship and then stayed. But by then I already enrolled at a master degree program in Germany, to fill this gap of having no design education.
Have you graduated in Germany, or are you still studying?
I graduated more than a year ago. I studied at Hochschule Anhalt (Anhalt University of Applied Sciences — translator's note) which is based in the city of Dessau-Roßlau — where Bauhaus school located once. We even had classes in the very Bauhaus building. I studied in the course called Integrated Design. I didn't want to do a bachelor's degree program, as it lasts four years — quite long and very expensive, if you just live and study, without working. I wanted to get a master degree. And this course on integrated design provides admission for designers from various areas: in my class, there were both industrial designers and architects. I took advantage of the fact that I had my HSE diploma, and played the card that I would integrate my economic knowledge into the design field. But I only stated that at the moment of enrollment, I never got back to economics after.
Why did you choose this university?
Back then I had no clear understanding what I wanted to study, and how. I really wanted to get a design education and I also wanted to leave Russia. And there were few such possibilities, especially with a different-field bachelor degree. Plus, I was looking for an English-language program. I found only two of those in Germany, but the second one was off the menu since I couldn't meet their enrollment deadlines. There was one left, and I submitted my papers. I also enrolled at a master program at IED art school in Madrid. Type.today presentations won me a scholarship on a motion design competition. But as it is a private university (in Spain, they have no state design universities), this scholarship was in fact a discount for the education cost. And even with this discount, I was supposed to pay &euro7,000-8,000 for a year of studies. Studies in Germany were way cheaper: I was paying about €800 per semester. However, as you have to prove that you have money on your account, that you have money to live on, it is still a very expensive enterprise, studying abroad. Though I can't say that it was a high quality education. The program is called Integrated Design, and it seems to me that even at the university they don't really understand what that means. But for me it definitely was a positive experience. I learned a lot of things and was able to understand what I wanted to do. I want to do graphic design, I like it, while any other kind of design, that's not really my thing.
What did they teach you there? How was a learning process organised?
There was this format which is unusual for a person who's gone through the Russian educational system. It was complete freedom. There was this one obligatory subject called Studio that everyone had: they divide a course year into teams that do projects — and, once again, you can do whatever you want. And then we had to choose classes, so you could have tried different things — absolutely different things in completely different design fields. For my first module, I chose UX/UI, while someone chose illustration. The problem was that all those cases were primary-level, starting ones, — which is weird for a master program. Also, there was a lot of service design, — generally, there's a lot of design thinking in Germany right now, — and I had absolutely no idea what it was. And I rebelled a little bit: I thought that it all was unserious. I came from economics, where they use research and approaches as one does in natural sciences. While here, you might have a research but it all comes down to putting Post-It stickers on the wall. Well, we did a lot of different stuff there: we had to design books, we did silk screen printing, 3D-printing, pottery. Me and my classmate, an industrial designer, did a packaging project together. Basically, we learned more from each other than from our professors.
Sustainable packaging project. Together with Dohn Kanokpon
And what was your graduation project about?
It was a book of exercises for those who would like to learn graphic design. I even had a practice there. I came to Moscow HSE school and held a workshop for one of Borisovsky's classes — so that I'd test my exercises…
What sort of exercises?
For instance, you had to take a line from a song and draw a comic strip to it — some sort of a storytelling, rhythm lesson. Or, they needed to repeat the works of designers they liked. For example, there's this Ken Kagami who always stretches Bart Simpson. Me too, I suggested they take a character from their favourite cartoon and bend it somehow.
Where are you currently based?
I've been able to stay in Germany, as now I have a field-specific education, and according to law, for obtaining a visa here, you have to work in accordance with your education. At first, I found an internship at Sunst Studio where I worked while writing my graduation work. Now I'm a freelancer and I work with a number of studios. I like this work format, it ensures a freedom of choice: where you work, for how much money, and on which projects. It is a rather popular format in this country, the one where you are not engaged with one studio, but work on a project basis. … Basically, it is more convenient for studios as they don't have to hire you. And they are willing to pay you more than they pay their hired workers, payroll employees.
Video for Sunst Studio website
How do you find projects?
Is it possible to come, complete your studies, and become a freelancer who can provide for themselves? Well, clearly, in the world it is really all about whom you know. After a year at Sunst Studio, I built connections, and sometimes I do something for them. Or, for example, we worked there together with my friend who later left and today he heads his own studio, I've just finished a project for them. But old good emails still work great, by the way…
That is, you sit down and write something like, 'I am a designer from Moscow, I've studied at Dessau, pls find attached my portfolio',  — and they answer you?
Yes, I've got a very short résumé. I don't know whether it's right to have a résumé like that or not. But in my experience, designers don't like reading. That's why I simply write 'Hello, I'm Tonya. Currently, I live in Berlin. I'm looking for a job. Here is my portfolio' — and that's it.
Why were you so determined to leave Russia?
I grew up in a family where the father always said how great it is abroad, and how bad it is here. And I was slightly russophobic which now actually I don't really support. Having left Russia, I somehow started loving it. I believe I'm not the first one to whom it happened. For some political reasons, I am still not ready to come back there. I like this calmness here, which is often lacking in Russia. That's it, actually. The reasons why I left Russia perhaps are not the same as the reason why I stay here.
Why do you now love Russia more than you did before?
First of all, I realised that Russian people are closer to me — just a human factor. Secondly, Moscow service is way better than here, especially when it comes to all kinds of bureaucratic things where you can submit any application online, which is impossible to imagine in Germany. Here, concerning anything you'd still receive printed letters. Everything is very slow, inflexible. You never can pay with your card. If in Moscow no one has cash, here I regularly wait in line before the ITM machine to withdraw money, as it is often the case that it's the only way to pay for something.
And why are you staying in Berlin?
Because of possibilities, professionally. I really like this freelance format when you can work for several agencies. And it brings me enough money to live and financially sustain myself, and sometimes go out to bars or restaurants. In Berlin, there are plenty of great design studios that I like to work with, and I learn a lot. There are ones in Moscow, too, but in Berlin there is more.
Do you have experience of working with Russian clients?
I sometimes work with Redo. We've just completed a project with them, a collaboration re:Store with Winzavod. There was an online exhibition and a digital art contest, and we created a website for this.
Poster and website for Digital Earth exhibition open call
Do you have any projects in Germany that you'd like to boast of?
Together with my friend, we did branding for Tag der Clubkultur, the Day of Club Culture. As part of cultural financing, The German state provides financial support to Berlin clubs, as because of COVID-19 it is a very difficult time for all of them now. To give away money, they came up with an award that you needed to apply to. Winning clubs are organising parties next Saturday. We did branding for this contest and those parties — now there are posters hanging all over the city.
Posters for Tag der Clubkultur. Together with Maximilian Mauracher
How often do you have to choose a typeface in your work? And what is your algorithm in this case?
In different agencies they have different approaches to that, and I have to adapt myself somehow to their rules. Sunset Studio had this main client, Nike, which is why there's been a lot of Druk. And I felt like it was some kind of new Helvetica back then, 'cause there was really a lot of it. Indeed, Druk fits really well anything sports related, especially italics. But there it was possible to use, or at least to suggest, some wild typefaces, even though it's not easy to sell such solutions to a client. For example, I was truly happy when Nostra arrived, and tried to put it into every project. But, as I remember, nobody has chosen it yet. Sometimes I work for Any Studio they have a different style, very minimalistic. They always use modern helveticas such as Monument Grotesk. And they adore Dinamo. And they're too quick to decide, I would say, 'Well, we do branding for a theatre. Let's use Founders Grotesk. Off to work!'
Sketches for Nike Basketball Festival identity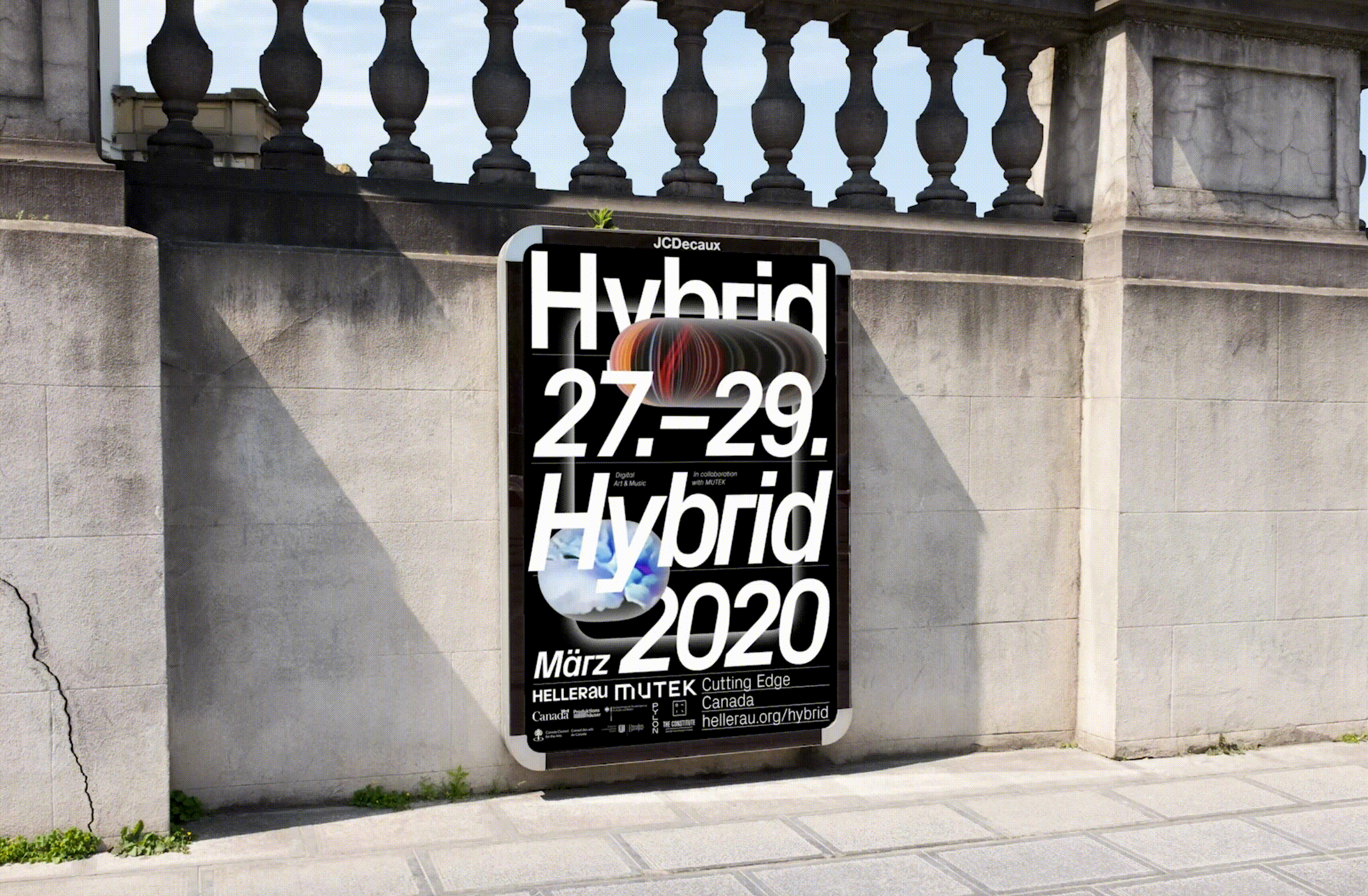 Animated poster for Hybrid Festival (Any Studio)
Poster for Jewish Culture Days 2020 (Any Studio)
Do you have favourite studios?
Those are in fact all the studios which I follow, and that's a big list. But I like Blaze Type. I love Pangram Pangram. Dinamo, too. Typelab, Grilli Type, Klim Type Foundry, Displaay. I also keep an eye on type.today and tomorrow.type.today.
Please, tell us how you created images for our Insta.
I wrote to guys, as I ran out of work during the lockdown, and I wanted to do design. And I had a lot of time so I didn't really hurry. I decided just to do it and see how it goes. It was me improvising. My first publication was the Doom floppy disk. Then there's been a rally post, I think. I consulted with my dad on rally's terms. Perhaps, nobody got that, but on the second image there was a text on 'quick left turn' and 'right tight turn' — it turned out that's how co-drivers write those things down. Basically, I wanted to do absolutely different stories, not limiting myself to just one topic. Initially I planned to do simple stuff. Later I decided to alternate between posts with black background and entirely filled-in images. It took me a long time to create these posts — the process was spread over three months. I had all posts get done even before early August.
So, you are this person who doesn't create their post on the very day of its publication!
Yes, that's me. In fact I'm glad that it's been this way, as at first you are watching how it goes. My second post was about 'design for sale by owner', and it got many likes. I thought 'Wow! What a great start'. And the third was a vinyl disc which almost didn't get any likes at all. And I thought 'Thank god, I got 'em all ready, and I don't have to figure out in the process why this is liked, and that isn't'. By the end of my shift I posted my stuff without thinking about likes. I didn't care what amount of likes this or that would get.
It decreases the amount of stress, probably. What are your favourite works?
I like the one with lighters and the one with skateboards. I like the Mol' magazine, even though there's a typo. I like the audiotape cassette. One of my friends, who is not a designer, later told me that she liked the posts where it was clear what it was — a skateboard, or a magazine. And when it's an image for the sake of the image, it is not very clear. That is not my way of thinking, but apparently I do better when I myself understand what it is. I also like the image 'You turn me off', as it is simple and funny, just the way I wanted it to be.
Did you fall in love with some new typefaces with which you have never worked earlier?
Yes, I really liked Halvar. I even used it in three posts in a row, but it was a coincidence — after that I switched those so that they look better. I also enjoyed Thema.
One rarely names it…
It's just that it's so thin and elegant. I remember how I put it on the Aquarium's cassette and thought 'That is a beautiful typeface!' Then I also made cards with the moon. I simply found ligatures and said to myself 'Oh, I could use some ligatures'.
What other typefaces can you mention?
I liked Navigo — it's simple and enjoyable to work with. As for the new ones, I like Normalidad which is actually variable, and Fud Grotesk, also great. I liked that the First Prize now has Condensed style. There was the beautiful Factor A with twirls, but it took me a very long time to figure out how to use them.
What studios do you pay attention to? Could you give us your sources of inspiration and reference?
Clearly, many of them I follow on Instagram. Even though I believe that Instagram's is evil, what can you do? I like Mirko Borsche who always does some super-experimental stuff, despite the fact that his studio has such serious customers: for example, the client is an opera house, but they create some pretty wild typography for them. I love Dumbar. These guys, too, somehow manage to do very trendy and cool design for their rather commercial clients. I dreamt about working with them for a long time and passed several job interviews, but eventually it all failed the very frustrating way — because of the visa. I love Studio Yukiko, here in Berlin. These guys are masters of typography. And all the studios I work with, clearly. Hi to everyone! By the way, they have lots of great studios in Moscow as well.
Whom do you monitor in Moscow?
Shuka, of course. Redo are my favourite. I like Timur Zima, actually. Together with dragoy they are an alternative to local Sucuk und Bratwurst. In Moscow I also keep an eye on ONY Agency, Tuman studio, and Esh Gruppa.
Can you share your observations concerning what is currently in trend and where it all is headed?
As for the trendy stuff, there are two trends, I think. One is all sorts of hardcore: ugly typefaces, crazy forms, piles of unreal textures in 3D, plastic. A certain visual overkill — even though I don't think it's too much and over the top. I mean, a very bright, dense mix of shapes, contrasts and all sorts of things. The second trend is this clear, brutalist, Swiss design, with this faultless, perfect typography on posters. Very minimalist and simple, where everything is built around one sans serif typeface, and where you can have just one word set in a simple typeface, and it's already very-very beautiful.
Where it is headed, I don't know. I find it hard to predict. I'm not Mirko Borsche. Yet. But I like that there's no rules. I like that there's an increasing number of customers that are ready to embrace modern design, since they want to be on trend. Dima Rodionov designed such great typographic animations for Alfa Bank — a couple of years ago it was unthinkable for a bank to commit to such a story. I hope the amount of quality design around us will be growing increasingly. That there will be more and more motion. I talked to Liza Enebeis from Dumbar. She told me that they have just re-made their studio and now are doing mostly motion, as everyone wants motion and only motion. So, perhaps, design is moving towards interactivity and all sorts of creative coding — anything you can put into the screen, make it move and react to you.
You are pretty seriously integrated into German design culture and watch closely Russian one. Do you feel any difference in trends? If yes, what are those differences?
I think that this trendy design community is the same everywhere. As currently everyone watches everyone, and the very same Instagram is a platform open to anyone, I have a feeling that distinctions and borders became blurred already. I wouldn't say there's any difference between berlin-trendy design and moscow-trendy design. That's all the same — a certain narrow community both here and there.
Tonya Kozlova