Commercial Classics
Commercial Type launched a new shop, dedicated to releases based on historical prototypes. Albeit Classic, it's not about digital replication, but rather contemporary interpretation of the past. Commercial Classics already has a great catalogue, including a grotesk family Caslon Doric, a didone Brunel, and various display fonts of late 19-th — early 20th century.
Ilya Ruderman: The past is the present — the motto describes Commercial Classics very well. The collection roots in the archives of St Bride Library, but there is something super-relevant in every typeface — be it crispier shapes, or a new, daring font style. And I think we should talk more about the Commercial Classics Journal, where they go on and on about their type and the project itself. Very well done, guys.
Comic Code
myfonts.com/fonts/tabular-type-foundry/comic-code
Tabular Type Foundry have released Comic Code — a monospace adaptaion of the most loathed typeface ever.
Ilya Ruderman: I like everything about this project — the result itself, and the wit of the idea, too. Toshi Omagari somehow managed to make a thing as technical as a coding font, vivacious as ever. In terms of the brief, it reminds of Operator, a great font by Andy Clymer of Hoefler & Co.
Morisawa Type Design Competition
en.morisawa.co.jp/about/news/4595
Morisawa, a Japanese type corporation, have announced the results of their annual type contest. As usual, prizes Latin and Japanes typefaces were awarded in separate categories. Ilya Ruderman was in the jury for Latin type, and Courbe by Olga Pankova won the People's Choice award.
A new supertypeface by Matthew Carter
en.morisawa.co.jp/about/news/4566
Matthew Carter, the designer of Georgia, Tahoma, Verdana, Snell Roundhand, once cited 'the most widely read man in the world', released a new title, made in collaboration with Morisawa. Role is a family of different, yet absolutely complementary typefaces, with lots of subtle nuances — Carter's trademark approach to type design.
Ilya Ruderman: This new masterpiece has been several years in the making. I cannot give everything away — but please mind, what you see now is just the icing on the cake, there's much more to come.
Le Murmure, Cyrillic
velvetyne.fr/fonts/le-murmure/
Velvetyne, who make some of the trendiest display type, have released their first Cyrillic font. An extension to Le Murmure is designed by Alex Slobzheninov with some advice from Ilya Ruderman. Usual for Velvetyne, the font is released free of charge, which might make it the next smash hit among graphic designers working with cyrillics.
enFont Terrible
An experimental service, enfont Terrible turned every font file uploaded into a variable — you can interpolate all you want and download the most terrible font possible.
Ilya Ruderman: About one and a half year ago, I came up with a similiar idea: a platform for generating variable fonts. A service to help graphic designers with a variable font file from just one font style. The concept was thought all through — how to stimulate software engineers for making new filters, how the project would evolve. Javier Arce reminded me of that idea. Javier, if this sounds fun to you — please drop me a line at ilya@type.today.
Making of Halvar Stencil
typemates.com/news/cut-select-delete-repeat-making-of-halvar-stencil
Paul Eslage, an intern at TypeMates, wrote a detailed and exciting read about making Halvar Stencil. The whole Halvar family, including Cyrillic, has been released through type.today in June.
Ambiguity
www.monotype.com/fonts/ambiguity
The new sans serif family by Monotype is five typefaces of different anatomy — called Normate, Tradition, Thrift, Generous и Radical. The names say it all, don't they?
Yury Ostromentsky: We don't like monopolists — apart from other things, they tend to release dull designs. It's not the case with Ambiguity, however — it is fresh, it is relevant, especially in the italics. Monotype haven't included all possible language sets into the release, thus avoiding tonns of stupid mistakes. Okay, seems there's nothing to grouch about — let's just enjoy a new quality tool.
Erik van Blokland on interpolation
The talk took place on June, 17 at The Cooper Union, New York.
Ilya Ruderman: Great explanation of how the idea and the theory of type interpolation came to be (spoiler: all thanks to Gerrit Noordzij), and what sort of problems type designers face in the age of variability. For those who do not know Erik — apart from being my tutor and friend, he is a revolutionary and a visionary of all variable type tools: UFO, designspaces, MutatorMath etc.
How to catch Google stealing your data, using apostrophes
pcmag.com/news/369045/genius-we-caught-google-red-handed-stealing-lyrics-data
Genius, the main destination for song lyrics, proved Google steal their data, using punctuation — in some lyrics, some of typographic apostrophes were changed to typewriter ones, creating a unique pattern. Judging by the apostrophes displayed in the Google search results, the corporation has copied more than a hundred lyrics from Genius — violating the EULA of the latter.
A guide to type styles by FontSmith
fontsmith.com/blog/2019/06/24/a-guide-to-type-styles
This is, indeed, a type styles guide — a bit non-traditional, but certainly well-illustrated, clear, and helpful for those who want to comprehend the serif type.
Breaking the Physical Limits of Fonts
github.com/graphitemaster/breaking_the_physical_limits_of_fonts
Dale Weiler, graphics programmer and software engineer, has crafted the tiniest screen typeface ever (possibly). A five-pixel-tall colour mosaic can hardly be seen with unaided eye, but is quite legible if zoomed optically. Read how he managed to do that.
History of Letraset
twitter.com/PulpLibrarian/status/1154368108955688961
Before the age of personal computers and printers, the Letraset was a go-to for non-proffessional lettering. Learn about the technology that helped shape the typographic style of 1970s — which (style) is now making a big comeback.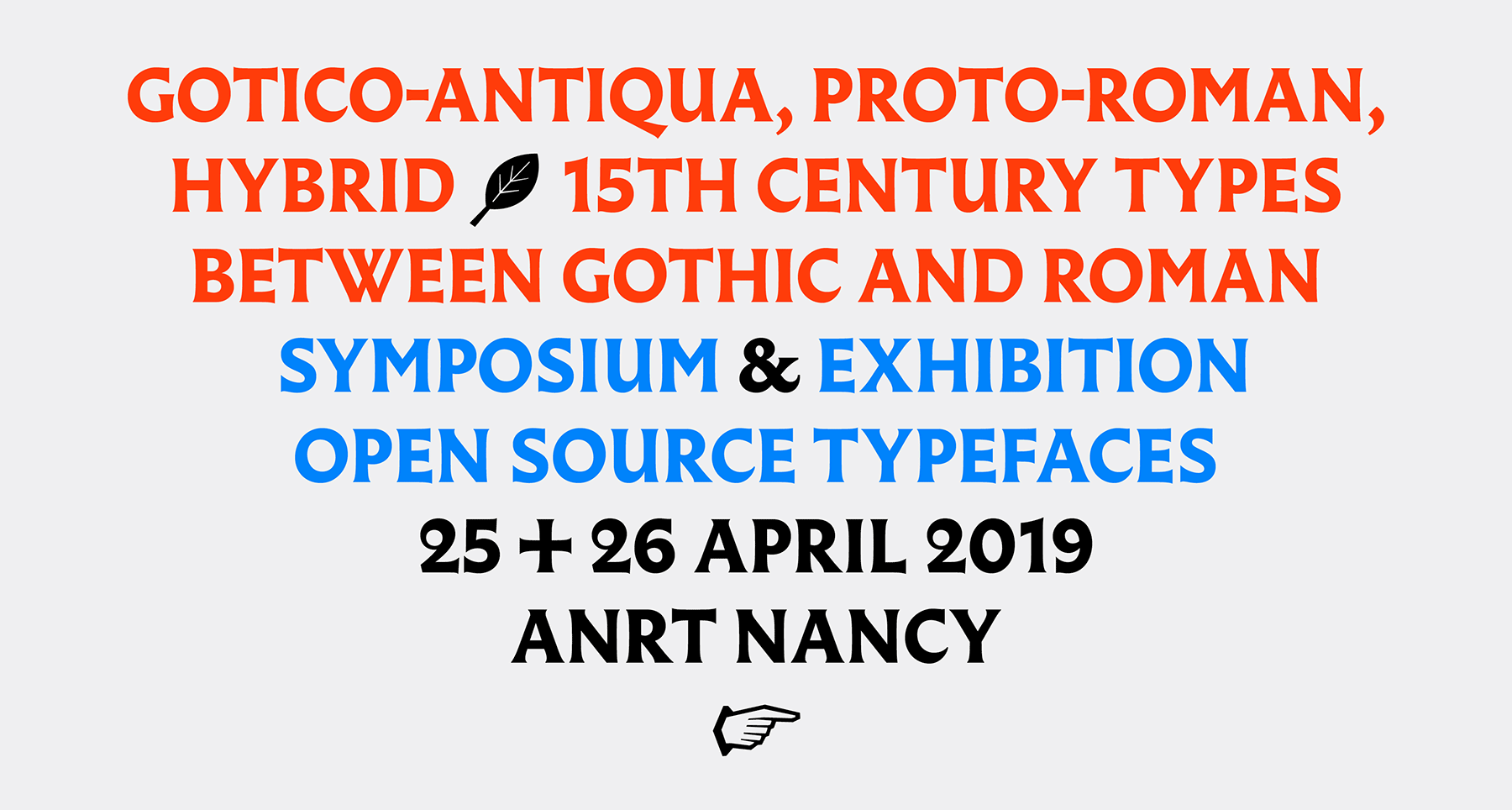 Almost
poem-editions.com/products/almost
Poem Editions have released Almost — an experiment in hybridization Roman and Blackletter type. The Almost Roman and Almost Gothic are separate font files, while Uncialesque, Bizzare (Byzantine), and Initials styles are available through OpenType features.
Yury Ostromentsky: Here's one more of the 'grab all you can and blend it' trend. Exactly what I'm doing in my CSTM Xprmntl 03. I could go on about the persistence of blackletter, the new eclectisism, and how there is nothing new under the sun — which is all pure platitude. Is this classy type? Yes, it certainly is. Would it work in a today's design? Take just one look at the specimen — of course it would. Meaning: hurrah to the trend, hurrah to this release.
Custom type for a funk music band (!)
ohnotype.co/blog/the-process-of-vulf-sans
In 2016 James Edmondson of Ohno Type received a letter from his favourite band, Vulfpeck — they asked if he could design a custom font for them. Since then, Ohno have released Vulf Mono and Vulf Sans — read about the design process of the latter in Edmondson's new blog.
Typography quiz from AIGA
eyeondesign.aiga.org/whats-the-difference-between-a-font-and-a-typeface-take-aigas-ultimate-typography-quiz
Do you really know what kerning is, and how is it different from tracking? If not, please go directly to answers section.
Modern Cyrillic 2019
moderncyrillic.org
type.today/en/journal/modcyr19
Modern Cyrillic, the contest for best Cyrillic fonts, held twice a decade, announced their winners — among the thirty of them are seven typefaces from type.today.
This June, Zoya Pavlenko was our guest instagrammer
Thanks, Zoya!