Typeface of January as chosen by TypeCache
Shohei Itoh, Akira Yoshino, and Taro Yumiba have been attentively tracking new type releases during the whole month — and notified their TypeCache subscribers. Here are the top ten type releases of January, according to those guys.
Agenda One, published by Greg Thompson. Pick by Akira Yoshino
Almoneda, published by Sudtipos. Pick by Taro Yumiba
AW Conqueror Sans, published by  Typofonderie. Pick by Akira Yoshino ![Delvard] Delvard Serif, published by Typotheque. Pick by Taro Yumiba
Forme Grotesque, published by Colophon Foundry. Pick by Taro Yumiba
Lucius, Lucius Sans, published by DSType. Pick by Akira Yoshino
Neumond, published by Dalton Maag. Pick by Shohei Itoh
Recipient, published by Process Type Foundry. Pick by Taro Yumiba
Stampa, published by Atipo Foundry. Pick by Shohei Itoh
Weird Serif, published by Alex Slobzheninov. Pick by Akira Yoshino
The Picnic on the Grass
PicNic by Marielle Nils is an old style serif transformed in an organic (or even psychedelic) way. That is a display typeface, obviously, but it can be used to set the entire paragraphs — syllables, words and sentences in a fairly small size are even easier to read than separate symbols in a super large size (in this case the focus is placed on the fluid, meander-ish ornament). Just like any other Velvetyne typefaces, PicNic is available under a free license, no Cyrillic yet.
Typotheque launched a series of Canadian Syllabics fonts
Eight Typotheque fonts now support Canadian syllabic writing which is a unified system used by dozens of indigenous Canadian languages and dialects. The process of designing the symbols was preceded by an extensive research and background work — for example, the project's designer Kevin King contacted the representatives of several communities and submitted the proposal on including in the Unicode Standard the characters which only exist in a minority language called Nattilingmiutut. For one of the fonts, serif Lava, King developed a cursive version — he justifies the need for this style in a separate article. Besides, King brought together a detailed guide on using Canadian Syllabics with a brief profile on local preferences and specifics of each language.
Pangea Afrikan
fontwerk.com/en/fonts/pangea-afrikan/
Christof Koeberlin has been designing the Pangea superfamily since 2016, constantly introducing new variable axes and expanding the list of languages it covers. In January, Christof added African languages, and now the typeface can be used by approximately 430 million people. By 2022, Pangea has already been equipped by the set of symbols to transcribe Arabic script and Sanskrit, Vietnamese, Greek and extended Cyrillic (with the latter having been consulted by Ilya Ruderman).
What is a Blaxploitation? (shown by five examples)
eyeondesign.aiga.org/5-blaxploitation-posters-that-define-a-redefining-movement/
The 1970s happened to be the the age when Hollywood first started to make movies with Black Americans as lead characters — and that is how a new subgenre was born, Blaxploitation (while the term itself implies exploitation of racial stereotypes, today it is often used without any negative connotation). Bright and grotesque, blaxploitation has profoundly affected the overall visual culture, typography included — apparently, it is because of its movie posters that large drop terminals and generous swashes (which today we tend to associate with the 1970s in general) have become a thing. Curator of You Won't Bleed Me: How Blaxploitation Posters Defined Cool & Delivered Profits exhibition at New York Poster House tells about five remarkable examples of blaxploitation posters at Eye on Design.
Russian Futurism translated into English, printed on wallpaper
kickstarter.com/projects/dpmellis/tango-with-cows-translation-facsimile-and-commentary/
Tango with Cows, a book of poems by Vasily Kamensky http://www.togdazine.ru/article/2061, was printed in Moscow in 1914, and that was a very unconventional book: in a pentagonal form, on floral wallpaper, with Futurist poetry and Futurist typography. In 2022, designer Daniel Mellis is implementing an equally extraordinary project, issuing Tango with Cows in English — skillfully translated by Eugene Ostashavsky, with a carefully recreated layout, paper, and printing techniques. Besides this key item, Kickstarter supporters can get a facsimile of the Russian original, a comprehensive commentary, reproduced Futurist posters and a recreation of the wallpaper on which Tango with Cows was first printed. The target amount of 6,000$ has already been raised, yet you still can take part in the project and get a valuable artifact.
Font Fiction
A very beautiful and slightly wild French blog on experimental typography now has an English version. Among their translated pieces you will find, for example, an essay on why the Jewish mysticism might be of use to a type designer, cards with tasks for designers, and even an artistic story about fonts that come alive. The authors promise to launch a typography gallery and even a font store on their webpage any time soon.
Neumond, a serif typeface for techno elves
daltonmaag.com/library/neumond/
Super thin, super sharp, and super elegant typeface by Dalton Maag can be classified as a 'wicked serif' — but unlike many of its fellows, it was inspired rather by the 1970s lettering than by Art Nouveau. The angles are geometrically precise, yet the strokes can boast calligraphic dynamics — the resulting texture is mesmerizing, tingling, and solemn.
Literaturnaya → Tekst
futurefonts.xyz/lewis-mcguffie/tekst/
Estonia-based Lewis McGuffie took his microscope to the TYPA Letterpress and Paper Art Centre in Tartu, documented the original metal type of one of the most popular Soviet book typefaces, and passed on the Literaturnaya's DNA to his new Tekst family. The family comes in three typefaces: Tekst A (Analog) for use in print, Tekst D (Digital) for screens, and the monospaced Tekst M (Mono), with all three covering Latin, Cyrillic and Greek.
Road signage font with an attitude
pangrampangram.com/products/rader/
PangramPangram decided it was time for navigation to stop being neutral. First they considered road signage of the late 19th century, then looked at popular geometric sans typefaces, and designed the narrow and brutal Räder fitted with eight weight options. The typeface supports almost 40 languages, yet the Russian signage system will still stay neutral — as there are no Cyrillic-based languages in that list.
How to stop using the same old typefaces
creativereview.co.uk/stop-making-lazy-type-choices/
In his piece on Creative Review (sponsored content), type designer Jeremy Tankard encourages and challenges us to be make bolder choices when it comes to type — in each of our projects — as well as offers some advice: not to be overwhelmed by choice (which is potentially endless), figure out bottlenecks and the project-specific needs (and to thoroughly check your choices in this regard), find your own way to choose (yours can turn out to be an absolutely unorthodox method), and, finally, talk to the author (they are here to enthusiastically tell you many useful things when it comes to their product).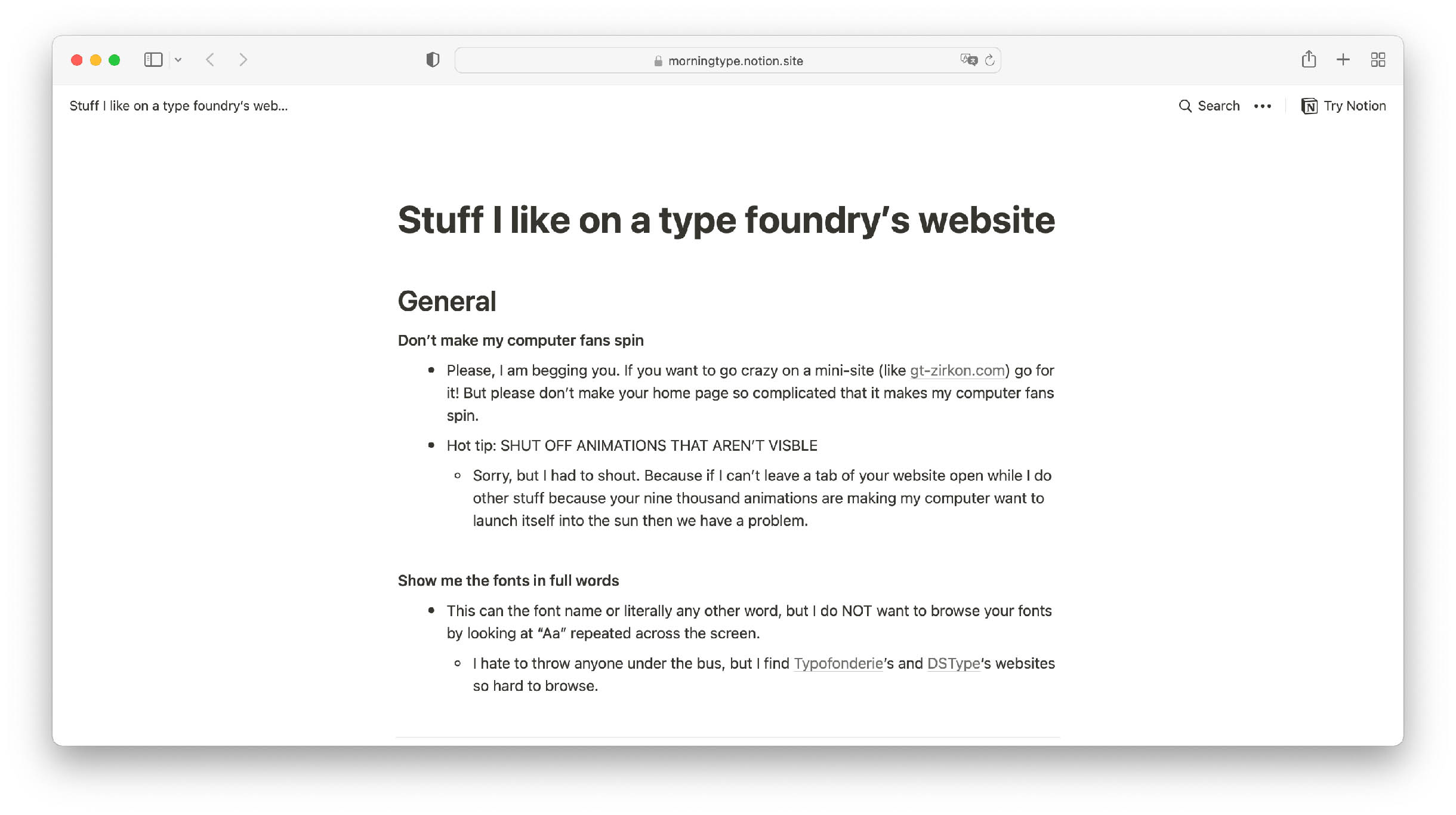 What should (and shouldn't) be on a type foundry website
twitter.com/morning_type/status/1479517734140624898/
Monkey Type asked their designer followers what they would like to see on type foundries' websites. Designer Matthew Smith has written an entire article in response to that, where, other than elaborating on possible requirements for a hypothetical type foundry webpage, he reviewed the already existing ones, Commercial Type, Klim Type Foundry and Typofonderie.
Long story short: the more options your tester has, the better (in an ideal case scenario it comes with an embedded CSS Editor), each font needs to be accompanied with a historical context and design information, the buy button has to be the most visible button on the website, while all the complicated legal licensing issues should be highlighted in the foundry's FAQ section, translated into a simpler language. (Our website provides even two brief licensing disclaimers, one for type.today, and the other one with regard to tomorrow).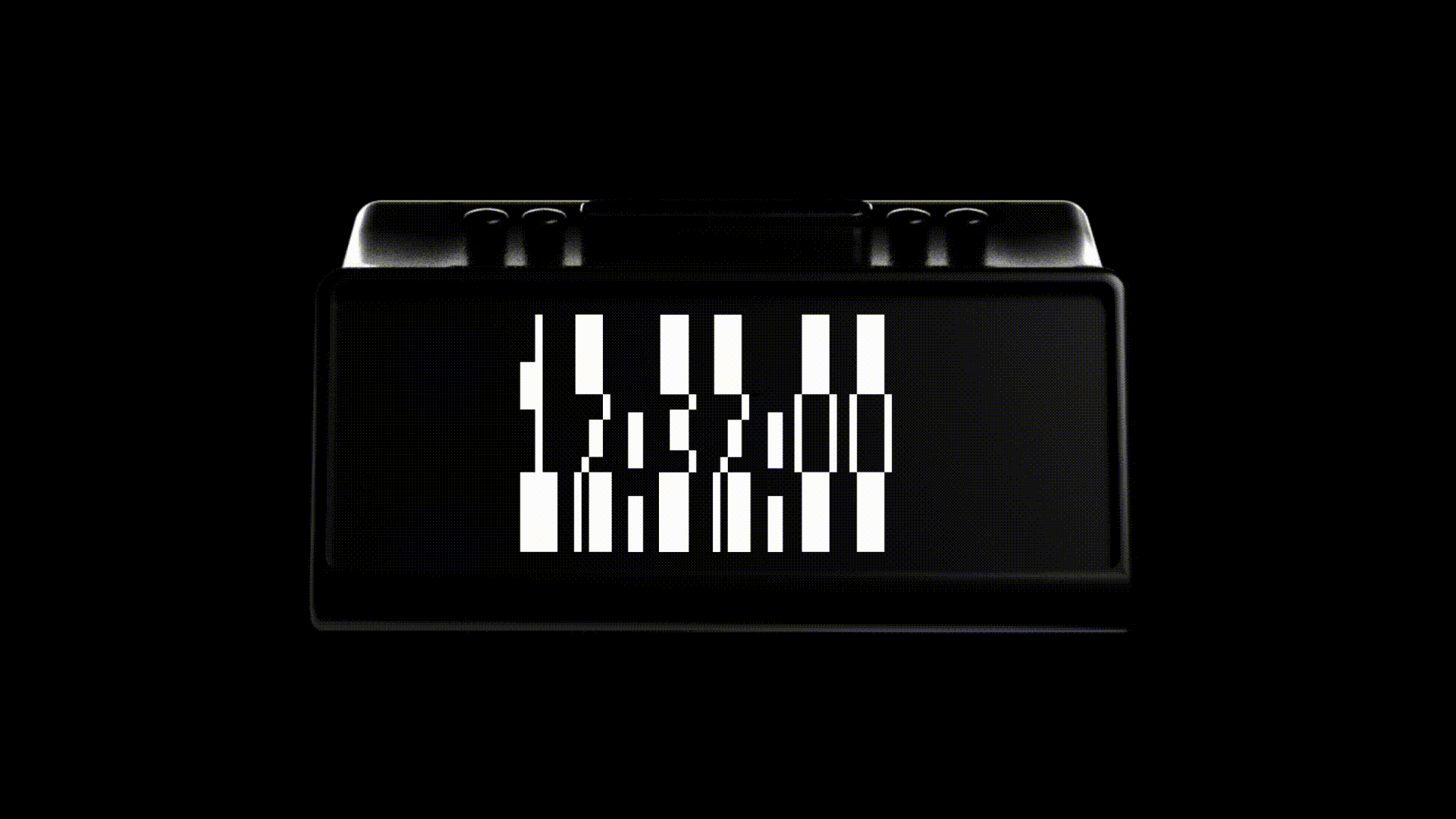 Our new release, Quattrocode
https://type.today/ru/journal/quattrocode
Quattrocode by Arthur Lebsack balances the barcode aesthetics with the pragmatism of a route sign on an old bus — a great choice if you need something digital and handmade at the same time.
You can enjoy each of his generative works at #typetoday012022. Thank you, Tolya! In February, our Instagram host is Artem Militonian.