We are re-launching the feature, where @tomorrow.type.today curator Timur Zima shares his Instagram As some members of our team are living in Russia we have to follow the Russian law. According to the law, every time we post links to Instagram or Facebook we have to mention the fact that these socials belong to Meta, which was recognized as extremist by the Ministry of Justice if the Russian Federation subscriptions.

Victor Montet is a Paris-based designer creating typefaces, identities, and logos. He graduated from École de Condé in 2018 with a Master's degree in Global Design.
Victor remembers being first introduced to lettering as a part of graffiti culture. However, he's not sure whether it had an influence on the typefaces he started creating during his last years at the university.
Montet believes that design is mostly an excuse to produce shapes and that good design is when shapes can speak for themselves. He also perceives a designer as a guide for our society drowning in low-quality images.
Selected project: Dahleb
The first shapes that inspired Dahleb were born out of research for a magazine logo. The logo was going to be printed in small sizes, so the design had to be simple. Although the logo proposal wasn't accepted, the lettering piece grew to a full character set with its own expressive personality. The core of it is the combination of simplified design and the codes of neo-grotesque typography.
Paloma Plana is a French designer of Sicilian and Spanish origin. She always hoped to develop her career in the world of design. Starting with drawing, she first entered the Printed Graphic Design course at Ens Aama and then decided to continue her studies at the Typography and Editorial Design department at La Cambre, Brussels.
Working on editorial design, collaborating with cultural institutions and independent artists, exploring new fields, focusing on the conceptual and developing typographic systems… These are just some of the activities defining her practice.
Creating mostly type and editorial design, she loves the idea of building type in a strong connection with print as she considers these two inseparable.
Selected project: Latrodectus Hasselti
Latrodectus Hasselti is a display serif font with a 10°slant and one style only. As it was part of an assignment on typographic experimentation, it has a strong character and works perfectly as a titling typeface. In many ways Latrodectus Hasselti is built like a number of other display serifs, however, unlike them, it draws inspiration from free drawing, completely detaching itself from calligraphy and historic specimens.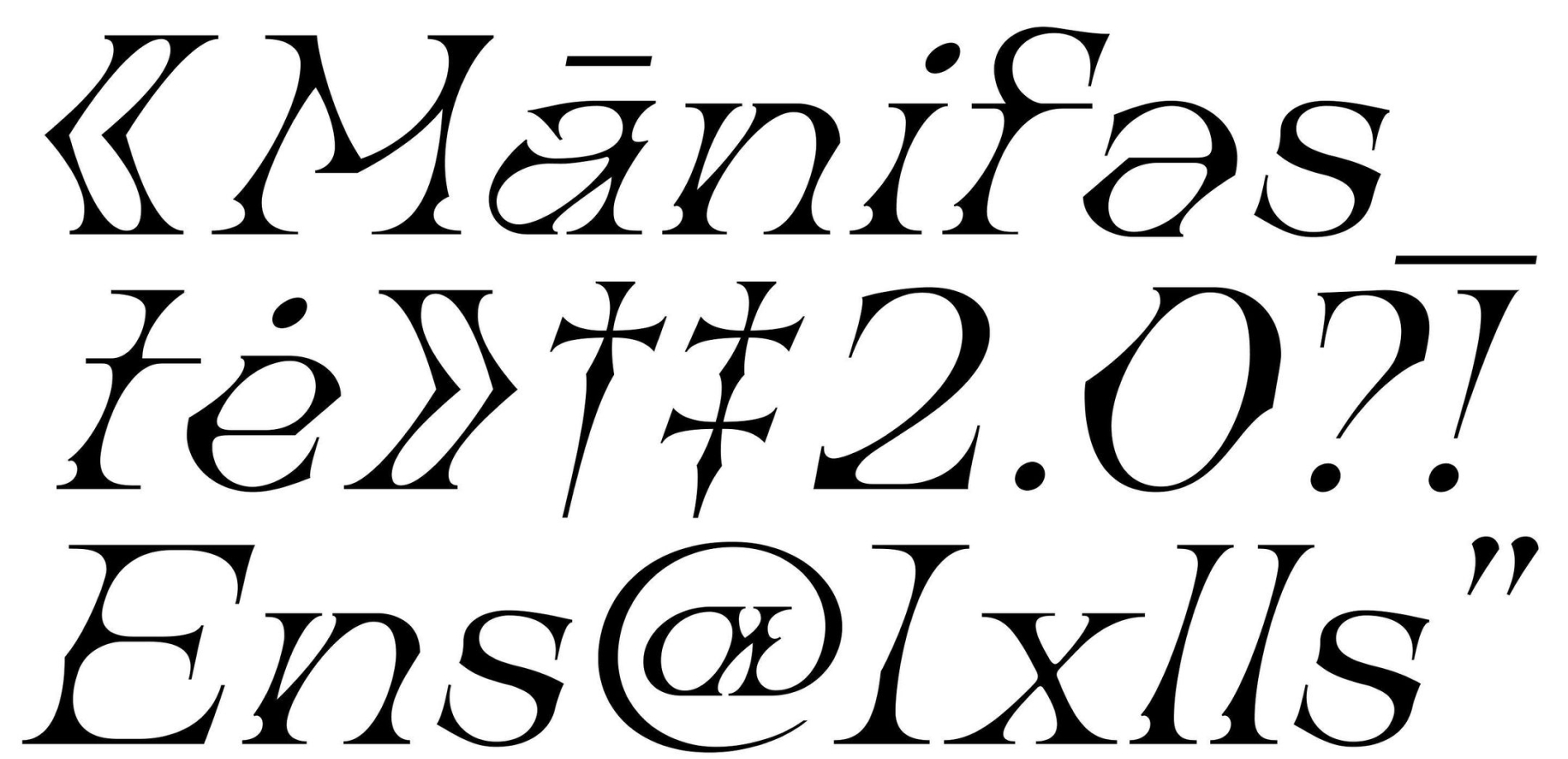 Paul Peyrolle comes from a small village in the south of France, but now lives and works in Brussels. Together with his childhood friend Jules Rousselet, Paul creates designs for the Isengard Guilde label which they consider a playground to try out new things. In 2022, Jules and Paul also founded Bravas Graphix. Their studio works in all existing design fields, seeking a balance between academic rigour and adventurous experimentation.
Selected projects: Xsara Picasso, Double Trouble
Paul's practice is somewhat in-between drawing and graphic design. That has given rise to two fonts, Xsara Picasso and Double trouble, both available on DaFont. Ironically, they're partially inspired by the platform itself, by the wealth and variety of graphics that could be found in a collection of more than 50,000 fonts.
An indecisive curriculum allowed Benoît Bodhuin to study mathematics, product design, and graphic design at Saint-Luc (Belgium). A short stay at an agency made Benoît realise that he wants to work indepedently (which he has been doing for many years now alongside teaching typography).
Benoît's practice is all about creating unshackle design and typography that look fresh. His main approach to type design is finding a drawing method that is automatic enough to create surprising details, but without harming the anatomy of the letters.
Selected project: Harber
Harber is a typeface made of superimposed dots and equipped with five variation axes: weight, slant, volume, noise, and optical size. Initially, it was just an attempt to create volume by moving dots in different directions and only included capital letters. However, Benoît got so consumed by the drawing process that Harber grew into a whole typeface.