Roma, please tell us a little bit about yourself.
I've been in design for ten years, I guess. I got there by chance, almost unconsciously. I was studying linguistics in Yaroslavl, but already in my second year I got bored and dropped out of school — I was wandering from one weird job to another for about five years, hanging out, looking for my place in the world. I've always been passionate about drawing: as a kid I drew in my school copybooks, used Photoshop to picture my classmates, fooling around. And at some point I decided to get back to all those things and signed up for an Illustrator course, completed it, put together a small portfolio, and got a job as a page maker at a local glossy magazine. I was lucky to get into page making: this way I immediately started to get an understanding that work with type and typography lays at the heart of all of it, while images are often of secondary importance.
I'd worked for various newspapers and magazines in Yaroslavl, and then got a job at an event agency where I began designing event identities. I spent a year there, I think, but at some point I started realising that I was getting stuck in this environment, that I missed professional action, a stir, which is why six years ago I moved to Moscow and got enrolled to the Britanka (British Higher School of Art and Design — translator's note), at the course of Dima Karpov.
Dima's Design in Interactive Environment was a really multi-faceted course: you've got 3D, you've got motion, little typography — or someone might come and tell how he launches his own studio. Students simply get hooked on something they're interested in and start to unravel in the right direction. I liked video games and interactive stuff in general, and so I thought I would be going forward in this direction, but this is not what happened, at all. So, during those two years of studies I was constantly creating visual identities — perhaps because I like taking something and using it as a base for creating an integral visual story.
After Britanka I signed up for a 1-year course on identity design at the Wordshop Academy to Misha Gubergrits, in order to bring down to land, a little bit, the cosmic urges of Dima Karpov, to marry them with a business side, to learn basics of strategy and systematize my knowledge. Valera Golyzhenkov was teaching typography there. We even designed a typeface during this year, and this was a very interesting and fresh experience for me that opened my eyes to how one should work with type with regard to visual identity. Before that I'd always been afraid to touch a typeface for creating a logo from it, but this year with Valera completely untied my hands in that regard.
At the same time I was working — where I could mostly, as I was focused on my studies. Right after I moved to Moscow, I found a job at a firm called Zebra which does annual accounts. Apart from this, they do nothing — only annual reports for Lukoil, Russian Railways, Russian Post, and everyone else. The job is, clearly, not for the faint-hearted: plenty of routine, lots of excessive hours as we approached deadlines. But it was a five-minute walk from the place where I lived, and it was well-paid: it was enough to live on and pay for my studies. I worked there for some time, then I was a freelancer, and after that I got a job at Russian Post, at the time they were creating a killer of Yandex.Market — which did not become a thing eventually, I think. I was in charge of the print part of the story, as they have this unique commercial offer — 'Anything that you see in our online catalogue, you have also in print.'
When I finished my studies at Wordshop, I quit Russian Post. I was planning to start working at some small studio specializing in identities, like Shuka or ONY, and doing only that. I even promised to myself that in the coming years I won't work on the side of a client, within a corporate machine. But as soon as I quit, literally a week after that, I saw this ad on Facebook from the design lead of Badoo, a dating app based in London. London is my passion, so I immediately sent my résumé, even though it was a job on the side of the customer and for a corporation.
Can you elaborate, what kind of company this is?
Our company — back then its name was Badoo — was an incubator for dating applications.
What does it mean?
It means that the company was constantly in search of new ideas namely in the area of dating and regularly launched new niche products — for example, dating for those older than 50, or dating for LGBTQ-community. When you already have a certain technologic base and experience in this area, you can simply try new channels and new audiences using certain unique features. The key apps which brought the most money were always Badoo and Bumble. At the origin of Badoo there were Russian guys, which is why we had offices both in Moscow and in London. And Bumble was born in America, and this app is highly popular there: it bit off a large chunk of the market from Tinder. And when our company changed its leadership, they made a decision that the entire company will be called Bumble, since it is a much more visible brand in the Western market. So, now we're changing the whole corporate identity.
What are you in charge of in the company?
I am the design lead of the internal creative studio at the marketing department. But our tasks are not limited to marketing ones. For example, I am in charge of HR-brand and corporate brand — that is, anything the company presents at exhibitions and hiring events, supporting professional communities, certain internal communications. It is mostly graphic design, but the range of work is actually pretty large, and I get completely different assignments: today I can do titles for a certain mini series, tomorrow I do billboards for placing them on buses, the day after tomorrow I have to come up with an identity for some new feature in our product. A lot of things, you know. The last three years that I've been working there, it never got boring, as it is always on the move. The very same Badoo's identity has been changed twice during this time.
Be You, With Me — Badoo's latest outdoors campaign in Moscow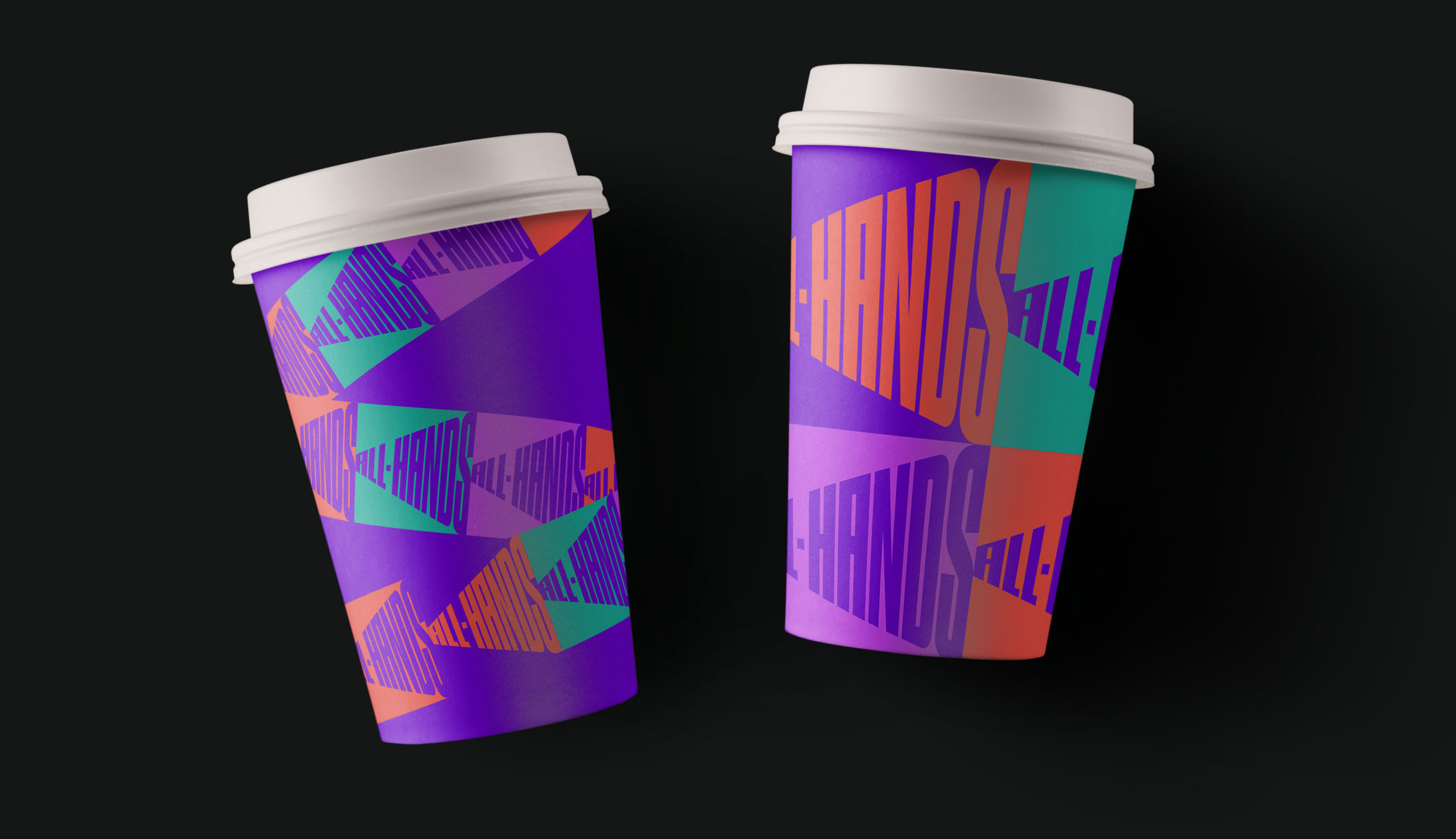 Visual style for Badoo All-Hands, a corporate meetup
Title design for a Badoo Spain talk show series
This is how the modern world is, you need to be flexible…
Yes, today everything changes very quickly in general. That's cool how brands can roll out the whole new global rebranding, in six months realise that it doesn't work, and in a year they come up with something new, again. Twenty years ago things like that were inconceivable, I guess.
It would seem that Badoo has a more bright, dense, and very diverse design than we're used to anticipate from a service. Is there any philosophy, idea behind this, or this just happened?
Have you been looking at the latest Badoo branding in my portfolio, or you considered internal projects? If it's internal projects, with those we clearly have more freedom and we can go crazy there, as we're not confined by strategic guidelines about the consumer brand, where the tagline is Date Honestly, the audience is 20-35 years old, at most, and the framework is somewhat stricter. It has to be about honesty and human touch, therefore in external communications we have lots of handwritten elements — all those scribbles and hand-drawn characters. In fact, we have built a certain brand's volume scale. The basic is purple background, logo in the corner and scribbles. But you can remove purple colour and add something different, or you can remove everything and leave only the logotype. The key thing is that it's still recognisable — 'Yes, that's Badoo.'
Design variants on the Content — Brand scale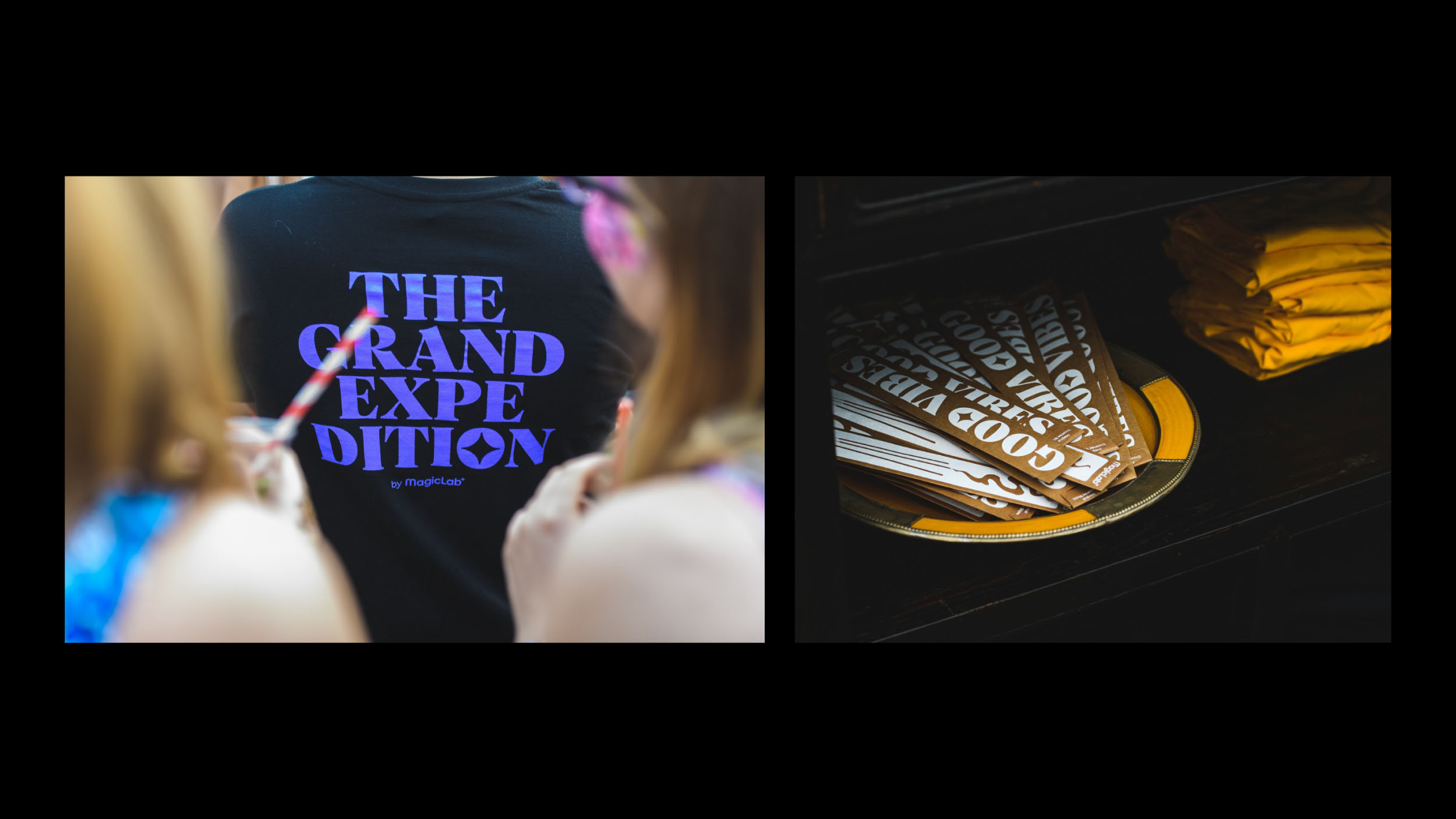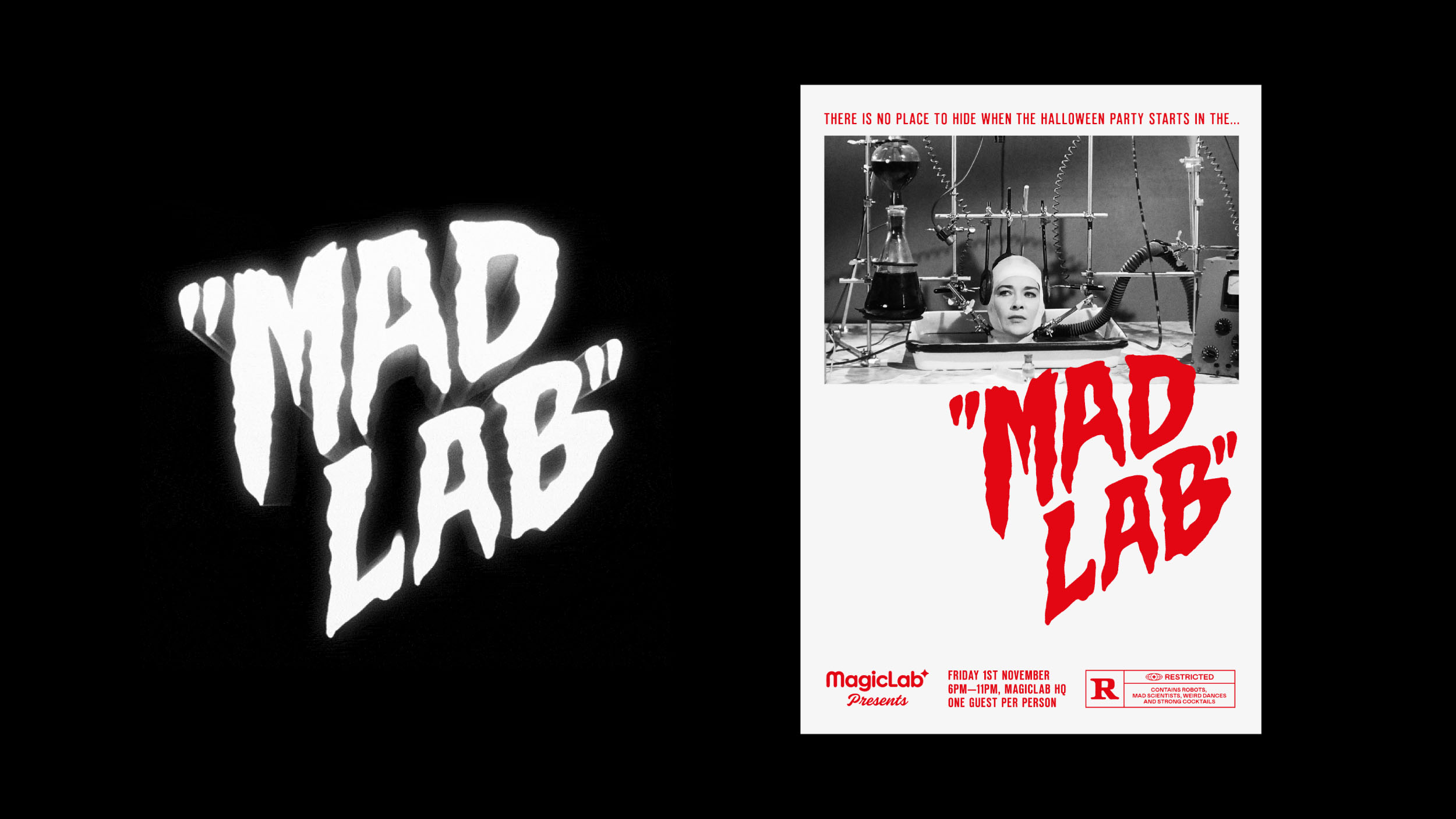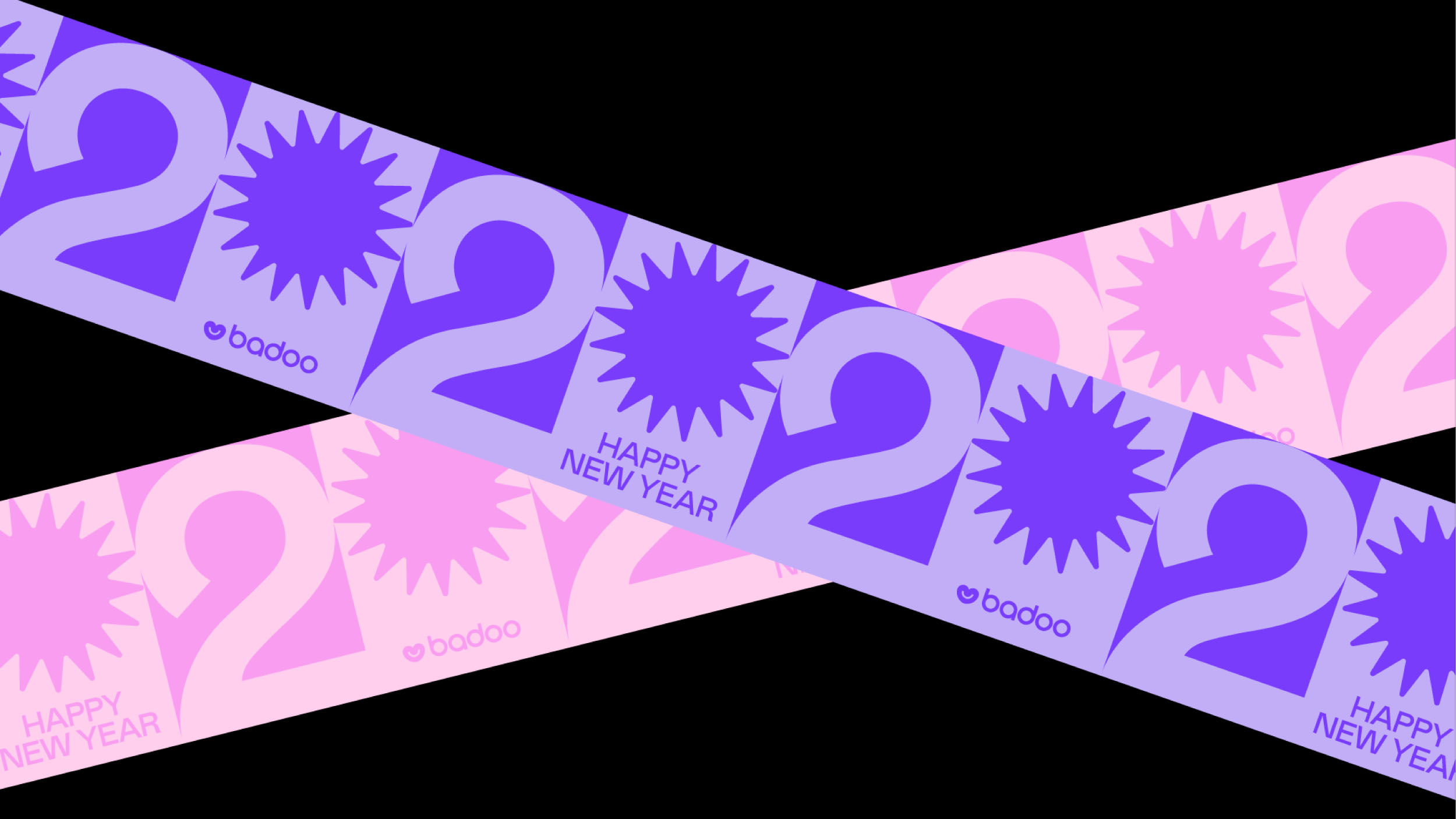 Posters for Badoo corporate parties
How many typefaces do you work with right now? I look at what you have in your portfolio today, and it appears to me that you tend to use various typefaces very generously.
You could say there's an unlimited amount of them. Because if we're talking marketing campaigns, we often pick a typeface individually on a case-by-case basis, basing on the character of any given campaign. Whereas if it is some corporate stuff, then for Badoo, for example, we use Mabry by Colophon as the main typeface and for display purposes we employ a handwritten typeface which we designed ourselves, for adding the emotion.
Is the company reluctant to purchase a new typeface or not? You must have rather heavy licenses.
It is not. Never had any problems — you just send a request, and then receive a font with all the documentation. It's all in the comfort zone. And the size of the license depends on the project. It is one thing if we buy a typeface that we'll use both in product and on the Web — the very same Mabry cost us a fortune. With some local campaigns — for example, simply placing posters in London, — things are way cheaper.
Badoo True Stories campaign in London, set in Druk, by Nastya Mikhaylova
Badoo Welcome Pack, for London newcomers, set in Stratos
As far as I can see, everyday you do design with a very positive attitude. Judging by your work on our Instagram, you miss more complicated emotions.
Yes, I actually prefer dark and melancholic stuff. In fact, for a long time I've been designing in black-and-white only — partly because of the fear of using colour. But it's also that I simply like noir aesthetics in films, deep shadows, black-and-white photography.
So how come that you manage to do such a cheerful purple design?
I compensate for it somehow. When you work in dating for 24/7, you need to keep the balance.
Are you doing something in parallel?
Yes, sometimes I take on other projects. It's mostly identities, two or three of those a year. The good thing about creating identities is that each time you plunge into more or less a new, different story. Helps to reboot.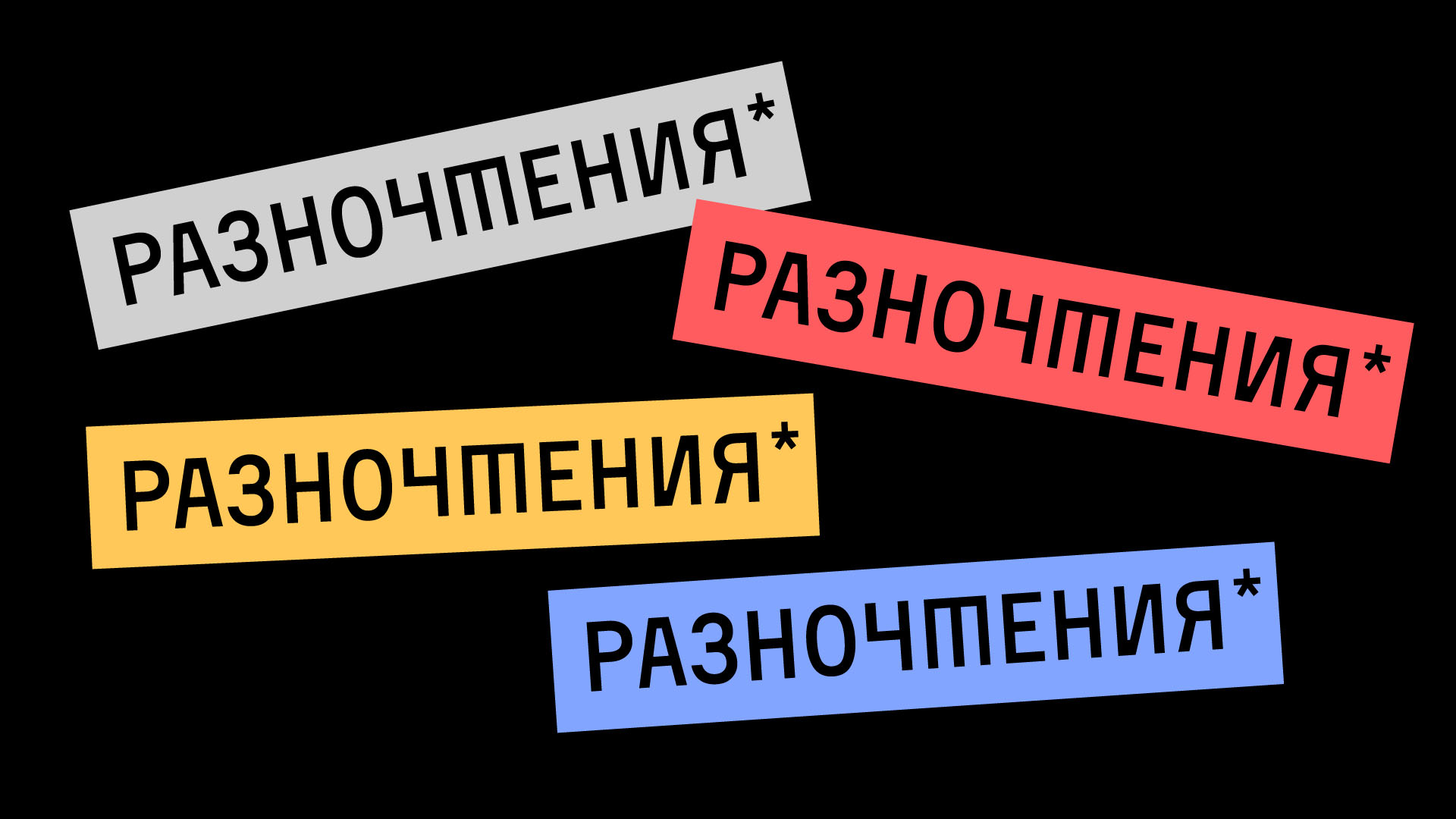 Visual style for the Raznochtenia creative hub, set in Activist and William
Label design for Zavod gin, set in Druk
I also meant to ask you about Dressing the Screen..
In our first year at Britanka we participated at the D&AD New Blood Awards. These contests work this way: organisers post about 20 design briefs, and students from all over the world can, after paying not so much money for the entry, suggest their solution to any brief they like. Me with the guys, we chose the British Council brief where you had to design an identity for the fashion films festival called Dressing the Screen in London and in Moscow, meaning the identity should have been bilingual. Fashion movies are typically short films, semi-advertising, but with a great level of artistic freedom. And we came up with a solution with a motograph — this technique is also called scanimation: you take two or three animation frames, cut them into vertical stripes, move relative to each other, and the image becomes alive. The method was invented in the 19th century by the British scientist Peter Mark Roget, and it was a predecessor of cinematograph. We thought, 'Well-well, English thing, cinematograph…' — and eventually we designed rather fashionable things which also referred to the works of fashion photographer Erwin Blumenfeld. The coolest thing in this story is that this identity could have worked off screen and would allow animate things in physical space. I like when visual solutions can come outside and become more palpable. It was a success — we won the yellow pencil, that is gold.
Dressing the Screen
You?
There were three of us — me, Vlad Poliakov, and Kir Khachaturov — all of us from BHSAD. The following year, we took part in this competition as well, only Anton Chalov replaced Kir, and we chose to make a project on cinema, too — apparently, we're drawn to it, — it was a retrospective of Hitchcock movies, and we designed the visual style with typography on the walls. Meaning, you're directing a beam of light at the word and the shadows of this word project to the wall. A trivial move, but namely in the context of Hitchcock who worked a lot with noir visual aesthetics, it turned out to be more than relevant, and we took the prize.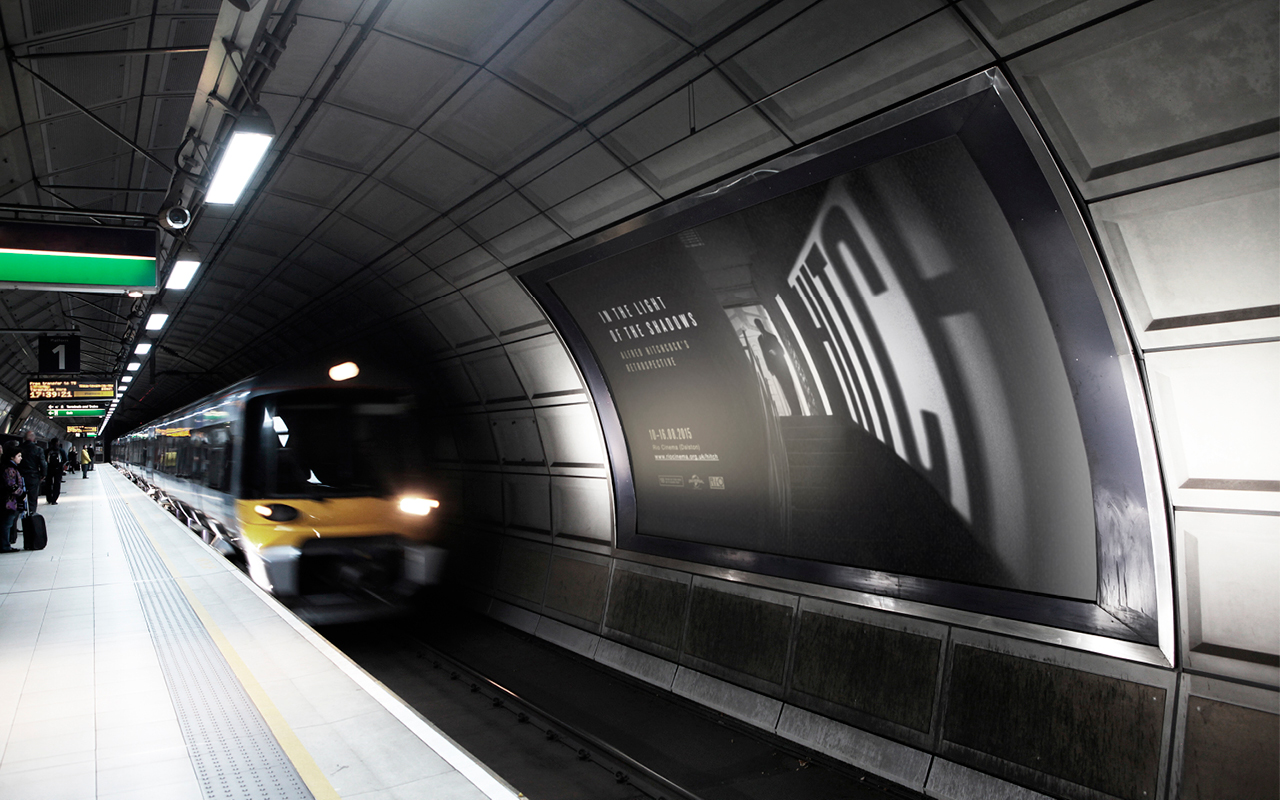 Hitch. In the Light of the Shadows, a Hitchcock retrospective at Rio cinema, London
Now please tell me about our cinema Instagram.
I decided right away that it was going to be devoted to cinema. Because during the lockdown I started to regularly watch movies again — over the past few years I stopped doing it, while now you haven't got much to do, you're stuck at home anyway, — which is why I decided again to work with the subject.
How did you choose these 30 films? Was it your shortlist, or you rather looked at typefaces and came up with a movie?
I had a number of different approaches. At first I drew up a list of my favourite movies that I wanted to share with people. I wasn't able to design posters for each of these films, as I also had time-limits — this is not always that you can come up with an idea in one evening, or even two. So I had to give up on many of my favourite movies. I was simply thinking about those, they ran through my head, and if I got an idea, a visual metaphor about a certain film, I wrote it down. And this is how a pool of such notes was formed, and I was considering which of them I could deploy. This is my first approach.
The second one — I looked at typefaces. For example, I came up with Fantastic Mr. Fox because I saw the typeface called Pilar, and it has these sharp triangular elements that resemble fox' ears, and in general it's cartoonish — so I decided to take it. And when I saw Valera's First Prize, I thought of The Wrestler. In both cases the film decision was entirely defined by the typeface.
The third approach was to ask the audience. Firstly, I felt like deploying interactivity, engaging people, and secondly, it was taking me plenty of time to write an annotation to a post, and here it was people themselves who wrote it.
And which approach did you use to design The Outskirts poster?
The Outskirts appeared because I really wanted it to. Although it took an effort to design it, this was not easy. I wanted this poster to have a lot of free space — steppe, vast open spaces. I also intended a bit of tension — this resulted in the line of these eyes, rather tensed. And the typeface Karloff Negative seemed to me referring to the Soviet lettering. The Outskirts is a memorial to the early Soviet cinema… I actually went through lots of Soviet posters, as I also did the Stalker poster, which I am not completely satisfied with, unlike the Outskirts one. I considered how they placed text, how presented the cast of the film. Sometimes they put a ridiculously long annotation on posters, which I did with The Outskirts, putting the intro text in the footer.
The reference board for The Outskirts and Stalker
And what posters do you, personally, like the most?
I don't know. It's hard to choose the favourite one. I like how two 'skin' posters turned out — La Piel Que Habito (The Skin I Live In) by Pedro Almodóvar, and Under the Skin.
In quarantine I began experimenting with 3D, and this is my exercises that translated into posters Under the Skin and Ghost in the Shell. 'Ghost' is a 3D that I designed especially for this poster. Only the poster was for the anime film, but I used the head of Scarlett Johansson who plays in the (rather mediocre) live action version, based on this anime. But I really like Scarlett Johansson, and by chance there was her 3D head on the web.
I liked Watchmen, too. Frankly, I wasn't thinking I would do a poster for this movie, as it is really difficult to design something for a film which already has certain very bright graphic solutions: when you think about it, you have no ideas other than that — you just see this typeface, and that's it. I typed the word 'Watchmen' in Giorgio Sans. It has this round C, it moved the whole story, and I rhymed it with circles in the poster, I put 'em everywhere: Doctor Manhattan is blue, blood is red, and all that. I came up with a great rhyme, I think.
Was there a typeface that struck you?
I actually believe that you can fall in love with almost any typeface, if you work with it for some time. As soon as you find the proper application for it — and you can find the proper use for almost any typeface, — you start to have some sort of emotional connection with it. If we talk about upright discoveries, this might be Austin. I extended it shamelessly on the Perfect Blue poster, yet it is still very beautiful, just great, I will definitely use it again. I also used in The Skin I Live In, where I simply took the letter I and built a rhythmic story upon it, because this movie is very much about music.
What else — Giorgio Sans. Halvar is great, I like it. Dala Floda is beautiful as well. I didn't think I would deploy it, as it is very much distinctive, but I managed to — in Sympathy for Lady Vengeance, and it worked very well, I think. I really wanted to use Amalta, somewhere, but didn't find a proper place for it. Difficult. As a matter of fact, I was thinking that it would be a problem to insert Pilar, too, but eventually used it twice. Really great, too. And I also used new Displace for one of the last posters. It is pretty cool, and I definitely would like to work with it again.
Where did you use it?
House of Flying Daggers. As it turned out, you mustn't upload such a combination of green and red to Instagram. I know that now.
And there's another thing! I specifically wanted to bring your attention to the poster of Gone Baby Gone that was designed as a copy of Saul Bass' poster — some sort of homage to him, one of my favourite designers-oldtimers. But for some reason this post got little likes. I think all things 3D are now very popular. I simply rendered some bracelets, put a camera between them, and here you are — lots of likes. People respond very positively to 3D, while I'd like to move further as it becomes a bit heavy with this amount of 3D typography, with all those chromated, shiny things. Although they still seem to attract a lot of attention.
And where is all this going, what do you think?
It will begin to rush from screens to the surrounding space, such as all things AR. We will probably see the arrival of some flexible holographic displays that will enable not to project typography, but to simply turn this display into a three-dimensional tape. I believe that everything is already taking to the streets. As for Instagram, I guess, it will all calm down again and become flat after a little while. Though who knows, Apple has just released 3D icons… Perhaps everything will become even more heavier in this regard.
Doan Ly. The most beautiful flowers of the internet (this and further comments by Roma)
Braulio Amado. Graphic designer and illustrator, authored many record covers for Róisín Murphy
Hassan Rahim. Black belt in all things dark. Among other things, made cover art for the Melodrama LP by Lorde. Which is among my all-time-favourite record sleeves
Alice Isaac. Couple years ago, she used to by a marketing specialist, now she is the best collage artist in the world
Matt Willey. If I had to pick one Pentagram partner
And where is type going?
Someone has rightly mentioned in one of your previous interviews that today it's IT companies who rule the world and dictate trends. There is Dropbox and MailChimp who became slightly more expressive in terms of type. I think that type will live through the same story as illustration did. Only five years ago all pictures were rather boring, corporate style. But then Collins made a super avant-garde illustrative thing for Dropbox, everyone took after it and went two more levels of abstraction higher. The same will happen to type, probably, and we will see more particular, human, and less structural stories by large corporate players and their emulators.
Thank you for this month on our Instagram and for this conversation.
Thank you very much for your attention and for the invitation. It was great.
Roma Lazarev