Typefaces of April as chosen by TypeCache
Akira Yoshino, Taro Yumiba, and Shohei Itoh keep a daily record of new type releases on TypeCache.com. Here are their favourite typefaces this March.
Altesse, published by Typofonderie. Pick by Akira Yoshino
Birra Pils, published by Darden Studio. Pick by Taro Yumiba
Bork, published by Harbor Type. Pick by Shohei Itoh ![4Groundbeat Outline] Groundbeat Outline, published by Typerepublic. Pick by Taro Yumiba
Immortel, published by 205TF. Pick by Akira Yoshino
Lexik, published by Binnenland. Pick by Taro Yumiba
GT Maru, published by Grilli Type. Pick by Akira Yoshino
Norbert, published by TypeMates. Pick by Akira Yoshino
Postea, published by Type Together. Pick by Shohei Itoh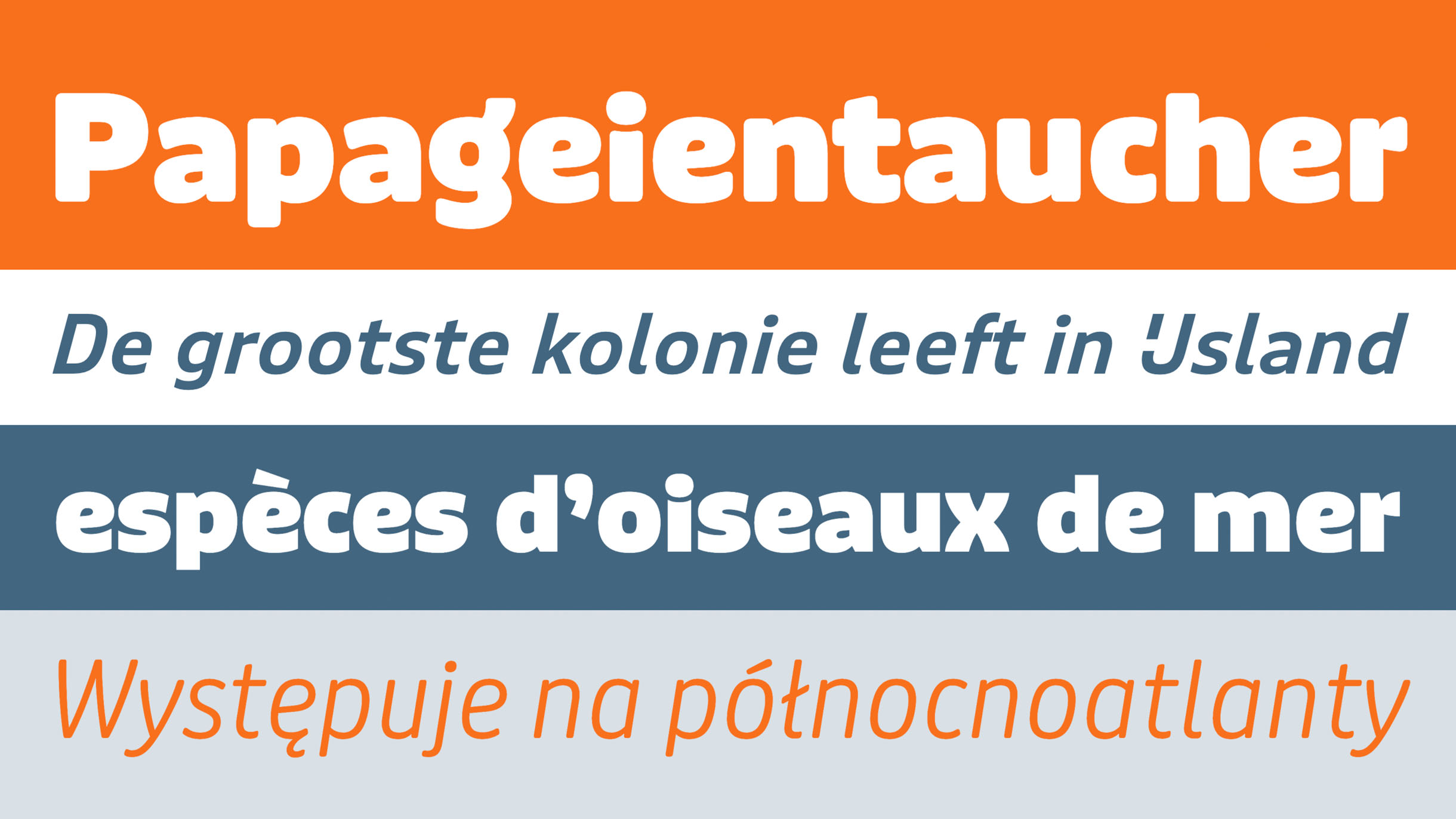 Puffin' Puffin Display' Puffin Display Soft, published by Bold Monday. Pick by Taro Yumiba
Vox minus ATypI
atypi.org/atypi-de-adopts-vox-atypi-typeface-classification
Association Typographique Internationale drops the classification of typefaces known as Vox-ATypI. This system was devised by a French typographer Maximilien Vox in 1957 and adopted by ATypl four years later. Vox-ATypl has been criticized for putting emphasis on text typefaces and Latin script — also, for obvious reasons, the classification leaves no place for lots of typefaces developed in the digital era. Now ATypl explores the possibility of creating and introducing a new, modern technology and local specifics -relevant system.
InDesign meets optical sizes
helpx.adobe.com/indesign/user-guide.html/in/indesign/using/using-fonts.ug.html#automap/
From now on, InDesign offers a default bind of optical size to font size — if you set in a variable font with this axis, it will automatically define contrast, level of detail, and side bearings. Since it is unlikely to work perfectly, you can disable this behaviour by going to Type in General Settings.
Bibliotekus
Russian designer Artemy Lebedev scanned his personal library of books and other materials on type and typography — historical documents, designs, standards, critique and research, not just in Russian. Not irreproachable from a copyright perspective, but extremely entertaining.
Royale et Essentiele
instagram.com/p/CN-KJv_B7Oc/
futurebrand.com/our-work/loreal/
Marko Hrastovec (Hot Type) and Elliot Amblard designed a pair of custom typefaces for L'Oreal group — a sharp, but delicate Granjon serif and a slightly art-nouveau geometric sans. The typefaces are embedded into the brand's new graphic system designed at FutureBrand agency.
Matchmaking service for those looking for typefaces
If a font has a character, it means you can create a tool for finding a font by defining certain parameters — this was the working assumption for the Font Brief project. Currently, the service offers more than 360 typefaces which can be filtered by choosing a point on eight axes: for example, neutral-expressive, technic-organic, serious-friendly, cold-warm. You won't necessarily get what you implied, but definitely will see something interesting — including fonts from our catalogue.
Our releases
https://type.today/ru/journal/codelia
https://type.today/ru/journal/norbert
https://type.today/ru/journal/loos
This month we released many new typefaces. First, Codelia — a monowidth typeface for coders who got tired of discipline. Secondly, Norbert — an unexpected alternative to the overly popular Druk. Thirdly, Loos: a multi-skilled sans serif, combining rigour with delicacy, — much anticipated release from CSTM Fonts.
Letterform Archive is having an auction
letterformarchive.org/news/view/auction/
catalogue.swanngalleries.com/auction-catalogs/SELECTIONS-FROM-LETTERFORM-ARCHIVE?saleno=2567/
In case you have long been willing to support historians of typography and get a piece of history for personal use, now is the time. Letterform Archive brings to the hammer 153 items from their collection, mostly artifacts of the 20th century, the most famous designers and typefaces. The auction will take place on 12 May, lowest starting prices are $100.
( ° ∀ ° )ノ゙
A new typeface from Grilli Type grew from street signage that Thierry Blancpain saw in Japan. Rounded contrastless strokes appear to be drawn by brush, while ascenders and descenders are as concise as possible — this is how Japanese, accustomed to monowidth type, perceive Latin script. GT Maru has a monowidth sub-family and a super-tubby display version called Mega — including borders and decorative glints. And, of course, emoji — those were designed by Anya Danilova who happens to be the author of our Manual. The sticker pack with these emoji is available on AppStore as a free download.
The new edition of Playfaces
instagram.com/p/CNw_mTQhrHd/
playtype.kiosk.works/menu/
Play Faces is an educational community of designers, challenging the idea that type is something inaccessible, long, complicated, and technically faultless. In April, the suburban office of DesignWorkout near Moscow hosted an intensive course PlayType Pro for designers creating their first typeface using a modular grid. You can check works of this course participants on Instagram, most likely they will soon be available on kiosk.works.
Globs Designer, an experimental type editor
Bézier curves used in most vector graphics were invented in the 1960s for designing bodywork of Renault cars. They constitute typefaces in TrueType and OpenType formats, but not all designers are happy about it — it is criticized by both those who are good at maths and those who rely exclusively on their (poorly articulated) intuitive feelings. Designer and coder Steve Ruiz suggests an alternative vision of vector designing — in his editor, forms consist of globs and nodes. That is an elegant and intuitive workflow, however not good for all type styles — on the other hand, it carries the potential for emerging of something that we have so far not seen.
Duchamps, theory of humors, Renaissance, Baroque, Dürer
Clément Le Tulle-Neyret tells the story of how he was developing four serif sisters Immortel — an incredibly interesting text that helps figure out what is the difference between Garamond and Granjon, shows how modern text typefaces inherit from Cicero edition of 1569, and answers plenty of other typography questions that you haven't even been thinking of asking.
Toshi Omagari on ink traps
tosche.net/blog/ink-traps-and-pals/
Toshi Omagari, the expert on monowidth type and author of our new release, Codelia, is speaking about optical compensation — mostly associated with ink traps and different variants of detailing (optical sizes), but used in all sorts of cases and on all sorts of media. Усы на наклейки для фотонабора, притупленные acute angles in vector fonts, black traps for analogue television, but also deep indentations and entasis as a part of initial plan — the latter currently being extremely trending (see Loos, another one of our April releases).
Microsoft asking for help in finding a replacement for Calibri
twitter.com/Microsoft/status/138742136858145587/
microsoft.com/en-us/microsoft-365/blog/2021/04/28/beyond-calibri-finding-microsofts-next-default-font/
Microsoft will replace Calibri as a default font in Word and other applications — it has been occupying thу post since 2007. They will choose one of five sans serifs based on social media feedback — neo, two humanist ones, geometric, and mechanistic. Detailed specimens were not provided, so users will have to try typefaces themselves — those are already available by Microsoft 365 subscription.
In April, our Instagram was run by Vlad Boyko
Thank you for the deep dive into botany and ecology! In May, our account belongs to Denis Bashev.